London Fashion Week Men's A/W 2019 Editor's Picks
From Art School's 90s-inspired queer tailoring, to upcycled garments from Raeburn's 10th anniversary collection, John Alexander Skelton's performative catwalk show in London's oldest pub, to Rahemur Rahman's family portrait-inspired debut show, we present the Wallpaper* pick of London Fashion Week Men's A/W 2019...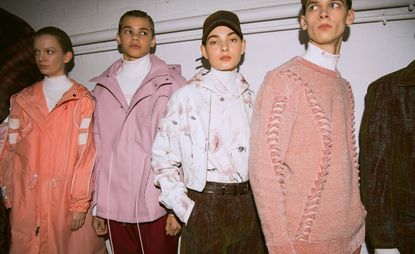 (Image credit: Jason Lloyd-Evans)
Feng Chen Wang:After showing in New York for a number of seasons, Feng Chen Wang brought her collection back to London for A/W 2019. The designer continued to forge forward with her sportswear infused aesthetic – a tracksuit appeared in soft pink nylon, while another was space dyed in pastel hues of blue and green. Elsewhere, a bomber jacket and all-in-one were covered in a subtle lotus flower print. Oversized puffer jackets and extra long scarves were winter ready.
Art School: Drawing on photographs Cindy Palmano took of Tori Amos in the mid-1990s, the A/W 2019 season opened to the clacking of marabou sling-back heels and the gloss of a patent mock-croc bodice. In their debut standalone show, designers Eden Loweth and Tom Barratt built on their reformist, queer-first values, showing slashed jersey T-shirts with limbs poking out, metallic jacquard tailoring and torn velvet bias-cut slip dresses, all shrugged onto a host of the duo's curious cognoscenti. 'Art school was created to convey a message, to create a dialogue of our lives and those of our friends and loved ones who are never represented,' they said. Hair stylist Shiori Takahashi created haphazard sculptures using unclaimed lost-property sourced from LGBTQ safe spaces across the city.
Belstaff: Creative director Sean Lehnhardt-Moore's debut collection for Belstaff saw the designer digging deep at the brand's roots. Belstaff is a brand known for its high quality outwear and Lehnhardt-Moore didn't disappoint, offering an array of outerwear options in the form of jackets and coats, alongside an extensive collection of knitwear. Highlights included the Trail Jacket in black Melton wool with a detachable shearling collar and corduroy trim, a series of lightweight fisherman's ribbed roll necks in lambswool, and a khaki double-faced cotton Garrison Trench Coat with waterproof sealed seams.
Bianca Saunders:In a set reminiscent of a boy's teenage bedroom, Bianca Saunders presented a collection that explored the emotions felt in the most intimate of personal spaces. Garment construction was key, with the designer exploring twisted seams, shirring and elasticated techniques in series of outerwear pieces that looked comforting yet armour-like. Trousers with slits running up the sides and mesh tops exposed areas of body hinting at a boys vulnerable side, while exuding a subtle sexiness. Elsewhere, a leather jacket and trousers added a touch of toughness.
John Alexander Skelton:The designer's clothes are best experienced away from the glare and gloss of the conventional catwalk. In a theatrical setting, fashion has the power to transport us out of our mundane reality. Skelton knows this. The designer hosted a lock-in at the rambling low-ceilinged tavern Ye Olde Cheshire Cheese to show his latest collection, which took its influence from Alsatia – an area lying north of London's River Thames once renowned for its ne'er-do-wells between the 15th and 17th centuries. Its denizens are depicted in Marcellus Laroon's series of illustrations — The Cryes of London. The upcycled flamboyant tailoring for which Skelton has become known had an artisanal slump. Standout were the roomy coats cut from antique French grain sacks. The clothes were worn by performers who lurched through the sprawling building, channelling the rambunctious spirit of the time. They squashed their faces into the crowd, tugging and pulling at their clothes.... spilling their beer. As a fire crackled, the threat of a revolution hung over our heads.
Phoebe English: The The designer's intimate presentation set against a backdrop of billowing black flags was the perfect setting to observe close up her quietly confident take on menswear. There was a distinct utilitarian feel to the collection – three button boxy jackets were teamed with wide leg that stopped at the ankle hinted at workwear. Shirts were patched together in complementary fabric combinations and came with funnel collars. Elsewhere, a blush pink cagoule and cornflower blue anorak offered a serene colour injection for those grey autumnal months.
Raeburn: This season marked Christopher Raeburn's 10th anniversary. To celebrate, Raeburn revisited and updated archetypes from the past ten years. All of the garments presented were constructed from dead stock materials and waste fabrics from his studio. Original Typhoon suits were deconstructed and patched together to create a parka and matching trousers combination. Elsewhere, German safety jackets were reworked into bombers. Other highlights included anoraks and shirts made from air brake parachutes. Sunglasses from the debut Ranger Rover Eyewear collection made of pure titanium and footwear with Timberland accessorised the collection.
Lou Dalton: This season Lou Dalton showed her collection on a group of close friends, including photographer Andreas Larsson, illustrator John Booth and former Topman creative director Gordon Richardson. Dalton continued to evolve her unique approach for producing quietly considered updates of wardrobe staples. Generously cut overcoats came quilted adding extra protection from the elements and Harrington-style jackets were reimagined in waterproof wool. Wide leg trousers came in recycled Italian wool with a velvet stripe running down the side adding a touch of sporty decadence, elsewhere tapered track pants came in flecked fleece. Dalton continued her collaboration with knitwear specialists John Smedley with a series of fair isle and striped jumpers in autumnal hues, elsewhere others were irregularly patched in places reminiscent of darning.
Kent & Curwen: For A/W 2019 creative director Daniel Kearns played with the idea of formal British dress codes, with uniforms and military references reworked as sportswear and daywear. The volume was turned up on a classic military overcoat by giving it exaggerated lapels and a more generous cut to the body, allowing for a chunky cable knit to be worn underneath, while college stripes and cricket whites were presented as eveningwear. Elsewhere, tailored blazers where cut lean and teamed with narrow leg trousers. Keeping with the brand's heritage, their classic rugby shirt appeared in a selection of new striped colour combinations, all carrying the rose motif. Alongside the main collection, Kent & Curwen presented a capsule collection: 'Garrison Tailors by Order of the Peaky Blinders', consisting of wardrobe essentials inspired by the series.
Qasimi: 'He's toughened up, but still optimistic and romantic,' Khalid Al Qasimi said of his A/W 2019 muse. Focused on protection and hope in an uncertain time, the label showed a range of pieces that drew on utilitarian elements with a romantic proportion including multi-pocketed vests, rounded bombers, elongated puffas in plum nylon and padded nylon trackpants. 'I just wanted to have him forward looking, it was today's vision of what's going to happen next. We are all questioning what's happening, because we don't know,' he said. A couple of artist Mel Odom's sultry male portraits dating back to 1980s were printed onto shirting. Qasimi spent six months working with Odom whose dreamy, fantasy illustrations are on show in a retrospective at Daniel Cooney Fine Art, New York until 23 February.
Daniel W. Fletcher: From its manufacturing roots to its multiple music scenes, the fantasies – and realities – of the North of England have long endured as references for fashion. Much of the 1990s-style clothes being re-examined by young designers today came out of its legendary pop movements. Fletcher spent time looking into the area's textile history and so his latest neat collection uses British wools, merino and silks to build on his lean, masculine silhouette and elongated line. There were five pocket jeans, double breasted top coats and cropped knits. Shirts too were printed with photojournalist John Bulmer's images, taken from the North during the 1960s.
Edward Crutchley:1980s office attire was the starting point for Edward Crutchley's A/W 2019 collection. The designer's signature roomy silhouettes were slimmed down in homage to the era's no-nonsense tailoring from Japanese and American RTW. Softly tailored pinstripe jackets were effortlessly thrown over shirts with contrast buttons, while pleated trousers came with silver zips running down their front creases. Elsewhere, Crutchley showcased his artisanal skills in a series of precious fur embroideries – one jacket featured a carefully pieces together motif of a large secretary bird attacking a snake emblazoned on its back. Renowned milliner Stephen Jones added a sartorial twist with a Balinese head wrap, a riff on a traditional Korean gat and a pillbox hat in soft swakara.
Rahemur Rahman: In his debut presentation for LFWM, designer Rahemur Rahman looked back at old photos of his family in 90s London and the eclectic vibrancy of its Tower Hamlets borough, where he grew up, for inspiration. Brightly coloured textiles were hand-woven ethically and sustainably in Bangladesh using natural dyes and traditional craft techniques. These unique patterned fabrics manifested themselves in neatly cut jackets and slim trousers influenced by his father's love of tailoring. Elsewhere, a belted robe coat and elongated shirt gave an easy air of elegance
Band of Outsiders: The LA-founded, London-based brand looked to the moon for the coming season with a collection inspired by the overlap of the 1960s and 1970s. This was a time full of possibility, protest and progress. A contemporary cool wardrobe of smart track pants, pea-coats and knits in ginger, burgundy and olive brown were showcased in a short film in which five characters each experience the Apollo 11 lunar mission as it is broadcasted into their suburban living room. A capsule womenswear collection has been introduced for the first time under creative director Angelo Van Mol too. Standout was a spicy orange corduroy suit.
Jack Moss is the Fashion Features Editor at Wallpaper*. Having previously held roles at 10, 10 Men and AnOther magazines, he joined the team in 2022. His work has a particular focus on the moments where fashion and style intersect with other creative disciplines – among them art and design – as well as championing a new generation of international talent and profiling the industry's leading figures and brands.