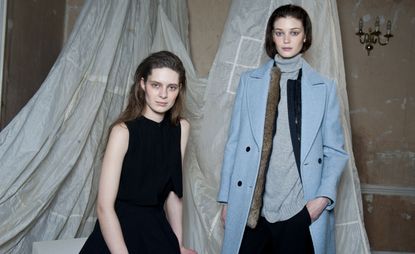 (Image credit: Jason Lloyd-Evans)
Mood Board: Delphine Ninous' debut collection for Belstaff made her standpoint quite clear: there are still frontiers for women to cross. Her advice, in all that excitement and energy of exploration, is that one should go well - and warmly - dressed, preferably in natural materials.
Scene setting: Huge white tents hung loosely from the ceiling in Clerkenwell's grand Old Sessions House, combining a sense of historical importance with the casual but luxurious outerwear.
Best in show: A khaki parka that hit mid-thigh, with a shearling lining and a fur-trimmed hood, seemed like all the iconic female aviators Amelia Earhart and Amy Johnson could have ever needed high up in the air and on the ground.