Rounding up the top show venues for the men's S/S 2017 season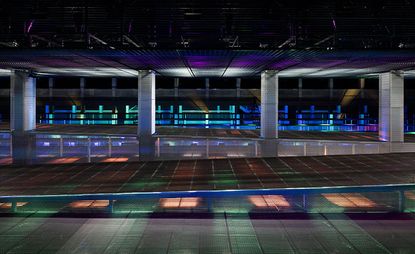 (Image credit: Alberto Moncada)
Prada: Mrs Prada once again partnered with Dutch studio AMO to build a backdrop for her menswear showcase at the Fondazione Prada complex. Decked out in hiking-inspired attire, models strode up and then down a continuous metal mesh ramp to a 1990s soundtrack.
Gucci: A huge serpent motif slithered along Alessandro Michele's green-carpeted runway at Gucci this season. Deep-buttoned benches and wall panels upholstered in green velvet lined the space, while green lighting paired with a delicate mist created a totally immersive fashion experience
Acne Studios: For a collection that served as a tribute to the emptiness of the Swedish summer, Acne Studios staged a game of musical chairs within the dilapidated library space at Paris' Lycée Charlemagne. Old-fashioned metal-legged school chairs were scattered along the runway with square mirrors placed on the floor in between them, reflecting the crumbling frescoes above. Meanwhile, multicoloured filters placed over the windowpanes created welcome chequerboards of colour against the peeling plasterwork and worn floorboards
Fendi: The holiday snaps of Pablo Picasso and David Hockney provided the inspiration for Fendi's S/S 2017 outing. Decked out in terry cloth robes and striped totes, models made their way around a crisp-edged blue pool headed up by a bright yellow diving emblazoned with the Fendi logo
Givenchy: Riccardo Tisci presented his S/S 2017 menswear collection for Givenchy in the courtyard of Paris' Lycée Janson de Sailly. Black and white cube-shaped stools, which echoed the optic checkerboard patterns in the collection, were laid out in three concentric circles to form the schoolyard catwalk
Dior Homme (opens in new tab): Following on from last season's skateboard ramps, Dior Homme returned to the Tennis Club de Paris with a rollercoaster set that swooped around the runway. Festooned with coloured light bulbs, Kris Van Assche's fashion fun fair was designed to evoke the atmosphere of the Sinksenfoor amusement park in Antwerp, Belgium.
Moncler Gamme Bleu: Forty mosquito-netted one-man tents were erected along Moncler's grass-lined runway this season. The elaborate staging, complete with trees and a campfire, provided the perfect backdrop for the label's Boy Scout camping-themed show
Ami: Bathed in a golden glow that evoked early morning light, Alexandre Mattiussi's romantic set occupied the length of one of the long curved walls within Paris' Grand Palais. His models, clad nonchalantly in pleated trousers, nylon hoodies and knitted sweaters, walked alongside a series of tall windows, both real and fake, complete with billowing white linen curtains and slatted shutters that filtered the hazy light.
Balenciaga: With a blue sky overhead and a clear view of the 7th arrondissement and the Eiffel Tower on the horizon, the dazzling atrium of Paris' Lycée Saint-Louis-de-Gonzague served as the setting for Balenciaga's first ever men's runway show. Arranged under the atrium's spectacular curved, lattice-framed roof, a simple set with just three rows of seating lining either side of the catwalk let the spectacular cityscape do the talking
Belstaff: Inspired by On Any Sunday, a documentary about motorcycle racing made in 1971 starring Steve McQueen, Belstaff's S/S 2017 collection was full of references to riding and motorcycle culture – as was the set. A dirt track peppered with pine trees, a vintage pick-up truck and motorbike transported the audience straight onto a Husqvarna in the California desert
Berluti: For S/S 2017, Berluti threw a lush poolside cocktail party complete with games, burger vans, champagne bars and a host of inflatable animals. To celebrate the launch of its opulent outdoor equipment – as part of a new lifestyle collection, which included skipping ropes, dumbbells, beach rackets and a set of boules – models skateboarded through garden paths, worked out to the sounds of Donna Summer and frolicked across a makeshift swimming pool, tossing a Venezia leather frisbee
Berthold: Presented in the dark concrete basement of London's 180 The Strand, Raimund Berthold's S/S 2017 collection was built around the outsized proportions of an old French cavalry coat. To reflect this, his minimalistic set, designed once again by Justyna Kabala, was filled with angular metal frameworks draped loosely with white fabric held in place by heaps of coral-coloured sand that spilled over onto the black rubber floor
Canali: Inspired by the intersecting warps and wefts of its textured jackets, pants and knitwear, Canali's models emerged from a spiraling web of tension cables lit with steel blue and burnt sienna lighting to match the collection's clout palette
Mackintosh: An undulating platform made up of mirrored panels and eleven white plinths served as the catwalk at Mackintosh's S/S 2017 presentation. As well as highlighting the details of the British heritage brand's three-quarter length coats, the mirrored flooring reflected and amplified the Edwardian splendor of the show's location in the Waldorf's Palm Court
CMMN SWDN: Channeling the souks of Marrakech, designer Kimberley Harding conjured a sun-soaked market place show set for CMMN SWDN. With a sand-covered floor, makeshift market stalls in warm shades of ochre, burnt sienna and terracotta echoed the collection's colour palette
Issey Miyake Men: The sun-baked quadrant within Paris' Université Pierre et Marie Curie provided the perfect platform for Issey Miyake Men's India-inspired 'Journey from a white page' collection. Taking advantage of its stepped grid design, models stalked up and down the steps in perfect formation to the sound of Japanese band Kikagaku Moyo who performed at the centre
Kenzo: Creative directors Carol Lim and Humberto Leon took to Carreau du Temple, a former clothes market, to showcase the French label's S/S 2017 offering. A raised tiled platform, sprayed with abstract graffiti lines in petrol blue, acid green and black, set the scene for a 10am Saturday morning rave with a thumping house soundtrack
Louis Vuitton: Held in the open air among the columns of Paris' impressive Palais Royal, Louis Vuitton's show set had no trouble in evoking the hot plains of Africa – Kim Jones' source of inspiration for S/S 2017. Snaking around square pyramid-style seating arrangements, the subtle pink stonework provided the perfect backdrop for Jones' sun bleached palette of brown, taupe and beige
Pal Zileri: An enormous backdrop burning with bright magenta and green created a horizon-like effect for Pal Zileri's sharp tailoring. Models walked out silhouetted against the screen before taking their turn along a spotlit, v-shaped runway
Philipp Plein: The designer's 'Sportsworld Spectacular' themed show got underway on a basketball court set created by Simon Costin. Backdropped by a giant screen flashing up NBA logos and player stats, the court was awash with models, NBA-mascots, a troop of neon-clad cheerleaders and a gang of slam dunk acrobats from the Harlem Globetrotters. Lights flashed, flames were fired up into the air and rapper Busta Rhymes performed – exactly the type of no-expense-spared show that we've come to expect from Plein
Qasimi: Over at Somerset House designer Khalid bin Sultan Al Qasimi of Qasimi drew influence from the Gulf War and contemporary architecture for his collection 'Videogames Wars'. Inspired by the undulating titanium facade of Gehry's Guggenheim in Bilbao, a riveted metal platform conceived by set designer Andrea Cellerino served as a rippling sand dune in Qasimi's dystopian desert
Sacai: Held in an all-white orangerie-cum-art gallery space at the Jardin du Luxembourg, Chitose Abe's Clockwork Orange-inspired collection for Sacai was paraded around strategically placed heaps of beige gravel that created a Mars-esque landscape
Thom Browne: The designer welcomed guests to a perfectly square gothic tropical island complete with its own black palm tree and glittering black sands for his S/S 2017 outing. Models dressed in wet suits, as seagulls and as birds of paradise added to the jovial atmosphere – as did the suited model wearing a shark head who opened the show to the Jaws soundtrack.
Valentino: Returning to their usual stately spot at Paris' Hôtel Salomon de Rothschild, Maria Grazia Chiuri and Pierpaolo Piccioli of Valentino presented a collection that they said was inspired by 'the Shakespearean world transformed into an emotional alchemy'. Contrasting the opulent surrounds with rough timber clad bench seating, the simple set design reflected the collection's languid, intentionally 'undone' mood
Thomas Pink: The house used a gravity-defying wall of chairs to showcase its S/S 2017 presentation at the ICA in London. Nonchalantly sitting on non-descript white-painted wooden chairs suspended across a blue-tiled wall, were 15 impeccably half-dressed men in a range of shirts, crisp boxer shorts, long, fine-gauge socks and leather lace-up shoes