London Collections: Men S/S 2017 editor's picks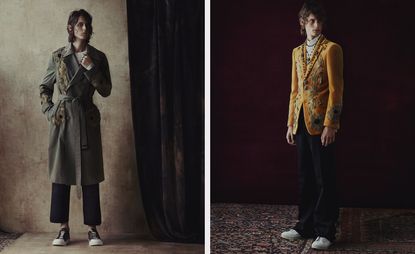 (Image credit: Julia Hetta)
Alexander McQueen: This season's wanderlust message was born on Savile Row in London's swinging 1960s before taking flight to the exotic, Indian orient. Sharp, sober suiting was adorned with ornate tapestries and elaborate embroideries, while the season's lavish jewellery looked to have been borrowed from a Maharaja's purse.
Thom Sweeney: London always delivers on luxury tailoring. And for S/S 2017, designers have been looking to a slightly more roughish muse. Thom Whiddett and Luke Sweeney's collection of sharp shoulders, supple linens and soft colours name checked Patricia Highsmith's Fifties psychological thriller The Talented Mr. Ripley as a key influence
Christopher Kane: With its off-white curves, Kane's John Pawson-designed flagship store provided an arrestingly austere backdrop to the designer's S/S 2017 menswear showcase. 'Taking the everyday and looking at it in a new way,' was how he described the collection of sportswear inspired pieces. Peppered with graphics taken from cop show Law & Order and police identification techniques, Kane's handwriting was there in the gingham and traditional checks, which were for this season, woven with reflective thread
John Smedley: Knitwear maestro John Smedley looked to British Brutalist architecture for inspiration this season. Multiple techniques were employed to give jumpers a 3D quality, while sharp, graphic patterns alluded to building construction. To coincide with the collection's launch a new flagship store has also opened on London's Jermyn Street
Pieter: Sebastiaan Pieter's signature style is one of modernity, manliness and making out. The artist Felix González-Torres' Untitled (Go-go Dancing Platform) from 1991, provided the central reference for S/S 2017. The collection was of playful, perverse proportions – clothes revealed a slit of skin at the hip or a completely bare back. Silver lamé speedos peaked out from the top of ultra-low-rise wool trousers; the models paced the room, pressing up against a set of white, billowing drapes to the sultry din of Lana Del Rey as if ready to perform their own sordid, sartorial soliloquy
Christopher Raeburn: The designer continued his seasonal fashion travels for S/S 2017, this time going boldly where no man has gone before: outer space. This exploration took in an array of outerwear options. Standouts included a parka and bomber jacket with detachable modular compartments. Raeburn's sustainable ethos continued with a series of classic and highly functional pieces all made from recycled parachutes. A playful element came in the form of a rocket motif that raced across sweaters and t-shirts.
Turnbull and Asser: And so to 1970s Monte Carlo at Turnbull and Asser – the collection of smart suiting and playful prints was an ode to the roguish side of the heroes of the Grand Prix. The statement horizontal stripe blazers in ultra-light wool maintain the pep and polish for which the brand is known. Completing the look wwre 1970s-inspired custom crash helmets with unique decorative bubble visors made exclusively in collaboration with Davida. Better safe than sorry
Wales Bonner: The brand's debut solo show drew on her South East London and Jamaican heritage. Formal tailoring and the kind of occasion clothing reserved for Sunday best was the focus. Narrow jackets that buttoned high were teamed with lean cropped trousers. Elsewhere, frock coats and caplets offered an element of grandeur. As always the devil was in the detail with handcrafted elements such as crystal and shell embellishments, embroideries and crochet adorning collars and cuffs
Joseph: This season Joseph chose to showcase their S/S 2017 collection through a film directed by Vincent Lacrocq and Kristell Chenut. The film follows a single character over a period of 48 hours living between London and Paris – a reflection of Joseph's Anglo-Franco heritage. Clothing wise designer Mark Thomas looked to workwear and military dress for inspiration. A long, straight cut white canvas jacket with black contrast topstitching summed up the collection's direction perfectly
Belstaff: The title to Belstaff's S/S 2017 collection is taken directly from the film On Any Sunday, a documentary about motorcycle racing made in 1971 starring Steve McQueen. It featured a role call of racers from the late 1960s and early 1970s, all of whom talked candidly about life on the tracks. The clothes were inspired by the brand's own archives from the period too; the diamond application on leather jackets reflecting the craze for customisation that helped the pioneering track riders of the Seventies make their name. A racing undershirt in hand-waxed leather took its name from flat-track supremo Don Castro
Matthew Miller: A halcyon rebellion always bubbles under the surface of designer Matthew Miller's work. His most recent, and most poetic collection to date, entitled Tempest, began with a seemingly romantic reference – a cloud study by the British painter John Constable. In fact, a reproduction of the work was hung upon the wood-chipped walls of the council house Miller grew up in circa the early eighties. Those clouds were translated into bleached denim – the uniform of early skinhead culture. Clouds were woven and printed into fabrics tailored into Miller's modern, militant shapes. More sophisticated skinhead than Shakespearean flight of fancy
Thomas Pink: 'Business casual' took on a whole new meaning at Thomas Pink's S/S 2017 presentation at The ICA. Nonchalantly sitting on chairs suspended across a wall were 15 impeccably half-dressed men in a range of shirts, crisp boxer shorts, long, fine-gauge socks and leather lace-up shoes. Frederik Willems, the brand's head of design explained: 'Business shirting is our heartland and we felt it time to celebrate that at LCM. With simple plains in white, blue and pink set alongside a sprinkling of traditional Jermyn Street designs – it's time to get back to business'
Casely Hayford: The latest collection from fashion's much-loved father and son duo was a riot of print and punk. The swing of the clothes was pure street souk with influence taken from the parochial dress codes that grew from two British anti-establishment movements in music. The label's signature swank jammed with textiles straight out of 1970s rock, before ethnographic dress styles from Morocco and Palestine segued into the minimalism of noughties grime.
E Tautz: Political posturing of the sartorial kind is having a resurgence. Hoards of attendees to the London menswear shows wore a range of t-shirts urging people to register to vote to remain in the EU, designed and produced by the artist Wolfgang Tillmans. Designer Patrick Grant came out for his bow at the end of his S/S 2017 presentation wearing an oversized white t-shirt emblazoned with the word IN. The show notes made reference to his models hailing from at least right different European countries, while the skilled men and women who made the clothes (fine pinstripe cotton and mohair mix jackets, wide pleated shorts) are from at least nine. E Tautz is in, in more ways than one.
Lou Dalton: This season Lou Dalton took a hike in Britain's picturesque natural landscape for inspiration. Lightweight parkas and zip-front Harringtons came in rainproof, high-shine nylon ready to take on the elements, camouflage-like jacquards resembling bracken covered kagools and knee-length shorts. Dalton also teamed up with knitwear specialists John Smedley on a jumper style for immediate sale
Tiger of Sweden: Sweden's royal seat of Kunglinga Slottet palace was the starting point for Niklas Johansson's modern ode to the Baroque, which was tempered with a good dose of Scandinavian restraint. Wild tapestry floral prints created by artist Jakob Krajcik blossomed everywhere. Other exuberant flourishes included jacquard tunics and regency-style mourning suits paired back with techno field jackets, while bright, wallpaper striped jogging suits punctuated the show's more minimal casual wear. A stand out piece was a leather biker hand painted by Krajcik.
MCM: In celebration of MCM's 40th anniversary the German brand collaborated with Christopher Raeburn on a sustainably-minded unisex r-t-w and accessory collection, presented in the round with the help of design studio Universal Everything who masterminded the show's digital journey through a range of weather systems. Based around the notion of movement and the hands-free needs of today's global nomad, Raeburn reworked classic menswear archetypes like the trench, bomber and anorak which he covered with graphic prints including a 'splinter cameo' and 'sonic wave' – the latter an interpretation of sound waves using the house's logo. Military-inspired accessories came completely modular with an emphasis on 3-in-1 bags, which were asking to be customised by the brand's legions of Gen-Y fans
Mackintosh: The British heritage brand focused in on new performance fabrics for S/S 2017 working with a lightweight waterproof striped nylon that fashioned three-quarter length coats, which had a casual pyjama feel. Having launched a Japanese denim line last season, new styles in the workwear material included the house's classic Mac (also cut in a diagonal stripe rubberised cotton) and a more casual hooded anorak. Print was also in the mix for summer, having worked with Liberty on an exclusive archive paisley, while a new camo graphic covered the house's accessory collaboration with Japanese bag brand Porter
Private White VC: This is a label that wants to ease some of the stuffiness out of British clothing. For S/S 2017, creative director Nick Ashley looked at the clothes we wear to jet away. Presented in a fictitious departure lounge that was built in the basement of the label's Mayfair store, the resulting collection explored smart menswear classics in modern, crisp fabrics. The ultimate travel companion? A three-button, relaxed-fit suit in waterproof performance cotton, naturally
Dunhill: The British tailoring brand used the LCM spotlight to launch its elegant new eyewear collection in association with De Rigo Vision. And with a nod to Alfred Dunhill's motoring origins, they also threw some of England's finest classic cars into the mix; including a Black Jaguar XK120 and Aston Martin D85 along with the founder's very own 1913 'Tweenie' car for the swanky event
Jack Moss is the Fashion Features Editor at Wallpaper*. Having previously held roles at 10, 10 Men and AnOther magazines, he joined the team in 2022. His work has a particular focus on the moments where fashion and style intersect with other creative disciplines – among them art and design – as well as championing a new generation of international talent and profiling the industry's leading figures and brands.