Boundary breakers Jasper Morrison and Jaime Hayon turn their hand to fashion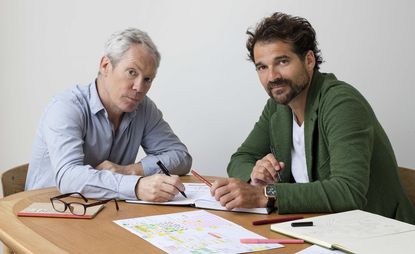 (Image credit: Klunderbie Horizontal)
Unravelling the ever-fraying seam between the worlds of fashion and industrial design, Jijibaba is the new 'not-fashion' menswear label from furniture designers Jaime Hayon and Jasper Morrison. To mark its mixed-medium identity, the collection has launched two times over, in different contexts – during London Fashion Week at Dover Street Market and again as part of the London Design Festival exhibition Design Frontiers at Somerset House.

'I don't really think of Jijibaba as fashion,' says Morrison, listing the practical differences that set the brand apart from traditional fashion labels. Chiefly, rather than launching with seasonal collections, there will be one, evolving range of items. The opening gambit, aptly called 'Items 1 - 38', includes 19 items created by each designer. As time goes on, that number will rise as Jijibaba takes on new design collaborators. There's also a lightheartedness to the range, emphasised by the name (which loosely means 'grandmother/grandfather' in Japanese, chosen purely for its 'silliness', says Morrison).

The salon-style presentation at Somerset House strengthens the label's design orientation. Hung on a newly-designed modular rack designed by Hayon, the items are seen amid an array of the duo's pre-exiting furniture, including Morrison's 2016 range for Vitra, and Hayon's ongoing collection of designs for Fritz Hansen. Visitors are invited to lounge, peruse and enjoy in what Morrison refers to as 'the best room in the house'.
Morrison had his eye on Somerset House's most impressive hall, complete with a sweeping, white archway, since visiting two years ago. He booked in the space even before he had a project to fill it. 'We weren't even sure if we would get the clothes made in time,' he explains. But with the help of their partner, Phaidon's Richard Schlagman, 'who's very much on the business side of things', the ambitious project came together in a busy 18 months.

Both Morrison and Hayon have carried their existing aesthetics and design sensibilities into the new project. Hayon, no stranger to discipline-hopping, makes things 'for people, to be used by people' – an ideology folded into his highly wearable, functional pieces. Also featuring his signature sense of humour, Hayon's designs feature snappy colours, patterned with smiling faces. Morrison, on the other hand, stays true to his steadfast ethos of 'invisible design', with a rich yet understated palette of burgundies, navies and creams. Though imagined separately, both offerings exude a quiet confidence and quality that makes them read as one, cohesive collection.

Fans of Morrison's furniture needn't fret – his feet remain firmly planted in that camp. 'I have no ambition to become a fashion designer,' he says, 'though I have found it really interesting to deal with soft stuff instead of the usual wood, metal and plastic. I spend most of my life thinking of things to sit on so it's good to turn my attention onto things to wear.'

Rather than thinking of Jijibaba as a new frontier, Morrison prefers to see it as a middle ground. 'I think most people in the design world will see Jijibaba as a big jump across a wall, probably fashion people will too,' says Morrison. 'But it isn't really – it's something in-between.'
INFORMATION
Available exclusively from Dover Street Market. For more information, visit the Jijibaba website (opens in new tab)
Elly Parsons is the Digital Editor of Wallpaper*, where she oversees Wallpaper.com and its social platforms. She has been with the brand since 2015 in various roles, spending time as digital writer – specialising in art, technology and contemporary culture – and as deputy digital editor. She was shortlisted for a PPA Award in 2017, has written extensively for many publications, and has contributed to three books. She is a guest lecturer in digital journalism at Goldsmiths University, London, where she also holds a masters degree in creative writing. Now, her main areas of expertise include content strategy, audience engagement, and social media.