Interview with Jeff Carvalho, Editor of Selectism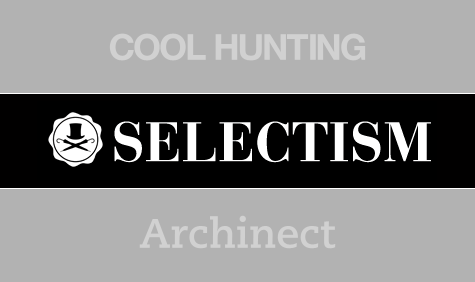 (Image credit: press)
Jeff Carvalho, Editor of Selectism.com, tells us about his site and life spent at the top of the web.
What's the USP of your website?
What sets Selectism apart is the varied amount of content we feature. Whilst most menswear sites curate one specific style, we curate several. A fashion kid can check us for Lanvin accessories, workwear guys can check us for the latest Tricker's collabs, denim heads check us for PRPS updates and those into design can check us for pieces on books & magazines. Our readers are a varied bunch and we wouldn't have it any other way
How long has Selectism been going?
Selectism came into existence as a singular site in late 2007. David Fischer of the streetwear website, Highsnobiety, wanted to build a new property focused on more transitory menswear for that individual looking for a mix of street centric fashion and traditional menswear. By March of 2008, Selectism was running full-time to fill that content void.
How many people does it employ?
Selectism currently has two full time editors. Jason Dike is based in London and I am splitting time between Boston and New York City. Two other writers who contribute more lifestyle based stories such as furniture, architecture, books, and design also report daily.
Where are you based?
Selectism is very much a globally based business with writers spread across the United States and Europe, but we're headquartered in the Mitte district of Berlin with a satellite office in Boston.
How often is it updated?
Selectism is updated daily on the hour with the first portion of the day's posts coming in from our European writers while the remainder of the day comes from the US. On weekends we tend to run a bit less.
How does the web format suit what you cover and the way you cover it?
I think web format allows for a more product driven content to succeed where print depends on editorial to drive readership. Print magazines which are solely product focused seem to only work well in the Japanese market for some reason, yet Selectism and other product based blogs like our brother site, Highsnobiety, continue to drive readers. The web also clearly allows for a certain time restriction to be lifted from product announcements. PR firms and brands can seed us looks for publication in a manner which did not exist before product blogs became popular. It helps gauge short term response as well through comments and link throughs.
Have you always worked online?
Since the early days of the Internet, yes. My first venture was an electronic dance music database back in '98 and later I was co-host of a sneaker podcast which eventually was picked up on Sirius satellite radio in the United States for a short time. My love of the Internet has always been in using new media and technology to create niche services that fill a gap in various markets. Be it music, sneakers, or fashion, the Internet has clearly allowed for unique opportunities to be explored.
How have people in your industry's attitudes changed towards the internet since you've been working in it?
Greatly. Until recently, fashion blogs and websites were not embraced in the same manner print was, and for good reason. Print has been the established method for delivering looks, where the Internet was seen as a speculative environment. Today, more and more brands are embracing new media and technology to deliver looks to the market. From fashion house iPhone applications to web only exclusives, the fashion world is making use of technology more than ever.
What other websites do you check regularly?
Hundreds. I live inside an RSS reader daily, as we scan a wide array of fashion, design, furniture, and music sites. To pick my favourites at the moment: Notcot, Fashionisto, Coûte Que Coûte, and Hardformat for music packaging. Surprisingly, Twitter feeds from some of our favorite brands are great ways to get an inside look on the brands. Wallpaper* of course.
What do you think is the best thing about the internet?
Instant access to information.
What's the worst thing about the internet?
Instant access to information.
Do you think it's a mistake that the vast majority of the internet is free?
If we're speaking about connectivity to the Internet vs. the content which can be accessed on the Internet, I believe we all share the cost. Connectivity (the delivery channel) to the data is where most people pay today. The argument for subscription based content is a bit more tricky. For the consumer and the brands, I believe it is beneficial for us to keep our content free with revenue coming from advertising, sponsorship, and other streams. We're looking to reach as many people as we can while receiving the sponsor and advertisement support necessary to keep moving our business.
How do you think the web will develop in the future?
The great thing about the Internet is that technology keeps redefining the information delivery mechanisms. A decade ago it was email, and web pages. Today it's Twitter, and social broadcasting. The Internet is still young so I can only imagine it will keep reinventing itself every decade or so for a long while.
There's a belief that the speed of the web and glut of information we have available at our fingertips is fundamentally changing the way humans learn and disseminate knowledge and we're all turning into short term transmitters – we don't learn or remember anything for any length of time anymore. Do you agree with this?
I think this is a condition of the instant nature of the Internet. Sites like Selectism need to be careful that the information we deliver does not simply live for a few hours on our front page then forgotten by the reader. We try out best to balance this.
People blame the internet for our obsession with news and newness – is the best website the one that delivers something first?
The best website is the one that can balance and deliver content in which the reader does not feel like they're being bombarded with too much of the new. I believe getting the story correct is more important than being first.
If the internet didn't exist, what would you be doing instead?
Hunting swap meets for bicycles and furniture to restore and sell. Seems like a good way to make money.
Receive our daily digest of inspiration, escapism and design stories from around the world direct to your inbox
Jack Moss is the Fashion Features Editor at Wallpaper*. Having previously held roles at 10, 10 Men and AnOther magazines, he joined the team in 2022. His work has a particular focus on the moments where fashion and style intersect with other creative disciplines – among them art and design – as well as championing a new generation of international talent and profiling the industry's leading figures and brands.