Accessory designers make their mark at the 2017 Hyères Festival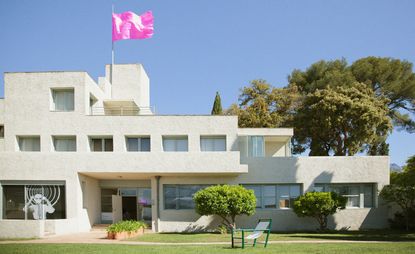 (Image credit: Thu Thuy Pham)
The charming French coastal town of Hyères became a buzzing hive of activity this past weekend, attracting a discerning crowd to its annual International Fashion and Photography Festival. Held in and around the Robert Mallet-Stevens-designed Villa Noailles – a modernist haven perched high atop a hill – the 32nd edition of the cult event provided a compelling showcase of work by emerging creative talents, as selected by a prestigious panel of industry judges.

'The festival continues to go from strength to strength, it's wonderful,' remarked Bruno Pavlovsky, Chanel's global president of fashion. 'What started off as a relatively small platform for fashion designers has expanded to include photography and now accessories too,' he said, referring to the newly instated Fashion Accessories Prize. 'Who knows what might come next – music, dance, performance art? It's fantastic. I have so much admiration for the commitment and focus of its founder Jean Pierre-Blanc.'

It's no secret that Chanel has a longstanding history with Hyères Festival. In 1995, for example, Karl Lagerfeld famously photographed Villa Noailles before it underwent a dramatic restoration. Ten years later, he curated the fair's entire programme with an expansive line-up of exhibitions and activities. For 2017, the luxury house lent its support in myriad ways. The most prominent being the capsule collection that Japanese designer Wataru Tominaga, winner of the 2016 Première Vision Grand Prize, developed with Chanel's storied Métiers d'Art ateliers. Aptly surmised by Pavlovsky as an 'unprecedented opportunity,' the resulting looks were debuted at the close of this year's fashion show.
'I have learnt so much, it's helped me to grow,' mused Tominaga, who presented an exuberant exploration of German, Greek and Eastern European folk arts, filtered through the lens of 1980s and 90s sportswear. 'I worked with Maison Lesage on the embroidery, which was an honour.' One look at the technical adornments on show – Technicolor twisted rope with braided trims, the nimble fusion of cabochons and karabiners – underlined the success of the union.

Those wishing to gain an insight into such extraordinary embroidery techniques were able to partake in two dedicated Lesage workshops installed in the villa's bucolic gardens. 'It's all a matter of practice,' encouraged one of the skilled artisans, who patiently demonstrated how to thread glass beads through a circular metal guide (or paté) in order to create a surface design suitable for a small badge. After the best part of two hours, the majority of 'students' had barely made a mark. 'Just imagine how long it takes to embellish a Chanel couture jacket,' she laughed.

Textile innovation was also apparent in the progressive aesthetic of Swiss designer Vanessa Schindler, who scooped this year's Grand Prize, presided over by Bertrand Guyon, design director of Schiaparelli, as well as the Public and City of Hyères Award. 'I discovered that pouring liquid urethane onto fine fabrics would make it set, so I could manipulate it,' she said. Schindler also cited Bruce Goff's iconic (and recently demolished) Bavinger House as a key influence behind her collection of elegant, interiors-inspired silhouettes, which included a fluid floor-length gown and a structured sweater with urethane inserts. In addition to receiving a €15,000 grant, she will follow in Tominaga's footsteps and collaborate with Chanel's Métiers d'Art.

Elsewhere, a flesh-coloured set housed a diverse assembly of works by the 10 international candidates competing for the Fashion Accessories Prize. Presided over by Pierre Hardy, jury members including Wallpaper's own fashion director Isabelle Kountoure whittled down the innovative entries – such as Noémie Nivelet's geometric shoe jewels and Sofya Samareva's surrealist hats – to just one winner: Marina Chedel. 'The Swiss Alps were my starting point,' said the Swiss shoe designer, who constructed a series of angular, vertiginous platforms from traditional mountain equipment and a synthetic EVA foam found inside the soles of sports shoes.

A selection of pieces by the shortlisted designers also featured in a dynamic video conceived and directed by English artist Lacey, and choreographed by contemporary dance act Wang & Ramirez. 'It's wonderful to see everything in such an animated fashion, as if the pieces have come to life,' noted London-based Emma Montague, whose romantic, hand-crafted optics and fine jewellery created a striking juxtaposition to the sharp hip hop shapes thrown by the dancers on film.
Other high notes included Finnish photography candidate Sofia Okkonen, who described her highly saturated performance images as 'posing questions about qualities that are stereotypically considered to be feminine.' A graduate of Aalto University, her work possesses a curious painterly quality, achieved through a process of repeatedly printing and scanning her images. 'It's a recycling method of my own invention,' she affirmed. Okkonen was pipped to the post by Irish-born Daragh Soden, who was awarded this year's Grand Photography Prize, presided over by Tim Walker, and received a €15,000 grant from Chanel and €5,000 of lab services from Janvier.

Soden, who is currently based in London, revisited his hometown of Dublin to lens his austere but evocative series, Young Dubliners. 'It's a celebration of the unique character of a city's youth,' he revealed in the accompanying exhibition notes, adding, 'these young people are championed in empowering portraits as they make the transition to adulthood.' Soden's distinctive images were accompanied by frank recollections of his own experiences, scrawled directly onto the display in black paint.

'Whether it's fashion, photography or another genre altogether, these young minds continue to move us,' stated Pavlovsky, adding, 'That is why Chanel continues to connect with and champion the festival. We must always encourage the exploration of creativity.'
INFORMATION
For more information, visit the Villa Noailles website (opens in new tab)