Hyères highlights: the international photo and fashion festival in focus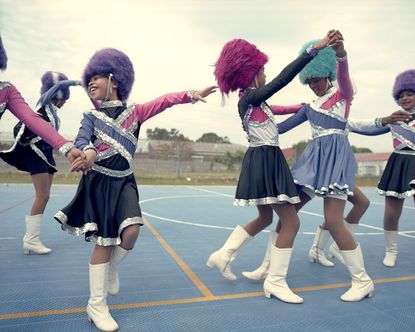 (Image credit: Alice Mann)
Alice Mann, Photography Grand Prix du Jury/ Wallpaper* 'New Generation' x Hyères Photography Prize winner

Cape Town-born London-based Mann scooped two prestigious prizes for Drummies (2017), her documentary series of all-female teams of drum majorettes in South Africa. The series is part of Mann's wider exploration of femininity and empowerment, and explores the role of commitment and kinship experienced by majorettes living in marginalised communities. Image courtesy of Alice Mann
Every April, the early modernist home Villa Noailles, built in the 1920s by Robert Mallet-Stevens for art patrons Charles and Marie-Laure de Noailles, becomes a hotbed of emerging international talent. Since 1986, the villa's homes and gardens – populated with artworks by Constantin Brancusi, Jean Prouvé, Sonia Delaunay and Mondrian – have housed the annual Hyères International Festival of Fashion and Photography, a showcase which sees leading figures in the creative industries descend on the grounds of the French architectural icon. This year, the proceedings placed focus on handicraft, with the launch of Chanel's Métiers d'art Prize. The festival also saw the second iteration of the Wallpaper* 'New Generation' x Hyères Photography Prize and the third Accessories prize, chaired by fashion president Natacha Ramsay-Levi, photography president Craig McDean and accessories president Charlotte Chesnais. Here, we present our 2019 highlights...
Elsa & Johanna, Public and City of Hyères winner (photography)

Paris-based collaborative art duo Johanna Benaïnous & Elsa Parra, met at the School of Visual Arts of New-York in 2014. Characterisation is central to their series of self-portraits. This includes From Beyond the Shadows (2018-2019), a series taken in Calgary, Western Canada, evoking intimate images of everyday life, in film still-inspired photographs. Image courtesy of Elsa & Johanna
Tina Schwizgebel-Wang, Chloé prize winner
President of the Fashion prize jury and Chloé artistic director Natacha Ramsay-Levi presented the Chloé prize to Swiss womenswear designer Tina Schwizgebel-Wang. Contestants were asked to present a new catwalk design for the Parisian maison, and Schwizgebel-Wang's featured a swishing shirt dress with safety pin hardware, layered with a sculptural belted mini-skirt.
Christoph Rumpf, Grand Prix du jury Première Vision winner
Hyères Festival's top award was scooped by Austrian menswear designer Christoph Rumpf. The Vienna University of Applied Arts graduate uses upcycled and repurposed fabrics in his winning designs, which have a flamboyant and dandyish edge, and included asymmetric brocade blouses with fringing, petit fours and stacked necklaces festooned with crystals.
Róisín Pierce, Chanel Prix des Métiers d'art/ Public and City of Hyères winner (fashion)
Chanel's inaugural Métiers d'art Prize, rewarded the best collaboration between the ten competing fashion designers and ten Houses belonging to the Parisian maison's Métiers d'art, including embroidery studio Atelier Montex and shoemaker Massaro. Irish designer Róisín Pierce took home the award for her collaboration with milliner Maison Michel, on a series of ethereal white headpieces made from ruched broderie anglaise.
Noelia Morales, Swarovski Fashion Accessories Grand Prize
Spanish designer Morales was awarded the top accessories prize, by a panel including Wallpaper* fashion content director Isabelle Kountoure, for Anna Bonny, The Masectomy Patch a series of lingerie accessories to be worn over the breast, for women who have suffered from breast cancer. This included a humorous patch with the beaded comic strip slogan 'Ouch' and a delicate single cup bralette in luxurious Loro Piana fabric.
Sarah Levy, The Public and City of Hyères winner (accessories)
Belgian designer Levy's Creatures of Habit collection comprised of a series of leather objects evoking habits found in contemporary society. Placing focus on the addictive nature of technology, U.G.01 comprises of a shoulder length glove connected to an iPhoneX case, while P.B.01 – a harness which allows you to carry a miniature dog as a handbag – offers a satirical take on tiny canines as the ultimate accessory.
Dorian Cayoln & Quentin Barralon, Honourable Mention from the Fashion Accessories jury
Cayoln and Barralon operate leather goods label Hands of Work from Romans-sur-Isère in the Drôme, the cradle of tanners and leather manufacturers in France. For Hyères Festival, they presented their debut collection of entirely handmade men's footwear, which included monk strap ankle boots and hybrid suede shoes with hiking cable details, inspired by trainers.