Sacai S/S 2019 Paris Fashion Week Women's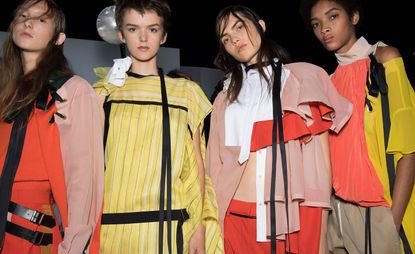 (Image credit: Jason Lloyd-Evans)
Mood Board: Sartorial hybridation has been Chitose Abe's raison d'être ever since she founded Sacai back in 1999. In the past 19 years, the Japanese designer has consistently explored the myriad ways in which two garments can be assembled to create a surprise. But that doesn't mean she has sat complacently in her success. Abe is still seeking evolution. This time, her focus was equilibrium. More particularly, the one found in the way asymmetry rebalances once on the body. An obscure premise, perhaps, but one that made for an interesting collection.
Best in show: This time, Sacai's wabi-sabi sense of beauty concentrated on vertical lines, and the starting point of the collection were the ever-practical vintage military jacket and the trench coat, both of which were metamorphosed through the addition of organza panels, tuxedo sleeves, knitwear, lace details and even a fisherman's vest. Details got more and more intricate as the show went by, building up to a finale of flower-printed pleated skirts and dresses based on vintage prints by Henri Kvasnevski.
Finishing touches: For S/S 2019, Chitose Abe showed a particular flair for handbags. There was a tote bag – asymmetrical too, you guessed it – with golden zipper details that looked appealing, but it was the leather shopping clutches (mimicking paper boutique bags) in black and white – and in medium and large sizes – which really caught our eyes.