Rick Owens S/S 2018
The designer takes us to the candy shop for S/S 2018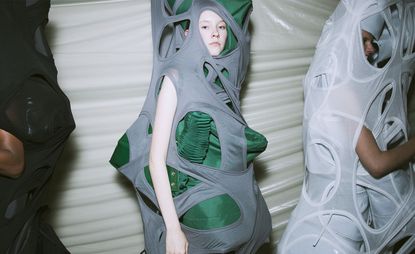 (Image credit: Jason Lloyd-Evans)
Wallpaper* Newsletter
Receive our daily digest of inspiration, escapism and design stories from around the world direct to your inbox
Thank you for signing up to Wallpaper. You will receive a verification email shortly.
There was a problem. Please refresh the page and try again.
Scene setting: Few people are as good as Rick Owens at creating breathtaking scenography with the most minimal infrastructures. Last summer, the designer made a discovery: the façade at the Palais de Tokyo, with its 1930's sculptures, stairs and the square fountain in the middle, could make for a perfect showspace. He simply built a scaffolding and had his models walk through it. The effect was impressive. This time though, no scaffolding in sight, but guests started suspecting something when they saw black nylon raincoats carefully folded in each seat. Were we about to get soaked? Yes, but only towards the end of the show. Before that, as the music started thumping – an intriguing soundtrack of loud bass and the sounds of a woman's laughter – the pond filled with an eerie white fog, which suddely disappeared to give way to gigantic jets of water, creating an impressive liquid sculpture. No wonder passersby were as mesmerised by the whole show as guests were-the setup was a sight to behold. For those who had never before seen a fashion show, a more perfect first time would scarcely be imaginable.

Mood Board: It looked like bondage, but it was not. Backstage, Owens explained that his eerie clothes, twisted and stretched and layered, were not inspired by shibari but by... Confectionery! 'I saw them as cupcakes, as meringues', he said. A bit of an unsettlig statement considering the title of the collection was 'dirt'. But there were other murky elements. Like his use of the colour green, which one journalist described as 'sea creature green'. Owens admitted to being attracted to its ugliness: ' thought it was jarring and irritating and weird. I love colour wen it's kind of grotesque'. No one would deny that, for a designer mostly associated with black, Owen' understanding of colour is one of the things that makes him one of the most brilliant designers of our time. Season after season, he keeps unsettling us with just one different shade. And we keep loving it.

Team work: The show's invite, which already is a collector's item, was a bandana. But not just any bandana: printed on it was an image of an Italian brutalist head bust by the artist Thayaht. Explained in the scarf was the fact that, of two busts in existence, Owens owns one. 'This Italian futurist represents a brutalist aspirational aesthetic that I have pursued doggedly since I first put my name on a label', it went on to say. Brutalism's philosophy of optimism, futurism and grace was spotlessly translated into clothes through all the white looks, the bags placed on models' stomachs as symbols of fertility, and the unexpected grace with which Owens' clother never fail to carry themselves.
Receive our daily digest of inspiration, escapism and design stories from around the world direct to your inbox