Simone Rocha A/W 2019 London Fashion Week Women's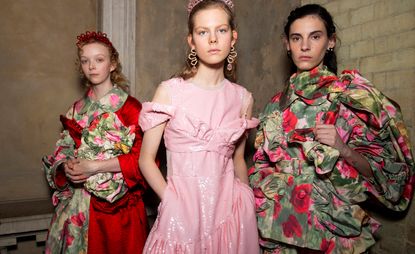 (Image credit: Jason Lloyd-Evans)
Mood board: Since Simone Rocha presented her first collection during London Fashion Week in 2010, the designer has been lauded for cultivating an aesthetic that combines the girlish with the gothic, the romantic with the quietly rebellious. Louise Bourgeois, and her powerful interpretations of femininity – explored in artworks such as the 1946-47 painting series Femme Maison – has long inspired the designer. Bourgeois' artworks are found in Rocha's New York City store, and last February she created an imagined working uniform for the artist.

At an earlier stage in her life Bourgeois was known to wear blue clothing when she felt melancholic and pink when she felt happy, and these tones featured more notably than usual in Rocha's collection, in shapes like pretty puffball dresses and opera coats. Bourgeois' deeply personal sculptures also often featured an array of undergarments and so here gauzy dresses with fleshy layers had a nuance of négligée, while in a new take on styling, silk bra tops were layered over Rocha's signature dresses and coats.

Best in show: A series of colourful graphic prints recalled the abstract octagonal forms Bourgeois outlined on the female figure in her 2002 fabric sculpture The Woven Child and her 2006 fabric book 'Dawn'.

Team work: The diverse casting in the show was stellar, and post event, Instagram was awash with images of Rocha's models walking in the runway finale. Catwalk veterans Chloë Sevigny, Jade Parfitt and Lily Cole all walked the catwalk, as did the cherubic rising talent Tess McMillan.