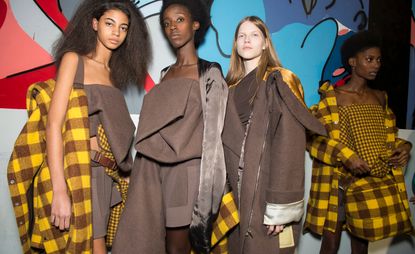 (Image credit: Jason Lloyd-Evans)
Mood board: A Jeff Judd remix of Marlene Dietrich's Baubles, Bangles and Beads – a reflective song focused on human adornment and the physical trappings of seduction – served as the soundtrack to Rick Owens' A/W 2018 show, which was held inside the confines of the Palais de Tokyo. Owens was thinking about the 'voluptuousness' and 'sumptuousness' of panniers and bustles, and the hyperbolic clothing of the past. These volumes he translated into padded and bulbous forms, like tunics in camel hair and linen felt, bumbags like pillows, and oversized parkas with swaddling sleeves. Owens played with voluminous and spongy forms in his S/S 2018 women's collection (opens in new tab), likening his squidgy silhouettes to meringues. His autumnal silhouettes were both protective and provocative, comforting and crude, an amplified version of the female form.

Best in show: Owens is a master of balancing avant-garde catwalk pieces with commercial hits, and amongst the extreme shapes and padded silhouettes, there were deconstructed coats with frayed panels inspired by Bauhaus, parkas with trailing iridescent threads, cashmere running shorts and draped tops.

Finishing touches: There was a clean athleticism to the looks, which were paired with futuristic trainers with exaggerated soles. Slouchy sock boots with curving inverted heels had the same distorting silhouettes as Owens' ready-to-wear, a wearable and futuristic take on the classic wedge heel.