Loewe A/W 2018
Jonathan Anderson dreams up a domestic scene for his runway show at the Maison de l'UNESCO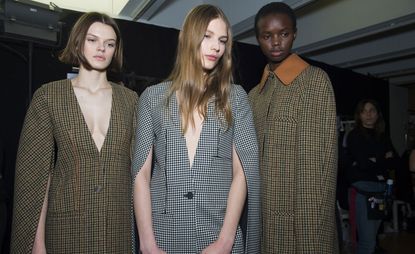 (Image credit: Jason Lloyd-Evans)
Scene setting: Two seasons ago creative director Jonathan Anderson erected an unsettling show set, one which guests entered in pitch darkness and that cranked up from chilly to sweltering temperatures. For A/W 2018, Anderson devised a more welcoming domestic scene at his regular Maison de l'UNESCO show location, populated with exhibition cases of artworks by Japanese artist Tetsumi Kudo, a roaring fireplace designed by EW Godwin and rows of chairs inspired by Godwin's chimneys. On each chair lay a copy of Madame Bovary, Wuthering Heights, Heart of Darkness, Dracula or Don Quixote, all featuring an exclusive Loewe cover shot by Steven Meisel. No random selection, these classics all deal with issues of personal identity, one of Anderson's favourite themes. As the show began a Michel Gaubert-mixed soundtrack featured the spoken word mindfulness track Burgs, by Mt Wolf, which advocates 'Just to be here, to appreciate.' Was Anderson advocating a slower pace of life, with time to absorb and view a fashion collection without the frenetic flash of iPhones, or to simply relax with a novel, or view a piece of art? 'It doesn't actually take very much to make the deepest part of us incredibly happy,' highlighted the show's soundtrack, and the clothes that followed certainly proved that.

Mood board: Anderson has bought craft to the forefront of the Spanish house, and his A/W 2018 offering was rich in detail and fabrication. There were snuggly shearling coats, a pleated leather dress with 3D bust detailing, safari suits with oversized pockets, spliced plaid shirts. Silhouettes were soft and curvaceous – tailoring came with kimono sleeves, and shirts with curved collars. Anderson has imbued the house with the sense of calm and relaxed bohemianism, enhanced by the show's soundtrack and emphasised by his collaboration with the renowned boutique Paula's Ibiza. This shore-lapping serenity was evoked by long dresses with cut outs, their edges wrapped with colourful lengths of thread, and hippyish hoodies with blanket-stitch detailing.
Finishing touches: Anderson has been continuously evolving the accessories offering of this heritage brand, which began as a purveyor of leather goods, and for A/W 2018 the Gate bag was reimagined in a miniature version, or with a chunky metal clasp, while oversized backpacks had outer pouches and a buttery funnel neck.