Marni A/W 2018
Francesco Risso brings a new 'techno primitivism' to his bright and eclectic collection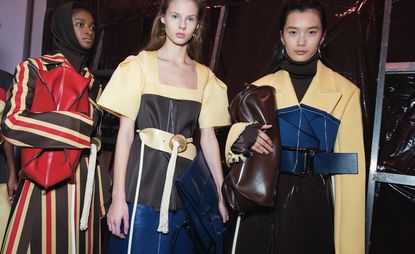 (Image credit: Jason Lloyd-Evans)
Scene setting: 'The set was about putting order into chaos,' explained Francesco Risso backstage after his third women's catwalk show at the creative helm of Marni. This was a runway set that followed on from the men's show space in January – a scrapyard-inspired setup strewn with bags of flour, dodgem cars and oil drums. This scene evoked a more ordered storage facility, stacked with piles of newspapers, plastic wrapped duvet covers, bags of soil, breeze blocks and tyres. Guests perched on coils of foam, tablecloths and sandbags as seating. 'It was about bringing control into this waste of stuff,' Risso said.

Mood board: The clothing also reflected a desire to bring things into order. Risso referred to his obsession with creating things in an 'elementary' way, citing Sherlock Holmes and the process of uniting leads and influences, bringing technology and primitivism into a unified whole. Colourful overcoats and silk dresses spliced together from different fabrics with trailing hems in Risso's DIY signature, forties dresses in a kaleidoscopic patchwork of sequins, long shiny anoraks, colours and garments layered on top of each other. 'Each garment is built through an elementary construction' Risso explained. 'The bust, the sleeve or the skirt is stitched an elementary way.'

Finishing touches: Risso referred to his designs as 'noble armour' and his jewellery pieces also acted as a colourful and mishmash form of protection. Stacks of chunky bangles layered over ribbed polo necks, chokers in coils of gold or hammered metal, hoop earrings resembling polo mints or tiny car tyres, and gold studs with long streams of feathers which fluttered down the backs of models like colourful wings.