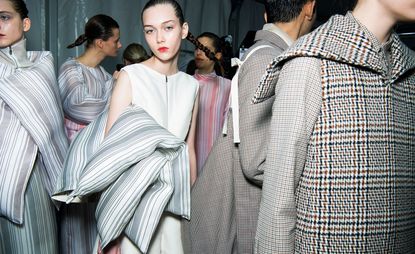 (Image credit: Jason Lloyd-Evans)
Mood board: Luke and Lucie Meier presented their second collection for Jil Sander for A/W 2018, a serene and protective men's and women's collection packed with enveloping garments, soft padding, and cocooning shapes. The duo were inspired by protective garments for future, but these were not cold or mechanical, they were warm, insulating and swaddling. A puffy knitted jacket layered with delicate organza, boots resembling soft leg warmers, a bobbing circular skirt in translucent nylon knit, a men's navy cape, jackets with tubes of wool wrapped around the elbow. This was a collection for the future that nodded to the past- the garments boasted a monastic serenity, and were finished with courtly ruching, and corsetry. The duo have spoken of their desire to re-educate the customer about the belief Sander is a purely minimalist brand- and they achieved this with glittering floral jacquards taken from the nineties Sander archive and fake fur overcoats in pretty pansy prints.

Finishing touches: accessories were integral to the brand's concept of protection. Models carried soft folded duvets and pillows, a warming muff doubled up as a bag, shrugs in comforting tea towel stripes were padded like protective blankets.

Best in show: Luke and Lucie Meier's skill in fabrication is exquisite, their clothes are ones you want to touch. The duo's aforementioned knitted wool tailoring which was topped with organza, resembled a hazy cloud. Elsewhere a cocoon shape tweed coat had pockets lined with ribbed knit, details you want to delve into, soft and serene protection for the future.