Rick Owens S/S 2020 Paris Fashion Week Men's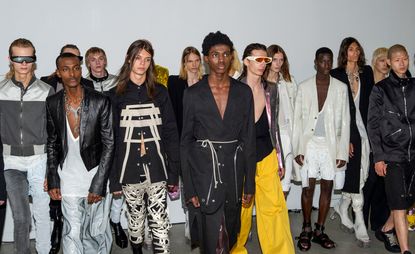 (Image credit: Jason Lloyd-Evans)
Mood board: Owens has cultivated a lyrical, rigorous bombast since founding his line in the mid-90s. There's always immense poetry and graphic, conceptual silhouettes informed by a West Coast pragmatism. For S/S 2020 the designer looked back to his own heritage, naming the collection 'TECUATL' after his grandmother's Mixtec maiden name. Owens was raised in southern California by an Anglo father and native Mexican mother. 'I've been motivated to explore my personal Mexican-ness as a reaction to the US President's fixation on a border wall,' he said. Vocals to the show were in the traditional Nahuatl Aztec language, performed by Mexican musicians. The mood was heavy and deep – the clothes leaner, less cabalistic. Sharp shoulder tailoring came covered in white sequins. Straps on blazers could be shrugged easily off and kept on around the hips. There was jubilation and hope in the yellow pieces, as well as the iridescent leathers, clinched around the waist.
Team work: For S/S 2020, Owens partnered with the United Farm Workers Association – a union founded in the 1960s for farmworkers across the US. 'My mother and I learned English together when she started taking me to nursery school. My father worked in the Porterville public court system as a translator for the Mexican migrant farm workers that were a major part of the San Joaquin agricultural industry,' he said. The Association's logo was applied onto T-shirts, with proceeds going back to support its work. A second collaboration is with American sporting company champion, now celebrating its centenary. 'I remember my cousins wearing champion Tees and shorts when we used to go visit the family in Mexico in the seventies…' Owens twists them into utilitarian loincloths and athletic togas.
Scene setting: The show was staged as usual in the terrace of the Palais de Tokyo. In the centre of the drained fountain stood a black wire bronze by British artist Thomas Houseago, whose practice is informed by architecture, sculpture, painting and performance. The invitation to the show – a layered lattice abstract – was taken from one of his colossal wall works. In his notes for the collection, Owens noted that Houseago had been thinking about border walls and the lines of Aztec hieroglyphics recently, as had he. A range of co-branded garments – jeans and shorts swathed in laces, towering sneaker boots – echoed the look and texture of the artist's figurative pieces. The catwalk was framed by mounds of deep grey clay, transported from Houseago's LA studio. After the show, it will be donated to students at The École des Beaux-Arts.
London based writer Dal Chodha is editor-in-chief of Archivist Addendum — a publishing project that explores the gap between fashion editorial and academe. He writes for various international titles and journals on fashion, art and culture and is a contributing editor at Wallpaper*. Chodha has been working in academic institutions for more than a decade and is Stage 1 Leader of the BA Fashion Communication and Promotion course at Central Saint Martins. In 2020 he published his first book SHOW NOTES, an original hybrid of journalism, poetry and provocation.