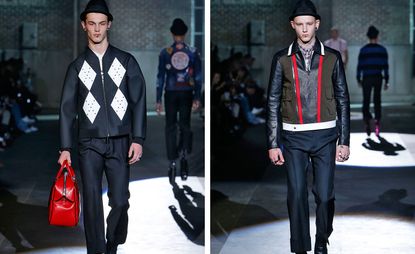 (Image credit: TBC)
Mood board: Glittering disco boys, 1970s queens of the night, hard core bare-chested punk heads and pure nonsense footwear all collided on Dsquared's fun-fun-fun, club-infected runway for spring.

Best in show: Denim never fails to be a treat with twin brothers Dean and Dan Caten. The trucker-patched jackets were cheeky and fun, while camouflage sequin jackets glimmered with fabulous luxury.

Finishing touches: The highest-ever heeled platform Go-Go boots, some of which were crusted with shiny rhinestones, gave a new kick to these gender-bent men, while the hard core lip and nose piercings made them (slightly) more macho.