Fashion brands craft their own newspapers for A/W 2021
Hold the front page – fashion brands turn to tactile print, producing newspapers and books as a way to put their A/W 2021 fashion collections in customers' hands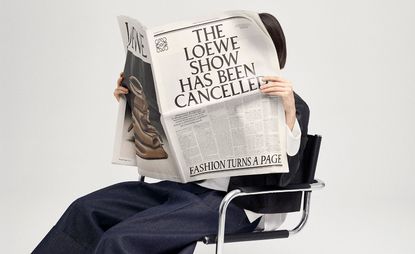 (Image credit: Loewe )
Over the past 12 months, fashion designers and brands have tackled how to present collections at a time when IRL experiences are out of the question. Most have turned to the digital realm, experimenting with AR and video, while others, in the absence of our ability to physically interact with clothing, have used tactile ephemera to emphasise its qualities.

'I work in job to do with touch and right now I can't touch anything,' mused creative director Jonathan Anderson in conversation with Hans Ulrich Obrist in a recent Moncler Genius podcast.

For A/W 2021, a selection of brands became book worms, accompanying their collections with printed newspapers that outlined their aesthetic intentions. Here, we present our favourite fashion newspapers.
Loewe
'I thought it was nice to put a literary backdrop to the collection,' said Loewe creative director Jonathan Anderson, of his initiative for the Spanish label's A/W 2021 offering. Anderson has constantly innovated around new forms of clothing presentation, creating concepts including the M/M Paris-conceived 'Show in a Box' and 'Show on the Wall', which saw ephemera and printed images used to convey a collection: from a portfolio case featuring Anthea Hamilton-designed wallpaper you can paste onto your wall, to an archive box filled with fabric swatches, a soundtrack on vinyl, and cut-and-paste cardboard mannequins.

Loewe's 'A Show in the News' concept featured a time capsule-inspired metal tin, with a newspaper folded inside. Its headline, 'The Show Has Been Cancelled', was a humorous nod to the brand's lack of a physical runway presentation. The box also boasted a letter opener encased in fuschia leather and an exclusive excerpt from the first chapter from Danielle Steele's new novel, The Affair. In the brand's podcast, Casa Loewe Conversations, Anderson also speaks to the best-selling author about her creative process. 'I always feel I have to do better and [work] harder than the time before,' she says. 'Some ideas come on their own and others are really hard to push for.'
Alighieri
The written word has taken on new resonance for Alighieri's Rosh Mahtani in the wake of the Covid-19 pandemic. During the first UK lockdown last spring, the jeweller asked friends of the brand to write down inspirational messages on paper and post them back to her. For A/W 2021, Mahtani created 'Wandering Stars Science Report', a printed book, featuring images Mahtani photographed on film, fictionally theorising how her latest pieces, from chunky chain bracelets, to sensuous crystal and pearl drop earrings, came to be. This report noted falling 'fragments from the Alighieri skies', energy-imbued creations that strengthen relationships between human beings.

'The scientific study is based on photographs, scans, eye-witness accounts and mathematical data, in an attempt to understand these creatures and objects and what they mean for our future. This take on our lookbook was such a fun journey, aiming to bring a smile to our friends and customers,' Mahtani says. 'There is nothing digital that could possibly compare to a physical book, the turning of a page, or the feel of a talisman. For us, at Alighieri, we use physical marketing alongside our digital initiatives, to truly bring people into our universe, and offer them a moment for a physical ritual in their day.'
Stefan Cooke
A recurring restriction of clothing presented through the screen is that it can be difficult for viewers to take in the fine design details and fabrications. For Stefan Cooke's A/W 2021 collection, brand founders Stefan Cooke and Jake Burt were keen to draw attention to its fabrics and finishing touches, like lattice slashed knitwear, oversized tassels, textured denim, and tactile button badges. 'We wanted to shoot the collection in a way that made the viewer feel close to the clothes,' they explain. The result was a printed book with collection images photographed by Jet Swan, that had been blown up and zoomed in on.

Each page of the publication boasted an A/W 2021 collection detail shot, like the diamond shape of an intarsia knitted jumper or the silhoeutte of a thick-soled boot, which moved down the body, from the face to the feet. As a result, the project bore resemblance to a popular children's drawing game, which invites players to draw a different body part on a piece of folded up paper.
Kenzo
Guests tuning into Kenzo's A/W 2021 dance performance online had something to browse before the show began, with the label sending a colourful Kenzo newspaper to guests, zipped into a bold patterned Tyvek envelope. With the collection, creative director Felipe Oliveira Baptista celebrated the prismatic, experimental and joy-encouraging life of the brand's founder Kenzō Takada, who passed away in October 2020. Fluid pieces in saturated shades, stripes and naturalistic patterns drew on both Takada and Baptista's archives.

The pages of the accompanying newspaper, designed in collaboration with M/M Paris, were collaged and tiled with celebratory archive images and photographs, bold typography, sketches and prints, from glass bottles to birds, pansies to jangling chains. Baptista included a hand-written Editor's Letter, outlining his creative response to Takada's death. 'Kenzō stood for freedom, joy, diversity, love of nature, and creating harmony out of contrasts,' he wrote. 'I wanted colour and print to reflect all of this. An offering to Kenzō of all the things he cherished.'
Gucci
As a maison, Gucci boasts a range of recognisable motifs, from the tiger to the bee, the interlocking 'GG' logo to the triple stripe. In celebration of this symbology, for the label's A/W 2021 collection invitation, the Florentine house created 'Gucci Quiz,' a 30+ page book of fashion-related puzzles, sent out to the homes of digital guests around the world, incorporating a host of Gucci trivia.

Cryptic crossword your favourite brain-teaser, or more suited to a wordsearch? Never fear, for Gucci Quiz has an array of puzzles, from chic spot the differences to pop quiz's to connect the dots. The booklet, which was created in collaboration with Keesing PRS Italia and with the support of Domenica Quiz, is one of a host of innovative fashion show invitations that creative director Alessandro Michele has conceived over the years, including an apparently ticking bomb, a miniature tin box packed with mementos and a packet of flowering plant bulbs.