Family jewels: a new exhibition at Chatsworth House celebrates five centuries of style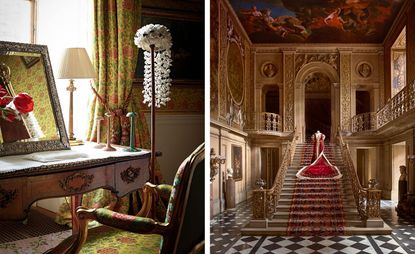 (Image credit: Thomas Loof)
When working on the creative direction and set design for 'House Style', the largest exhibition to date at Chatsworth House, Patrick Kinmonth decided to hand-write the captions to every piece presented within its numerous chambers, from the Chapel to the State Music Room, which explore five centuries of fashion in the extensive Devonshire collection. 'The most exhausting thing was everybody saying "you'll never do it!"'explains Kinmonth of the task. It acts as a motif behind the manpower and research that was needed to create an exhibition with such an archival imprint, which began six years ago when Lady Burlington invited Hamish Bowles, the exhibition's curator to rummage in the House's Textiles Room, after she was looking for an heirloom christening gown.
'Often when you design an exhibition there is no one around who is connected with what you are presenting,' says Kinmonth who collaborated on the creative direction of 'House Style' with Antonio Monfredo, and have worked together on exhibition designs including 'Valentino: Master of Couture' at London's Somerset House (2012–13) and 'AngloMania: Tradition and Transgression in British Fashion' (2006) at the Metropolitan Museum of Art New York. 'At Chatsworth House,' he says, 'the whole place is alive.'
The exhibition brings to life the fascinating individuals in the Cavendish family, from Bess of Hardwick to Stella Tennant, and an extensive visual timeline leading to the Chapel of the house documents the family's heritage through the use of mementos, trinkets and letters. Alongside jewels and lengths of 17th century Venetian lace sit more personal pieces like Deborah Devonshire's Elvis Presley printed slippers to both jewellery and a toy mouse owned by Amanda, the current Duchess of Devonshire. 'She said "these are the things that really represent my world",' explains Kinmoth. 'She put this amazing gold and diamond brooch down, and then also the mouse!'

Presented thematically, the exhibition is a celebration of both historical and modern fashions, from ceremonial regalia to catwalk looks worn by Stella Tennant. In the Chapel's 'Circle of Life' section, wedding and mourning outfits are presented together, and include a Givenchy bolero trimmed with lace and beaded daisies, worn by the Duchess on her wedding day.

In the 'Dressing for Dinner' section of the exhibition, held in the Great Dining Room, mannequins sit at a grand table in evening wear ranging from a 20th century dress and cape by Christine Thompson, a pom-pom detail Franka evening dress from 1980 and a S/S 2016 floral Vetements dress. Pieces within the exhibition also explore the aesthetic connection between historical and contemporary fashion, like a dress worn by Bess of Hardwick, embroidered with floral motifs by Maria Sybylla Merian, reimagined in 2017 as a dress design for the Duchess of Devonshire by Gucci's Alessandro Michele. 'The family really wanted to make the exhibition a modern experience,' Kinmonth adds. 'They didn't want it to appear wrapped in mothballs.' Mission accomplished.
INFORMATION
'House Style' is on view until 22 June. For more information, visit the Chatsworth House website (opens in new tab)
ADDRESS
Chatsworth House
Bakewell DE45 1PP
VIEW GOOGLE MAPS (opens in new tab)