Couture unwrapped: the haute-worthy confections at the A/W 2014-15 Paris shows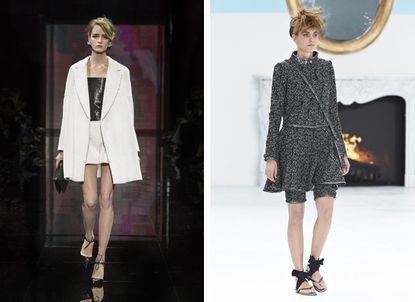 (Image credit: TBC)
Wallpaper* Newsletter
Receive our daily digest of inspiration, escapism and design stories from around the world direct to your inbox
Thank you for signing up to Wallpaper. You will receive a verification email shortly.
There was a problem. Please refresh the page and try again.
Modern is a word that is rarely emphasised in the high and haughty world of the Paris Couture - a bi-annual fashion extravaganza where adjectives like elaborate, fantastical and extreme tend to fit more comfortably into the vocabulary. An adventure in fashion finery, the couture shows are renowned for their unique ability to push our imaginations (and pocket books) to the limit - even if these one-of-a-kind creations will only ever be worn by a very privileged few. That said, change was certainly afoot this A/W season with many of the most prominent houses presenting collections that centred around a couture interpretation of everyday clothing archetypes. For starters both Mr Armani at Armani Privé (left) and Karl Lagerfeld at Chanel (right) opened their shows with a series of shorts
Giambattista Valli paired his ombre-dyed ball skirts with collared shirts (centre), while Raf Simons at Christian Dior (left) and Maria Grazia Chiuri and Pierpaolo Piccioli at Valentino (right) utilised turtlenecks and trousers as a backdrop to their cerebral century shuffles. This elegant juxtaposition drew the spotlight to the contemporary notion of wearability that somewhat unexpectedly crept into the couture equation. No longer needing to defend couture's relevance to their packed audiences, there was a freedom to the A/W season with maisons from Valentino to Chanel even showing their wares paired back with flat sandals - further extending a modern ease to fashion's highest art form
Atelier Versace: Donatella Versace opened the proceedings with a showcase that spelt out haute with a heightened Italian sex appeal. Rock 'n' Roll with a futuristic bent, the Matrix-esque collection was centred around an inky midnight blue colour palette, the show awash with open-boned corsets, daring splits, fringed leather and gold buckle hardware - Versace's flashy fastening of choice
Atelier Versace: Pushing couture conventions even further, the designer debuted hybrid one-legged skirt suits, a crystal encrusted silk tee for her hip-flashing contemporary devotees, and the latest edition of a micro crystal Swarovski mesh that Gianni pioneered 30 years ago
Schiaparelli: For his second season at the house of Schiaparelli, Marco Zanini explored the juxtaposition between couture's flamboyant artisanal craftsmanship and the more urban side of life that founder Elsa Schiaparelli was so fond of 'dressing up' in her collections
Schiaparelli: Fusing the ordinary with the extraordinary, New York City rats and Central Park squirrels from Schiaparelli's former hunting ground, crawled across jacquard silk gowns. Church tower pigeons settled on a bridal bustle (appropriately titled Les pigeons de Notre-Dame), as an ostrich feathered bolero was offered a similar 'grounding' - its plumage coated in Glycerine to resemble the monkey fur that Schiaparelli had a fondness for
Schiaparelli: This season Zanini was far from afraid to dig into the house's archives, designing a night butterfly print for Schiaparelli's 1938 day butterfly, while her shocking pink hue was back with a vengeance - most notably on a backless 1930s-style velvet sheath finished with a matching rose corsage
Schiaparelli: The addition of Stephen Jones' bespoke hats, glittering jewels and flat, croc boots that offered a Gothic edge in their pronounced point, completed the eclectic triumph that eloquently spoke Schiaparelli's unique lexicon
Christian Dior: Walking through the classical gardens of Paris' Musee Rodin, we were soon transported into a circular spaceship, designed as a palette cleanser for Raf Simons' impending time travel
Christian Dior: Designed by Eric Chauvin, the space's mirrored walls were obscured by white Phalaenopsis orchids that popped out from hidden openings masterminded by Simons' florist friend Mark Colle
Christian Dior: As for the collection, Mr Simons searched for providence, looking both backwards and forwards to prepare for what would come next. 'I started to think "what is modern?"' he explained in his show notes. 'What I was attracted to was an idea of architectural construction - that is a very Dior attitude - and how the foundations of one era are based on another, how the future is based on the past. That is what I found fascinating'
Christian Dior: Simons' response was a controlled cross-section of ideas drawn from eight different eras starting with bustled, 18th century silk gowns modernised in parachute silk, followed by embroidered silk astronaut suits and encrusted Rococo evening coats - paired back with classical clothing archetypes, including roll-neck knits and wide-legged trousers. 'The challenge was to bring the attitude of contemporary reality to something very historical; bringing easiness to something that could be perceived as theatrical. It is the attitude that matters,' he concluded
Giambattista Valli: The Italian couturier certainly has a captive audience in these parts, and mostly thanks to his tight grip on classically elegant gowns that would make any contemporary woman's heart sing
Giambattista Valli: The designer's success lies in the timeless beauty and endearing femininity of his clothes, which he took a step further this season marrying the purist white shirt with a feather-like, tiered ball skirt
Giambattista Valli: Opening the show with Riviera stripes fit for Grace Kelly, circa To Catch a Thief, daisies soon sprouted from transparent cocktail contenders, with each girl sporting a Slim Aarons' set turban and sunglasses to keep out the glare of the sun (and flashing light bulbs) - no doubt encountered during regular turns along the Promenade de la Croisette
Chanel: Karl Lagerfeld is never one to linger long on any one idea, so it's fitting that just when we'd come to expect another arena-style spectacular, he set fire to grandiose set theatrics in favour of a more intimate show space crowned by a gilt Baroque frame, and a concrete fireplace modelled after a Brutalist 1930s Le Corbusier Parisian apartment that once took his fancy, complete with 'digital flames'
Chanel: Wiping the slate clean, this season Lagerfeld was primarily concerned with new modes of construction, explored through an active silhouette, cemented by tour de force bike pants (or bloomers - tying into the season's decorative Baroque accents), which peeped out from under skirts and long-line jackets recast as geometric 'tiled' tweed
Chanel: Similarly modern was Lagerfeld's abandonment of stitched seams, superseded by moulded jackets and coats that were each sculpted from one single piece of bias-cut fabric. He also toyed with the literal use of concrete - embroidered into fabric and even perforated like Airtex
Chanel: Just as upwardly mobile was his choice of footwear, finishing each look with ribbon-wrapped sandals tied with an elegant bow at the ankle. No doubt the ideal footwear for a pregnant bride, such as Ashleigh Good, who closed the show in the last of a series of puritan white gowns, finished with gilt brocade or gold-dipped buttons.
Roger Vivier: A 45-minute turn around 'Henri Matisse: the Cut-Outs' at London's Tate Modern, en route to the Eurostar was all Bruno Frisoni needed to inspire his demi-couture S/S 2015 Rendez-Vous collection
Roger Vivier: Moved by Matisse's leaf and coral gouaches découpés shapes, the creative director began sketching during his journey back to Paris, where he later unearthed Mr Vivier's original collages completed in the 1990s, while the house's founder was in his late 80s
Roger Vivier: The result is wearable art in more ways than one
Ulyana Sergeenko: Designer and couture client Ulyana Sergeenko looked to her native Russia and its revolutionary transition, from the fall of the Tsars to its re-emergence as the 'modern' USSR, for her fifth collection
Ulyana Sergeenko: Musing on the remnants of a crumbling old world order, Sergeenko added a sensual twist courtesy of cinched waistlines, Latex-look leather finishes and her signature pointed corsets projecting superhero strength, while handkerchief headwear, wheat motif embroideries and bib gowns nodded to the peasantry
Ulyana Sergeenko: Pointy, pleated skater skirts teamed with patterned mohair jumpers (inspired by Ukrainian constructivist artist Kazimir Malevich), conjured up visions of late 1970s skiwear that lingered in the Eastern Bloc long after the Cold War...
Ulyana Sergeenko: ...before boudoir-ready gowns promised a more liberal future
Armani Privé: 'Red, white and black from a lacquer box' was Mr Armani's starting point for a season that opened with practical short suits - no doubt intended for the new generation of couture clients that he'd collected within his Theatre National de Chaillot show space. Similarly abbreviated, demurely ruffled cape coats followed, as Mr Armani experimented with all matter of textures, before we started seeing spots
Armani Privé: An enamel red fringed evening coat and a series of cropped 1950s-style strapless dresses were party perfect, before he got caught up in netted tulle ball silhouettes that resembled huge carnation flowers
Armani Privé: However, Mr Armani soon untangled his creativity, offering a series of decadent tiered evening gowns fit for a Spanish princess; their matching veils dotted with giant paillettes or tiny blooms resembling bobbing baby's-breath
Bulgari: Not content with the traditional salon jewellery presentation that frequent the couture calendar, Bulgari transformed Michelin starred chef Jean-Pierre Vigato's Apicius restaurant grounds into a field of white roses to unveil its MVSA high jewellery collection. Flower designer Jeff Leatham, famous for the tilted blooms that decorate Paris' Hotel George V, went to work on the 19th century château's gardens installing some 2,800 upright avalanche roses to create a decadent mise-en-scène.
Bulgari: The house's mega-watt jewels were then left to freely roam around the restaurant's 8th arrondissement grounds on model partygoers.
Maison Martin Margiela Artisanal: Uniting found treasures ranging from a 1930s children's party costume to nickel coins salvaged from a Brussels flee market, Maison Martin Margiela's Artisanal collection always serves as a sustainable flight of fantasy. Resurrecting and recasting vintage pieces into new guises, each garment is made by hand within Margiela's Paris atelier
Maison Martin Margiela Artisanal: This season, the line-up included a Surrealist lobster that landed atop a silken bustier and a 1949 souvenir bomber jacket from Tokyo re-imagined as embroidered silk dresses and teamed with jewelled masks inspired by Fabergé eggs
Maison Martin Margiela Artisanal: Brocade from 1880 was similarly cut into cheeky asymmetric dresses, while those tarnished coins adorned a transparent strapless gown. Here, anything old that fuels the maison's imagination can be new again
Jean Paul Gaultier: Monsieur Gaultier certainly got the blood pumping during his A/W couture show that matched Elvira 'mistress of the dark' with an Eyes Wide Shut sensuality. This was a presentation of extremes: power and pleasure, leather and lace, hooded capes and barely-there transparency, mega makeup and severe hair - the latter of which was teased high, and then left sashaying from behind like wild horsetails.
Jean Paul Gaultier: Dominated by a palette of blood red, jet black and Swarovski crystal glitz, the show was as dark as it was decadent - the runway lit by dripping red candles on blackened candelabras decreeing Gaultier's witching hour. If you didn't tweak to the theme all you needed were the show notes: cue the first look, 'Dahlia Noir', look two, 'Morticcia', 'Black Sabbath', 'Danse Macabre', and 'True Blood' to follow.
Jean Paul Gaultier: One model sported a transparent cloak that did little to conceal her Swarovski crystal body bands, while couture-weight parkas were cut from micro crystals, as a velvet column dress was edged in white pearls. The precious beads were also painstakingly strung from the end of the model's noir mane. But then this is couture, after all, where designers' deepest desires are expected to roam wild.
Vionnet: Renowned for his technical expertise with high construction shapes, Hussein Chalayan took a three-dimensional approach to Vionnet's demi-couture line for A/W. Three strong silhouettes leapt out from the runway show held within the crumbling, graffitied grounds of Paris' École des Beaux-Arts. The first involved spot cut-outs, laced with Madeleine Vionnet's historic sunray pleating
Vionnet: The second was built on an external 3D spine that circumvented gowns as though drafted as an architectural extension, while the third swept up a curtain of draped silk, which was elegantly gathered to one side in dualist hues of nude and steel
Repossi: There's no doubt that Gaia Repossi has transformed the storied fine jewellery scene with her contemporary spin, and the Parisian's latest 'Serti Sur Vide' collection further served to redefine this space.
Repossi: Presented within Hotel d'Evreux, a stones throw from her Place Vendôme studio, this season Repossi opened up her cult Berbère rings to create the illusion of stones floating suspended in mid-air.
Repossi: The same light hand was extended to the lattice-like lines of her Bauhaus-inspired 'Serti Sur Vide' cuffs - their toffee-thin, golden grid dotted with diamond carats and irregular lines of sparkling pave.
Valentino: Presented beneath arches of forest greens within the Hôtel Salomon de Rothschild, Maria Grazia Chiuri and Pierpaolo Piccioli's collection laid out an essay in classicism for A/W, pairing rich textures with simple Romanesque silhouettes
Valentino: The elongated collection was united by recurring leather lacings that criss-crossed the body - be it on a backless cashmere knit or a toga-inspired gown - casting the bare back as the focal point of the collection. Not that A/W was in any way short on couture poetry - one coat was crafted from an 17th century tapestry, while laces were laminated and jewelled to fairy-tale success
Valentino: There was a monastic grounding to the collection that was styled back with flat-laced sandals, which echoed the pared-back purity of the house's Pre-Raphaelite beauties
Viktor & Rolf: The Amsterdam-based duo closed the couture collections with a pointed musing on red carpet dressing. Ordinarily, this would involve beads, sequins and certainly rolls of silk de chine. But here we were, of course, in for a Viktor & Rolf twist with designers Viktor Horsting and Rolf Snoeren envisaging their starlets wearing the red carpet as well as walking it. Cue short dresses (carpet isn't as feather-light as silk) tied and twisted into giant knots and bows. The show was a witty reminder not to take everything… including the Paris Couture… too seriously
Receive our daily digest of inspiration, escapism and design stories from around the world direct to your inbox