Chanel gathers its métiers d'art ateliers under one roof
Chanel opens Le 19M, the Rudy Ricciotti-designed building in Aubervilliers, Paris, which houses the French fashion house's métiers d'art ateliers, including embroiderer Lesage and shoemaker Massaro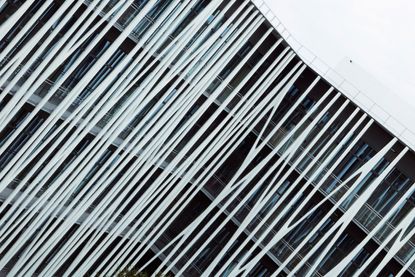 (Image credit: Florent Tanet)
Seven years ago, French embroidery house Montex combined tiny concrete cubes with pieces of leather, inventing a totally unique fabric for Chanel's A/W 2014 haute couture collection. Now Chanel has turned concrete into a sort of fabric once more, with a head-turning new building, designed by French architect Rudy Ricciotti. Chanel 19M is wrapped in a chrysalis of white concrete threadlike structures.
Located on the northern edge of Paris, the building covers 25,000 sq m on seven floors. It houses 600 people and 11 métiers d'art, the ateliers behind millions of hours of painstaking craftsmanship (embroidering sequins, trimming feathers, sculpting sunburst pleats) that transforms apparel into art. Chanel has named the building Le 19M – 'M' for mains (hands), métier (craftsmanship) and mode (fashion), and 19 for the arrondissement and Coco Chanel's birthdate.
Chanel 19M: the maison brings its metiers d'art ateliers into the fold
Montex and its architectural offshoot, MTX, were the first ateliers to take up residence, in March 2021. Nine others followed: pleater Lognon, shoemaker Massaro, feather and flower expert Lemarié, flou (delicate fabrics) atelier Paloma, milliner Michel, goldsmith Goossens and embroiderer Lesage, along with its school and Lesage Intérieurs. (The building also houses swimwear maker Eres, which belongs to the Chanel group.)
At one time, workshops like these numbered thousands across France, many of them family businesses going back generations. Coco Chanel had a special connection to the métiers d'art – Lemarié developed her fabric camellia, Massaro the bi-colour slingback shoe, Goossens the bird's nest earrings, to name just a few. Karl Lagerfeld reinforced the relationship when he arrived as Chanel's creative director in 1983. And ever since current creative director Virginie Viard joined Chanel as an intern in 1987, then becoming studio director (Lagerfeld called her his 'right and left hand'), she has served as a direct liaison between the house and the métiers d'art.
Over the years, most of the workshops disappeared, victims of industrialisation, changing fashions and a lack of family heirs to run them. Concerned about their future, Chanel began to acquire those it deemed most essential, starting with Desrues (buttons and jewellery) in 1985. It now owns 38 métiers d'art, representing some 5,000 jobs, under a subsidiary called Paraffection. 'Without them, creation couldn't be what it is today in Paris,' says Chanel's fashion president, Bruno Pavlovsky, emphasising that these highly skilled artisans and the couture industry depend on one another for survival.
The ateliers had been scattered around Paris, many in buildings that were charming but dilapidated. In 2011, Chanel moved several of the ateliers to a 5,000 sq m building in the suburb of Pantin, but soon that was too small, and they spilled over into another building in neighbouring Aubervilliers, a gritty suburb just starting to gentrify. So Chanel hunted for a site large and accessible enough for all, and found a neglected industrial plot of land on the edge of Aubervilliers. 'This area is evolving, and the upcoming Olympic Games will have an interesting impact,' says Pavlovsky. 'I think this will be a strategic location, full of an energy that goes well with what we do.'
Le 19M: the building by Rudy Ricciotti
The execution of the building was particularly challenging, says Ricciotti, who regularly collaborates with a slew of engineers to do revolutionary things with ultra high-performance concrete. Its exoskeleton is composed of 231 slim concrete modules, each 24m high, in different configurations, and each cast as a single piece. Trucks delivered the enormous structures to the site in the middle of the night, and special tools were used to carefully lift them into their vertical, weight-bearing position. Ricciotti compared the physics to the handiwork at Lognon, a workshop that pleats fabric using accordion-like cardboard moulds. 'A sheet of paper has no mechanical resistance, but when you fold it and place it vertically, it is incredible the amount of resistance it assumes.'
The façade might appear delicate, but don't be fooled. Each module is able to support its own weight, the exterior corridors, weather (such as snow) and live loads (such as people). The building is triangular in shape, following the footprint of the site, and Ricciotti created a garden in the centre, enclosed by the arcades. Jean-François Lesage, founder of Lesage Intérieurs, admits, 'I was a bit apprehensive at first, leaving a place where we worked for more than 100 years. But the garden, the luminosity, the monastic feeling, it's extraordinary – like a cloister where you can fully concentrate on your passions.' Within the building, the architect achieved a perfect balance of natural and artificial light. 'I can finally see the real colour of the feathers,' says Julie, a young plumassière at Lemarié.
Pavlovsky made sure to create physical separations between the ateliers to maintain each one's unique style and savoir-faire, saying, 'One should recognise right away whether something is embroidered by Montex, Lemarié or Lesage'. At the same time, the new building gives the artisans opportunities to easily interact. Montex's artistic director Aska Yamashita recounts that Virginie Viard stopped in one day and had lunch with all the ateliers' artistic directors, something that never would have happened before.
A hub for engaging and connecting
Chanel also encourages the ateliers to continue working for a range of brands, both to feed their creativity and maintain their business models. Each workshop pays rent and is expected to turn a profit. Fortunately, they are all growing, their rare ancestral skills being passed on to new generations. Recruitment was an issue about 20 years ago, says Pavlovsky, when the métiers d'art were considered fallback professions for those who flunked out of school. That is no longer the case. Many of the artisans are under 30 and as comfortable embroidering on antique Cornely machines as manipulating a 3D printer.
While an influx of youth is key, so is exposure to life outside this hive of activity. To this end, Le 19M includes a 1,200 sq m gallery on two levels, La Galerie du 19M, opening this autumn. La Galerie has already hosted artist workshops and signed partnerships with alternative film school École Kourtrajmé, headed up by film director Ladj Ly and artist JR. 'If this building is insular and unengaged, it will be very difficult to maintain a positive energy,' says Pavlovsky. 'Keeping these métiers d'art connected to the world of today is the best guarantee they will still exist tomorrow.'
INFORMATION
A version of this article appears in the October 2021, 25th Anniversary Issue of Wallpaper* (W*270), on newsstands now and available to subscribers – 12 digital issues for $12,£12,€12.
Receive our daily digest of inspiration, escapism and design stories from around the world direct to your inbox