Browns and Fred Segal's transatlantic team-up in Los Angeles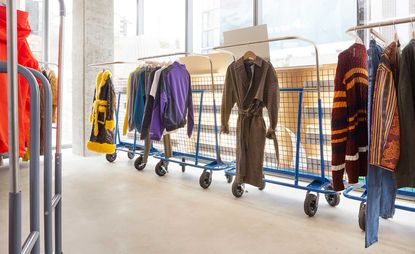 (Image credit: Erik Melvin)
Alexander McQueen, John Galliano and Hussein Chalayan: London-based boutique Browns is renowned for being the first to buy some of its home city's most imaginative and subversive talents. Opened in 1970, it was also the first UK retailer to stock a host of US designers, including Ralph Lauren, Donna Karan and Calvin Klein.

Now, under the guidance of ever-innovative Browns CEO Holli Rogers – who joined the retailer in 2015 when it was bought by e-commerce behemoth Farfetch – the boutique has sartorially strengthened its translatlantic relationship, teaming up with the revered LA boutique Fred Segal, on an eight week pop-up shop in its 21,000 sq ft Sunset Boulevard outpost.
'In the past, people have always said "you're a retailer, why would you work with another retailer?"' Rogers says of the innovative boutique-in-boutique approach, which marks Browns' first ever expansion into a non-UK, non-London territory. 'For as long as I can remember, I've always had an appreciation of retailers, and their edits of product, curated according to their personal eye.'

Fred Segal's personality is a pioneering one. The retailer first opened in 1961, and it was one of the first boutiques to champion the concept store format, with curated in-store pop-up shops. Its Sunset Boulevard space, which opened in September 2017, also boasts a boxing gym, florist Matriarch, and European-inspired restaurant Tesse.

The storied American boutique has a casual-focused approach to style, born from its denim heritage and aligning with LA's laid back culture, while Browns has a more high fashion attitude – but both retailers are united in their nurturing of new talent. As the luxury market has adopted a more relaxed approach to style, there's also a new synergy between their home cities.

That relaxed LA mindset – synonymous with mindfulness, health and fitness – is now more of a global frame of mind, and creatives are migrating from the East to the West Coast, swapping Manhattan for Malibu. Browns currently stocks more LA designers than New York-based brands, including womenswear label Simon Miller, accessory brand Building Block and hat designer Nick Fouquet. 'It's an incredibly significant fashion destination,' Rogers says.
The Fred Segal pop-up is the second iteration of Browns' Nomad project – a series of roaming retail concepts which debuted with its Shoreditch-based Browns East space last October. Devised by London-based commercial interior designers Brinkworth, the outpost is made up of interchangeable elements, like colourful moveable fixtures and rails, which can accommodate its roster of in-store experiences. This has included a virtual reality room, temporary restaurant Bodega Rita's and a shoppable furniture installation by Muller Van Severen.

Brinkworth too has designed Browns' Sunset Boulevard space, which houses a selection of the retailers most innovative, avant-garde or London-centric designers. 'The space really brings a new lens of what is out there in fashion,' says John Frierson, president of Fred Segal. 'It's wonderful to bring these brands here and anchor them to our community.'

'We made a selection from our buy, which was very much about how we can complement the Fred Segal offering, keeping both theirs and our customer in mind,' says Browns' womenswear buying director Ida Petersson.

The idiosyncratically colourful men's and women's selection includes British stalwarts Burberry and Italian sportswear giants Stone Island, alongside more niche and burgeoning labels. For men, think London based-designers Kiko Kostadinov and Edward Crutchley, and Japanese running brand Mizuno. For women, Seoul-based labels Charms and Low Classic, handmade bodysuit brand Alexia Hentsch and a capsule collection of California-inspired tie-dye scuba dresses by Conner Ives.

'We get a lot of different people, brands artists and curators who come into our world, and we'll let them do it their way,' says Frierson. 'It's part of our personality, which has made it easer to imagine two retailers coming together'. Rogers agrees. 'It's retail magic,' she winks, of a concept which has cast a sartorial spell over not just Sunset Boulevard, but will bring enchanting new retail possibilites to boutiques far beyond.
INFORMATION
Browns loves Fred Segal is on view for eight weeks from 1 September. For more information, visit the Browns website (opens in new tab), Fred Segal website (opens in new tab)
ADDRESS
Fred Segal
8500 Sunset Blvd
Los Angeles
CA 90069
VIEW GOOGLE MAPS (opens in new tab)