Sustainable clothing brands doing less but better
LA-based sustainabiliy specialists RE/DONE launches its first upcycled sneaker, a low top style that draws on retro sporty silhouettes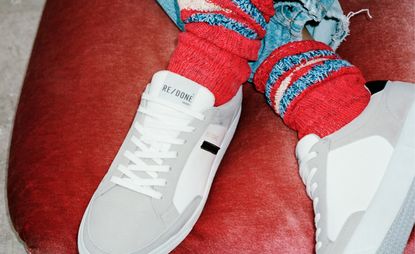 (Image credit: press)
Buy less, buy better has been a popular mantra in recent years, and one which at Wallpaper*, we've always aligned with. It's a phrase which has gained more momentum in 2021, as the pandemic has encouraged us to rethink the frenetic pace in which the world lives and consumes. We recommend investing in wardrobe classics, which when created from upcycled fabrics and yarns, are not only timeless they're environment saving too. Here are the brands for bolstering your sustainable shopping spirit.
RE/DONE
LA-based label RE/DONE revolutionised the denim market with its range of upcycled vintage jeans, transforming discarded silhouettes from brands including Levi's, Hanes and Bass. Now, the label has focused a little further down the leg, with the debut of its first sneaker, a sleek sporty style that nods to Eighties and Nineties silhouettes. 'We wanted to recreate the nostalgia behind essential cult classics in a way that feels both luxury and authentic to RE/DONE's commitment to responsibility,' says co-founder Jamie Mazur. In line with the brand's sustainable mindset, the trainers are created using a new recycled material made from discarded bottles, 100% recycled leather and suede alternative, recycled rubber and even zinc-free eyelets. RE/DONE is the first and only label with access to this new leather alternative, and now you can be too.
Selfridges Designer Studio, Westminster Fashion students
A true fashion enthusiast known for her exuberant personal stye, Yasmin Sewell explains, 'I've always given away or sold clothes. My wardrobe isn't actually very big as I try not to hoard and tend to pass things on. I love the idea of refreshing and clearing.' While looking for a designer to employ to upcycle some of her existing pieces, she got talking to Liliana Sanguino, Course Leader of MA Menswear at University of Westminster. It was a lightbulb moment. 'We wanted to set the students a challenge with regeneration and sustainability at its core,' says Sewell. She opened her wardrobe up to seven Westminster University students back in March, and this summer, while in lock down, they reworked iconic pieces into new, reimagined items.

Guangyu Li created an apron and watering can from a Balenciaga apron dress designed by Demna Gvasalia. Catherine Hudson worked with layers of draped tulle to re-fashion a Natasha Zinko sailor blazer, working in charged crystals. Wesley Stuart Hartwell reworked an oversized Acne crepe shirt into a new intricately pleated version. 'Then Wesley took an old Nicolas Ghesquière for Balenciaga blazer I've had for 18 years, and with so much care and without cutting anything, took the whole thing apart and remade it into a blazer and waistcoat with top stitching,' says Sewell.

The work of seven students - Wesley Stuart Hartwell, Catherine Hudson, Sankim, Guangyu Li, Georgia Wilson, Zoli and Yunn - will be on sale at Selfridges as the first installment of Rechargex7.
The Series
From patchwork shirts to DIY denim, The Series (opens in new tab)' Ella Wiznia crafts her splice-and-dice-centric clothing using upcycled fabrics. In a bid to encourage a show fashion mind set, she also custom creates a series of styles which are made to order, including daisy-motif or colourfully patterned tank tops, crafted from vintage crochet. Now, the New York-based label has launched a series of puffer jacket styles with padded eco-value. The colourful and graphic silhouettes are created from upcycled sleeping bags and comforters, sent in for outerwear reinvention by customers themselves. Got an unused patterned sleeping bag you'd love to sport yourself? Each puffer jacket takes 3-4 weeks to create, and Wiznia plans to create ten styles per month. Time to box up that bedding.
Vee Collective
Chances are, you'll be staying indoors in safety this weekend, but for a host of risk-taking skippers, Sunday marks the first day of the Vendée Globe - the only sailing race round the world, solo, non-stop and without assistance. Participating in the race is German sailor Boris Herrmann, part of racing squad Team Malizia, which was founded in 2016 by Pierre Casirgahi, Vice-President of the Yacht Club de Monaco. It was Hermann and Casirgahi who sailed Greta Thunberg emission-free across the Atlantic Ocean to New York's UN Climate Action Summit in New York.

As Hermann takes to the seas, he'll be well stocked with a swathe of sustainable weatherproof bags, courtesy of Berlin-based accessories company Vee Collective. The eco label operates with a host of environmentally-conscious practices, creating verstaile bags using recycled nylon, and transporting its products via sea, to reduce carbon footprint. For Hermann's ocean trip, the brand has designed a series of lightweight and protective duffle and tote bags, upcycled from waste Malizia sails. We suggest you stock up when you next take to the high seas.
RELATED STORY
Acne Studios
'We wanted to do something positive with our excess materials, which we have left over after production in the factories we work with in Asia and Europe,' explains Acne Studios Jonny Johansson of the brand's newly launched Repurposed collection, which sees deadstock fabrics transformed into new pieces. For the first drop, the Swedish brand has taken materials from a tailoring and denim factory – located closely to each other geographically – and repurposed black denim, leather, tweeds and zips, into spliced and diced tailoring, shirting and jeans. The refined collection revels in fabrication, with a blazer formed a patchwork of tweeds and tailoring fabrics, and celebrates the graphic ways in which materials can be reconstructed. 'I love that the collection feels very purposeful, like these pieces have a reason to exist. It's very positive in the intention behind the collection, and also in the design.'
Emporio Armani
'Yes to Recycling' was the phrase emblazoned on the walls of the brand's brutalist Teatro Armani space at the opening of its A/W 2020 runway show. The sustainable slogan was a nod to Emporio Armani's R-EA capsule collection, an offering of monochromatic urban essentials, crafted using regenerated, recycled and organic materials. The collection features snuggly quilted outerwear, cropped tailoring, backpacks and berets, peppered with the R-EA logo. Pieces are crafted using a wool from the Prato region of Italy, made from local pre-consumer textile scraps, plus recycled nylon and polyester, created from waste including fishing nets and plastic bottles. It's a yes from us.
Ellery and Duran Lantink
Last year, burgeoning Dutch designer Duran Lantink collaborated with famed London boutique Browns, cutting and shredding the retailer's surplus warehouse stock and transforming these fabrics into unique pieces. Now Lantink has embarked on his first collaboration with a single brand, working on a limited edition capsule collection with Paris-based Ellery, which sees 150 archival garments, from sequin columns dresses to trench coats, reworked into new designs. 'Throughout the entire process, the greatest pleasure for me was watching Duran bring the pieces a new, positive energy,' founder Kim Ellery says of her idiosyncratically fluid and architectural designs, which have been given new flounce and form. The offering features a herringbone coat frothing with flamenco ruffles, and a loose shirt with a sleeve sprouting accordion pleats. Adds Ellery, 'With his hand came new work, garments both unique and precious.'
Levi's
'Repair, Reimagine, Recycle' are the buzzwords behind Levi's latest sustainability-focused initiative, newly launched at its Levi's Haus concept store in central London. The upcycling-focused space allows customers to bring their favourite time-worn denim in-store, where expert tailors will patch and stitch it into shape, invest in deadstock jeans which have been dip-dyed into unique colourations by textile company Indigowares, or purchase items, from tote bags to bucket hats, which have been spliced and diced from waste denim, sourced from Levi's collections and customer donations. 'While recycling technologies continue to be improved and refined, we can make an impact now by encouraging consumers to rethink how they shop. Old is new, and that's the future,' says Richard Hurren, vice president of retail, Levi's Europe, of the initiative.
INFORMATION
acnestudios.com (opens in new tab)
armani.com (opens in new tab)
ellery.com (opens in new tab)
levi.com (opens in new tab)
Jack Moss is the Fashion Features Editor at Wallpaper*. Having previously held roles at 10, 10 Men and AnOther magazines, he joined the team in 2022. His work has a particular focus on the moments where fashion and style intersect with other creative disciplines – among them art and design – as well as championing a new generation of international talent and profiling the industry's leading figures and brands.