Behind the set: Erdem resurrects a 1960s Paris pied-à-terre for his A/W 2015 show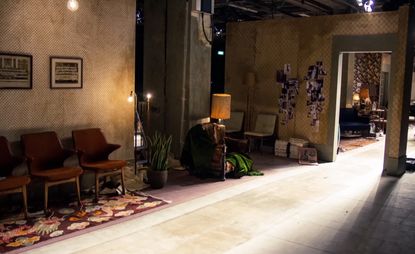 (Image credit: TBC)
Rome wasn't built in a day, and neither was Erdem Moralioglu's A/W set which was modeled after a post-war Parisian bolthole. In fact, it took seven days to resurrect his retrofied apartment within central London's Old Selfridges Hotel.

'The initial idea for the set came from when I visited Frieze Masters and saw Robin Brown's installation The Collector,' explains Moralioglu. 'Robin created the apartment of a fictional art collector, living in 1960s Paris. I loved the idea of creating an environment that really explained the story of the character this season; who she is, where she is in life, how she's feeling.'

Produced by Family, the set's residential realism was dressed with furnishings from Sigmar London: balcony window panes still harboured city soot stains, unpacked suitcases littered the hallways, as ceramic lamps with worse-for-wear shades rested on stacks of vintage magazines. Adding to the lived-in feel were cut-crystal glasses strewn about at random and cans of hairspray, which no doubt set his muse's combed-back ponytails. 'It was interesting to collaborate with Robin and have not only the clothes formulate her character but also her environment,' he added.