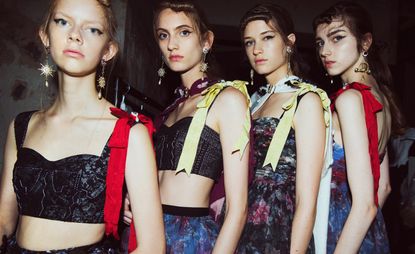 (Image credit: Jason Lloyd-Evans)
Scene setting: Erdem Moralioglu transformed The Old Selfridges Hotel into a dimly lit and mysterious jazz club. The printed show booklets – placed on the chairs of guests each season – featured a set-up of the Cotton Club, a cult New York jazz bar that gained renown during the Prohibition Era. An empty club space waiting for revellers, the catwalk featured graphic chandeliers, tropical print screens, orchestral set ups, piled-up chairs, and lengths of luxurious fabrics. Inside the booklet, an advertisement for a show by Duke Ellington was juxtaposed with images of Queen Elizabeth (among them, HRH meeting the Cotton Club regular in 1958 at a Royal Command Performance). Moralioglu's ornate and elegant S/S 2018 offering was an ode to the outfits Queen Elizabeth might have worn on a night out with Ellington at a downtown jazz club, dancing all night, concealed behind cat-eye sunglasses and wisps of cigarette smoke.

Mood board: There were sophisticated bell-shaped overcoats cut in floral jacquards and embellished with sparkling gem buttons, chic strapless dresses with rows of beaded bows, delicate puff sleeve tailored jackets, tweed suits and houndstooth fit and flare dresses. A truly regal affair, Moralioglu's fifties-focused looks were topped off with long evening gloves, and twinkling earrings. Sparkling sandals were paired with black roll up pop-socks, seductively loose from a long night of illicit dancing.

Best in show: The designer also looked to Dorothy Dandridge for inspiration, a Cotton Club performer and the first African-American actress to to be nominated for an Academy Award in 1955. Her glamour and sexuality bought a more souped-up silhouette to the conservative styles expected of the Royal Family. One of the more outré looks in the collection comprised a cropped tweed bustier paired with a gauzy floral skirt. Layered on top was an aristocratic Argyle knit cardigan secured with a single top button, a sliver of royal-blooded skin revealed beneath.