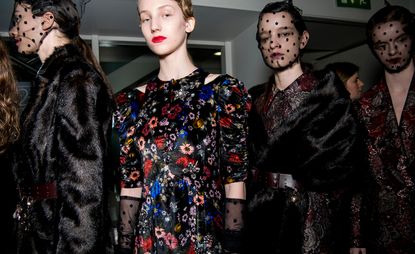 (Image credit: Jason Lloyd-Evans)
Mood board: It was on visiting the House of Style exhibition at Chatsworth House last year, that Erdem Moralioglu first discovered Adele Astaire – the late sister of Fred, who enjoyed great success as a dancer, actress and singer during the 1910s and 1920s. Taken by her charisma and fearless independence, the Canadian-born, London-based designer set about imagining what the starlet would wear now. Enter plush velvet dresses, polka-dot stockings, tweed capes and crystal-embellished mules.

Scene setting: There are few better places to watch a fashion show than within the opulent confines of London's National Portrait Gallery. Evidently, Erdem feels the same way. Guests were seated on long benches between connecting rooms at the top of the museum, allowing models to walk the runway while rubbing shoulders with some of the world's foremost portrait paintings.

Best in show: Erdem has become synonymous with elegant evening dresses, and this season the brand's loyal fans will be more than satisfied with the array of full-length brocade gowns, which were overlaid with a fine black polka-dot tulle that formed a train at the back of the piece for dramatic effect. The delicate velvet mules and jewel-adorned brogues were equally desirable.