'What is the classic of tomorrow?': inside the menswear universe of Hermès' Véronique Nichanian
During her three-decade tenure as artistic director of Hermès' men's universe, Véronique Nichanian has sought both perfection and pleasure in her collections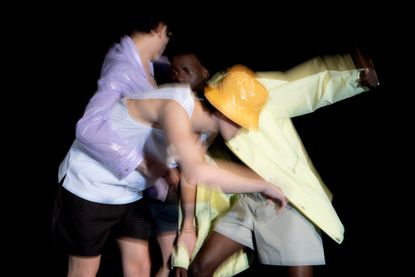 (Image credit: Photography by Guy Bolongaro, fashion by Jason Hughes)
During her 35 years as artistic director of Hermès' men's universe – the longest tenure of any current creative director in Paris – Véronique Nichanian has entered the house's historic archive only twice. She is steadfast that her vision is one of forward movement – each collection, she insists, is about looking ahead, never back. 'We don't have the same materials, we don't have the same life,' she says. 'So we are always thinking: what is the classic of tomorrow?'
It has made Nichanian an undeniable force with an innate understanding of Hermès and a fastidious approach to creating a garment, which can hinge on centimetres of cloth ('a centimetre can change the entire cut of a pair of trousers'). At the centre of her approach is the assertion that Hermès, while synonymous with Parisian luxury and craft, should nonetheless retain a feeling of joie de vivre – never stuffy, and always a pleasure to wear. 'I think fashion should be light and fun,' she says. 'I want to bring happiness to people – in the sensuality of the fabric, or the colour, or something that makes you say "wow".'

Nichanian has worked for more than 20 years from the same office in Hermès' central Paris headquarters – womenswear and the majority of the house's other métiers are based in Pantin, just outside the city – which also incorporates the house's flagship store on Rue du Faubourg Saint-Honoré. The corner location affords an enveloping view of the street's towering Haussmann buildings on one side, and the Place de la Concorde on the other. Nichanian calls it her 'territory'.
Next door sits a small design team, some of whom have worked with Nichanian for a very long time. Her approach is intuitive, usually beginning with a colour card, which she then talks over with the team. 'They know me very well,' she says. 'To their first ideas, I say, "yes", "no" or "why not? Let's try". It's a very open discussion.' As we speak, they are completing the A/W23 collection, though Nichanian says that the changing seasons only mark subtle shifts in the evolution of her vision. When it comes to the show itself – where Nichanian works alongside the house's other métiers, such as footwear or accessories – she says she is like 'an orchestra [conductor], bringing everybody together'.

Diminutive, with a neat brown bob, Nichanian was born in Paris, a city she credits for immersing her in colour and print. Her parents, she says, had no interest in fashion, so much of hers was gleaned from looking at people on the street. She became interested in clothing while at school, her early experiments with fashion born from a desire to push against the grain. 'I wanted to be different,' she says. 'I would make a bizarre skirt, but I was happy. I liked it when the other girls noticed what I was wearing.' It's part of the reason she enjoys working with younger people in the studio with a similarly offbeat approach. 'They can express themselves as a man wearing a skirt or having pink hair. I love that these new designers follow their own direction – it's making what we can express in menswear wider and wider.'
After graduating from L'École de la Chambre Syndicale de la Couture Parisienne in 1976, Nichanian's career began at Italian fashion house Nino Cerruti, working for the first time on menswear collections (her studies had always focused on womenswear). Cerruti came from a line of textile industrialists; fabric was central to his approach, evolving the production process with new factory models and incorporating technical elements, like tiny amounts of stretch lycra, into traditional tailoring weaves. Nichanian was fascinated. 'I was less than 20 years old. They'd think "Oh, she's sweet", and start explaining things to me, about the fabrics, and I was just so aware. I wanted to know everything.'
Joining Hermès in 1988, she continued to experiment with fabrics. 'I remember the first time I said I wanted to do linen, but stretch linen, and was told it was impossible,' says Nichanian. Luckily, Jean-Louis Dumas, the then-artistic director and great-great-grandson of founder Thierry Hermès, gave her complete creative freedom, a luxury she is still afforded today under his son, artistic director Pierre-Alexis Dumas. 'It's about freedom and passion. All my friends who are in fashion are jealous of me. If I don't want to do a jacket, I don't do a jacket. I think this is key to keeping the creativity and savoir-faire.'
A recipe for a Nichanian menswear collection is deceptively simple: the perfect balance between colour, texture and shape, and a refinement of the way these elements interplay with one another when the wearer is in movement. She insists that she never feels restrained by the rules of menswear and having to design primarily within a canon of archetypal garments – traditionally, menswear is less inclined to the same creative flights as womenswear – calling it instead 'an exercise of style'. 'I think it's interesting to find the right proportions – there is a black sweater and then there is an ugly black sweater. There are so many different types of trousers, so many different details, it's a very wide world. People say, "Oh, you design menswear, it's so boring". But it's not. If I was bored, I would do something else.' The menswear garments she believes are essential are a beautiful coat, a simple white shirt and a sweater ('knitwear is so modern').
Nichanian's S/S23 collection was shown last June in Paris' Manufacture des Gobelins, a historic tapestry factory, dating from 1663, that once supplied the French royal courts. The set design, by French director Cyril Teste (who created a series of films alongside Nichanian to display her collections during lockdown), featured a long trail of coloured canvas, which ran from a window and along the runway, 'before disappearing, as if diving, through a workshop'. The collection itself, Nichanian says, returns once again to that idea of levity, beginning with 'thinking about holidays, and summer in the city, and this feeling of lightness in the colours, the fabrics'.
As such, a sweetly evocative palette – 'lemonade, lagoon, lilac, bubblegum, melon' alongside white, khaki and tonal shades of grey – conjured up feelings of escape, memories of holidays past. Setting sun motifs emerged on cashmere and cashmere-silk knits, while a version of the house's 'Haut à Courroies' bag came with distorted checks, mimicking swimming pool tiles as seen through water. Asked how she hopes somebody might feel in her clothing, Nichanian remembers meeting a client who had purchased one of her jackets. 'He said to me: "I'm sure you knew me when you designed that jacket". I thought, oh my god, what a compliment. He had found exactly what he was dreaming of.'
Models: Laïd Ghellab at Chapter Management, Noah Burke at Milk Management, Bangali at Models 1. Casting: Svea Casting. Hair: Maarit Niemela at Bryant Artists. Make-up: Rebecca Davenport. Manicure: Sasha Goddard at Saint Luke Artists. Photography assistant: Callum Su. Fashion assistant: Kris Bergfeldt.
A version of this story appeared in the March 2023 Style Issue of Wallpaper*, available now in print, on the Wallpaper* app on Apple iOS, and to subscribers of Apple News +. Subscribe to Wallpaper* today (opens in new tab)
hermes.com (opens in new tab)
Jack Moss is the Fashion Features Editor at Wallpaper*. Having previously held roles at 10, 10 Men and AnOther magazines, he joined the team in 2022. His work has a particular focus on the moments where fashion and style intersect with other creative disciplines – among them art and design – as well as championing a new generation of international talent and profiling the industry's leading figures and brands.
With contributions from