Loewe's Jonathan Anderson on exalting and reimagining the Welsh stick chair at Milan Design Week
'Loewe Chairs' saw the designer look to a longtime fascination – the humble Welsh stick chair, here reimagined in a raft of colourful and inventive new ways by world artisans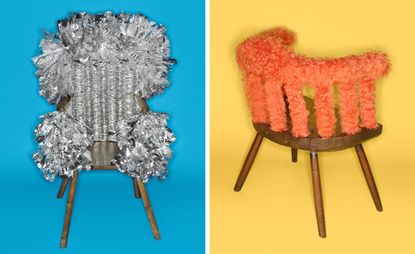 (Image credit: Courtesy of Loewe)
If Loewe's creative director Jonathan Anderson has a knack of predicting the next cult craze – and he does – then it's time to acquire a Welsh stick chair.
'Usually for me, there's something I'm into, and then it suddenly becomes a thing,' laughs the designer at the opening of the fashion house's Milan Design Week 2023 installation in Milan's Palazzo Isimbardi, surrounded by 30 of the wooden seats that have been transformed by expert weavers around the world.
'Obsessed by their incredible design', the designer himself has been collecting the structures for the last 15 years and estimates the current count to be around 20. When it came to thinking of a theme for this year's Design Week, they were an obvious choice.
'Loewe Chairs' at Milan Design Week 2023
'I started to think about how we can use them as a canvas, fusing the past and the present and looking at design in a different way,' he explains of the project, 'Loewe Chairs' (one of our favourite fashion happenings of Milan Design Week 2023). It has resulted in materials including leather, wool, shearling, paper and foil intricately entwined around the bars, arms and legs of rare examples that Anderson and his team sourced from auctions for the show, as well as from the Carmarthenshire-based specialist Tim Bowen. Eight new Lloyd Loom chairs were made by the Belgian company Vincent Sheppard.
Drawn to the chairs' domestic simplicity, Anderson says he cherishes knowing that something has been made by someone and has a purpose as opposed to exalting an industrial design object.
'There's something emotional when you sit on something and you use it,' he explains, citing Kettle's Yard founder Jim Ede as having a big influence on his appreciation of functional objects. 'It's this idea of how do we engage with things? How do we look at art? How do we touch things? Why do we buy craft? Why do we use it? I like things that are functional because then I think they become a part of you.'
The project gave Loewe the opportunity to work again with many of the artisans it has collaborated with in the past and promote their skills. Galicia-based Idoia Cuesta, who has worked with the brand on previous Milan Design Week projects, was one of the artisans who worked on the stick chairs woven in silver and gold foil derived from emergency survival blankets and cords of leather, which took 40 and 50 hours to complete respectively. 'My passion is to study different materials and to experiment with new weaving techniques and I think the art of weaving brings beauty to the structure of these chairs,' she tells Wallpaper*.
Anderson says that since he views his role as creative director as 'ultimately [about] curating things that I have to sell you' he decided to use that approach to help promote people in the process.
'Loewe is not a taking process, it's give and take and that's what I love about this project,' he says. 'The silent craftsman is one of the most elusive things; these individuals we work with, we hero them and we talk about them, but it's not because they are a name – that's not what it's about. It's about saying, this person is a discovery for you.'
With craft in its various forms finding increasing favour with fashion brands, credibility is key to creating something meaningful, says Anderson.
'If there is authenticity, then great. I think sometimes it can get a little bit sanitised,' he says. 'For me, you have to love craft and it's not just about saying "we craft a bag", it has to be a holistic thing. I think that's what we've tried to do over the last ten years and why we built the Loewe Craft Prize, because using the human hand to make things ultimately [requires] a scholarly approach and you have to dedicate yourself to it.'
As for more crystal ball predictions, early 18th-century British woodwork and furniture is on Anderson's radar. 'I feel like it's really undervalued,' he says. 'My challenge at the moment is how do I take that by pairing it to make young people enjoy it? There's so much of it in Britain. I haven't figured it out yet, but it's about how do you twist it and display it and articulate it to switch the lens on it.'
Scarlett Conlon a freelance journalist and consultant specialising in fashion, design and lifestyle. Before relocating to Italy, she held roles as deputy fashion editor at The Guardian and Observer and news editor at British Vogue in London. She is currently a regular contributor Wallpaper* Magazine among other prominent international fashion and design titles.