BOYY unites with Danish artist FOS for an unconventional take on retail in Milan
Opening during Milan Design Week 2023, the flagship BOYY store sees the Milan- and Bangkok-based accessories brand collaborate with FOS on an evolving, unexpected retail space in the city's luxury quarter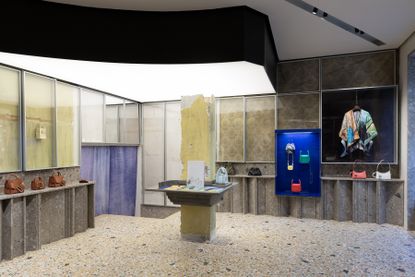 (Image credit: Courtesy of BOYY)
Picture a cobblestoned street winding through Milan's classical retail quarter. Amidst the thrum of luxury brands, BOYY and Danish artist FOS (aka Thomas Poulsen) have conspired to create a living, breathing space that evolves alongside their brand.
Founded in 2006 in New York by partners Jesse Dorsey and Wannasiri Kongman, and now based between Milan and Bangkok, the brand is known best for its colourful and playful handbags and shoes. The new flagship on Via Baguetta provides a dialogue between past and present: 'The way I've been thinking about it, it's almost like a living organism that grows and metamorphoses in real-time,' says Dorsey.
Unfolding in three developmental stages – beginning with a more ephemeral space that opened in the spot in September 2021 – the store has now evolved into its more permanent form, unveiled during Milan Design Week 2023 in the city.
BOYY Milan flagship, in collaboration with FOS
With his artistic approach, FOS has challenged the conventional luxury retail model by subverting the established idea of a store concept. He has woven together layers of design, each one building upon the last, to create a space that mirrors the flow of time. Materials old and new work in harmony to showcase BOYY's products, blurring the boundaries between interior and product and evoking a state of wonderment.
'Commercial spaces are orchestrated environments. Every detail, from the handles and light fittings to the layout of doorways, is designed to draw attention to the display. In other words, commercial spaces are carefully designed environments with hidden hierarchies that ultimately serve to showcase the products for sale,' says FOS.
'I think that was one of the interesting dimensions for me: trying to make a space where the interior and product are part of each other's hierarchy.'
As visitors enter the space, they are greeted by an oversized ceramic hand, inviting them to re-evaluate the meaning of luxury. Inside, there are no hierarchies or hidden agendas. Instead, the space is a co-creation, a shared language between BOYY and FOS, where art, design, and architecture merge. With each rendition of the space, FOS's imagination has challenged Dorsey and Kongman, to think more creatively and to push and push the boundaries of their brand.
'FOS has challenged us on a daily basis in terms of creative direction, thoughts and design. Wannasiri and I feel very fortunate because he has had a great impact on our thinking and creativity, which is something we were thirsty for after all these years of working solely between the two of us,' says Dorsey.
'I think it has given birth to something that we haven't experienced before. It's interesting because, in a way, it's perfectly in sync with BOYY and how we started and built the brand.'
The result is a space that reflects not only the evolution of BOYY but also the collaborative journey between FOS and the brand, which tells a unique story. So, if you wander through Milan's luxury retail quarter, follow your instincts and step inside Via Bagutta 9; where you can immerse yourself in the wonderland of BOYY and FOS.
BOYY Milan Flagship, Via Baguetta 9, Milan, Italy.
Maria Cristina Didero is an independent design curator, consultant and author, who has contributed to many publications over the years; she is currently Milan editor of Wallpaper* . Didero has consulted for companies such as Vitra, Fritz Hansen, Lexus, Fendi, Louis Vuitton, Valextra among others. Based in Milan, she works internationally, curating exhibitions for institutions: some of her most recent projects include Nendo: The Space in Between and The Conversation Show at the Holon Design Museum, Israel; FUN HOUSE by Snarkitecture at National Building Museum, Washington D.C.; SuperDesign a project about Italian radical design, NY; Vegan Design, or the Art of Reduction by Erez Nevi and The Fish and The Crowd by Carlo Massoud, Milan. In April 2022 she curated a Mathieu Lehanneur exhibition at the Triennale in Milan called The Inventory of Life, while in July she debuted a project at the MK&G in Hamburg titled Ask Me if I Believe in the Future, alongside a series of ongoing collaborations. She was appointed 2022 Curatorial Director of Design Miami/. She is currently preparing two projects for Milan Design Week 2023.