Björk's nail artist Sojin Oh on creating some of the most surreal talons in the business
Nail artist Sojin Oh reveals the creative process beyond her creations for Björk, Arca, Rosalía and more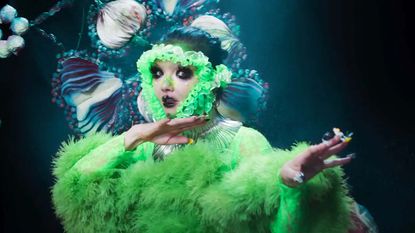 (Image credit: Sojin Oh )
Nail artist Sojin Oh transforms the menial into the magical with her finger-sized sculptures crafted from the detritus of everyday life. Her creations include seascape nails made from fish bones, baby shark teeth, caracol shell, oyster shell, and sea glass; talons constructed from the broken innards of a cell phone; and wearable terrariums constructed entirely out of enamel.
The surreal nail art of Sojin Oh
The result is a singular range of nail art that looks unlike anything else in the business. In fact, that is exactly why Oh got into the business in the first place – 'all the designs I wanted for myself were non-existent,' she tells us from her studio in Los Angeles. 'I wanted to create nails that no one has ever seen before.'
She has lived up to her own challenge and, in doing so, has garnered the attention of our era's creative iconoclasts and shapeshifters, particularly in the music industry –from Björk, to Arca, Grimes and Rosalía.
Most recently, Oh created a collection of fungi-filled nails for a Björk tour and album art. 'Her team reached out to me and gave me creative freedom to explore biomorphic elements that have inspired me from her oeuvre,' Oh says of the project. 'I think we share a fearlessness toward being expressive and emotional women artists. I really respect how vulnerable she is in her music, because it really captures the power that emotionality and feeling has relative to logic.'
Foraging is a key element of Oh's process and what she finds often dictates what she creates. 'The planning and designing process have been fading away from my practice more and more,' she says. 'When I see an object or material that grabs my attention in nature, I forage them (of course, not something that's alive) and start to imagine a sketch in my head – I bring the materials to my home studio and just play around and preserve them in another life with sculpting builder gel.'
Nature remains Oh's most enduring influence and she sights taking care of the natural world and herself as the key to her creativity. 'During my childhood days, I thought making yourself look "confident" by wearing a ton of make-up was what I thought beauty meant, and since I was never knowledgeable with make-up, I thought I could never be beautiful. But when I started taking care of myself more, I started to feel beautiful – then I realised the ideas I had in my early years were totally wrong.'
These days, she takes care of herself with acupuncture and cupping ('It helps to detoxify your skin by [prompting] the production of natural collagen, [to help with] scar healing, eczema and many other health issues'), as well as her own 'medicinal cocktails'. She is currently working on a cocktail book with the recipes, one of which (pictured above) includes bone broth, Korean cabbage pickle juice, and mezcal.
instagram.com/sojinails (opens in new tab)
Mary Cleary is the Beauty & Grooming Editor of Wallpaper*. Having been with the brand since 2017, she became an editor in February 2020 with the launch of the brand's new beauty & grooming channel. Her work seeks to offer a new perspective on beauty, focusing on the pioneering personalities, product designs, and transformative trends within the industry.