Nostalgic American cereals have been reimagined – and they're healthy now
Scoop up your daily dose of childhood nostalgia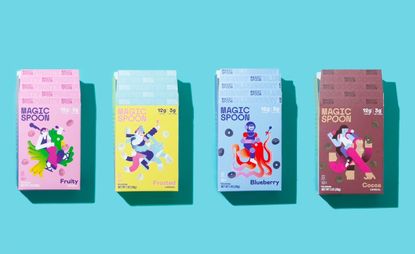 (Image credit: wallpaper.com)
Magic Spoon is the New York-based brand reimaging America's favourite childhood cereals into healthy alternatives without sacrificing the flavours, colour or shape.

Focused on keeping childhood charm alive, Magic Spoon has released a limited-edition variety pack of mini boxes – coming in flavours of fruity, frosted, cocoa and blueberry.

Alongside its brightly coloured loops, Magic Spoon has used packaging featuring unique illustrations to each flavour, simultaneously updating cereal box design while keeping a pure sense of silliness that both adults and children can enjoy. The packaging design has been created by illustrators such as the bold and irreverent Levi Jacobs, alongside Magic Spoon's in-house design team.
'Mini boxes bring back a certain childhood nostalgia that we are looking to recreate as is with everything that we do as a brand,' says Gabi Lewis, who co-founded Magic Spoon with Greg Sewitz. 'Cereal should bring the same excitement as it did when you were a kid, and now we are able to do that with single-serve boxes.'

Since it's launch in 2019, Magic Spoon has brought the public a truly healthy cereal – in fact, it's the world's first low-carb, gluten-free and high-protein breakfast cereal.

The brightly packaged cereal has gained thousands of fans for its simple catch-free product – 'We have heard so much feedback from our customers that they eat Magic Spoon as a snack throughout the day or when on-the-go,' said Sewitz. 'Thanks to our nimble supply chain, we were able to quickly make it easier than ever before to enjoy Magic Spoon anywhere, anytime.'

As well as Magic Spoon's limited edition mini packs, the brand's original larger sized boxes will still be available in the same flavours.
INFORMATION
magicspoon.com (opens in new tab)