Diptyque Home Décor launches colourful 'Artist's Palette' collection
The Diptyque Home Décor collection expands to include an artist-inspired new range of tableware and wallpaper designs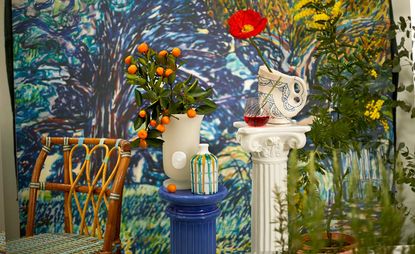 (Image credit: press)
Diptyque, the Parisian maison that last year celebrated its 60th anniversary with the launch of Diptyque Home Décor, continues its expansion into homeware with a new tabletop collection named 'Artist's Palette'.
The brand has also unveiled a beautiful range of wallpaper designs.
Diptyque Home Décor draws on an enviably rich artistic heritage; the maison boasts an archive of drawings and designs that date back to the beginnings of the original Diptyque store, in the 1960s, at 34 Boulevard St Germain – a bazaar of treasures that functioned as a kind of creative salon and welcomed and inspired a diverse clientele from the literary and artistic world.
Its three talented founders – Christiane Montadre-Gautrot, Desmond Knox-Leet and Yves Coueslant – were a decorator, a painter, and a designer who worked together and established an impressive library of art, patterns, and designs, some of which are currently listed in the collections of the Museum of Decorative Arts, Paris.
The Diptyque brand has become evocative of a certain style and mood – one of cultivated chic and sensory pleasure. This, after all, is the brand that heralded our now deeply embedded appreciation of the world of scent and scented objects such as luxury candles that have become part of the art of living. The Home Décor collections offer the opportunity to further immerse oneself in Diptyque's unique sensory world, the brand's unmistakable aesthetic now traversing tabletop and walls in an opulent variety of textures and materials.
The new 'Artists Palette' range is available as a permanent collection that joins previously released tableware lines such as 'Basile'. In contrast to the latter's monochromatic lines and curves, 'Artists Palette' presents an exuberant colour palette, with gorgeous cerulean blues and soft greens dancing playfully over vases, dishes, glasses and trays. The collections complement each other and may be combined to create unique and spectacular tablescapes.
The new wallpaper designs are just as inspiring. They draw on the maison's extraordinary archive with fantastic effect. Its heritage patterns are beautifully represented: 'Pretorian' features the distinctive ovals that recall the shape of antique Roman shields, whilst the black and white 'Basile' design offers bold drama.
The wallcovering range is theatrical, and sometimes unexpected, with a rich array of patterns and hues. There are three panorama wallpaper patterns ('Landscape', 'Les Lilas', 'Jardin Clos'), which are inspired by the travel journals and pointillist sketches of Desmond Knox-Leet.
With an eye on sustainability, the maison has chosen a digital printing technique on non-woven wallpaper, instead of a fabric, using cutting-edge contemporary techniques that allow for an extreme level of precision during printing.
Diptyque's foray into wall décor offers a fabulous journey through its history and into its present-day incarnation as a titan of style.
INFORMATION
diptyqueparis.com (opens in new tab)
Melina Keays is the entertaining director of Wallpaper*. She has been part of the brand since the magazine's launch in 1996, and is responsible for entertaining content across the print and digital platforms, and for Wallpaper's creative agency Bespoke. A native Londoner, Melina takes inspiration from the whole spectrum of art and design – including film, literature, and fashion. Her work for the brand involves curating content, writing, and creative direction – conceiving luxury interior landscapes with a focus on food, drinks, and entertaining in all its forms