Caviar House restaurant opens at Threadneedles hotel in the City of London
Caviar House & Prunier unveils a new restaurant at Threadneedles, where everything from the Balik salmon to the cheesecake is enhanced with the prized ingredient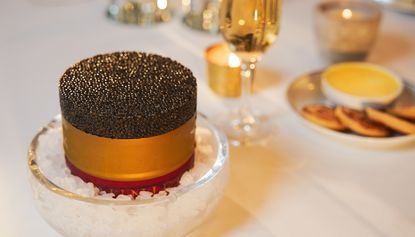 (Image credit: Courtesy of Caviar House & Prunier )
Caviar House & Prunier is internationally renowned for its caviar and seafood. The flagship store and restaurant on London's Piccadilly is a caviar institution, and the esteemed brand has now unveiled a restaurant in the City of London.
Caviar House has collaborated with Threadneedles – a boutique hotel located in the heart of the Square Mile, whose historical Victorian grandeur reflects its former life as the headquarters of the London, City and Midland Bank. The restaurant makes a fitting occupant for the airy and opulent spaces of the hotel, with its soaring lobby, crowned by a beautiful stained-glass dome, and its elegant dining room. The old banking counter now serves as the Caviar House Bar, which is open all day for guests to take in the ambiance over expertly mixed drinks and delicious seafood.
One of the largest and most respected importers and distributors of caviar in the world, and unlike many other caviar suppliers, Caviar House & Prunier produces its own caviar –Prunier – which was founded over 100 years ago. In 1994, Prunier became the first producer to obtain caviar from farmed sturgeon, creating a sustainable and safe alternative for endangered species in the Caspian Sea.
Prunier's grain selection process makes it possible to produce caviars with very different flavours, and there are currently seven available, including three new Osciètre varieties (obtained from the Ossetra sturgeon and one of the most prized and expensive types).
The new restaurant offers this delectable selection of caviars in combination with luxurious dishes such as lobster brioche roll and Balik salmon (originating from Imperial Russia, it is hailed as the finest smoked salmon in the world).
The menu has been crafted to celebrate the diversity of caviar and the nuances of its delicate flavours; it includes beef tartare and prawn linguine, which are both served topped with caviar. White chocolate cheesecake with raspberry coulis and caviar makes an exciting and unexpected combination, as does sophisticated 'caviar ice', where caviar is served with lemon sorbet and frozen vodka.
There's an extensive wine list that presents the perfect pairing for every dish, and an excellent bespoke cocktail menu. Caviar connoisseurs also have the opportunity to buy caviar, Balik salmon and other delicacies, should they wish to enjoy the Caviar House experience at home.
caviarhouse-prunier.co.uk, hotelthreadneedles.co.uk
Receive our daily digest of inspiration, escapism and design stories from around the world direct to your inbox
Melina Keays is the entertaining director of Wallpaper*. She has been part of the brand since the magazine's launch in 1996, and is responsible for entertaining content across the print and digital platforms, and for Wallpaper's creative agency Bespoke. A native Londoner, Melina takes inspiration from the whole spectrum of art and design – including film, literature, and fashion. Her work for the brand involves curating content, writing, and creative direction – conceiving luxury interior landscapes with a focus on food, drinks, and entertaining in all its forms