Escape from the zoo: Ionna Vautrin's 'Le Bestiaire' opens at FIAF New York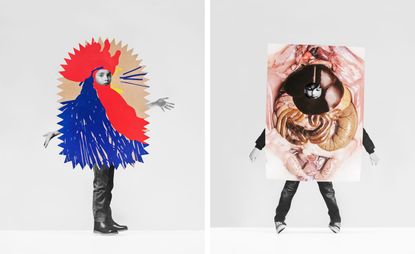 (Image credit: Lonna Vautrin)
French designer Ionna Vautrin is transporting her boisterous and playful costume design exhibition, 'Le Bestiaire' to New York's French Institute Alliance Française.

Originally shown during the Biennale Internationale Design in Saint Etienne last year, the imaginative collection allows individuals to immerse themselves into the animal kingdom. Vautrin has previously designed collections for Sancal through to Kvadrat, always with a slightly animalistic and conceptual edge. Using her creative quirk, she appointed a group of French artists to realise abstract visions of wildlife costumes. The result is weird and wild, yet with a soft, innocent touch to pique the interests of her target audience: children.

Described as an 'imaginary zoo', the 14 artists – including Malika Favre, Anne Lutz and Joachim Jirou-Najou – branched outside of their artistic comfort zones to a more whimsical world where children are invited to model the costumes and appear as the creatures.

The designs range from a slightly grotesque flesh and veined form from Felipe Ribon to more ingenuous blushed cheek illustrations by Vautrin herself, and a colourfully patterned bird by Paris-based Amélie Fontaine. Design studio Brichet Ziegler also adopted a similar approach and created an animated persona of 'Gary' the snail. Alternatively, London-based Favre maintained her sophisticated aesthetic and produced a geometric frowning owl in mature, dark shades.

'Le Bestiaire' remains on show until 2 April and is part of the inaugural Tilt Kids Festival and Oui Design, a program initiated by the Cultural Services of the French Embassy. Like all fantastical ideas, Vautrin artfully poses a philosophical question on her own concept, questioning the creative process: 'Could it be the desire to tame wild animals that propels designers to represent fierce creatures as docile pets?' Food for thought.
INFORMATION
'Le Bestiaire' is on view from 16 January – 2 April. For more information, visit the French Institute Alliance Française's website
Photography: Ionna Vautrin
ADDRESS
French Institute Alliance Française
22 East 60th Street
Between Park & Madison Ave
New York, NY 10022
VIEW GOOGLE MAPS (opens in new tab)