Highlights from the creative Saint-Étienne Design Biennale 2015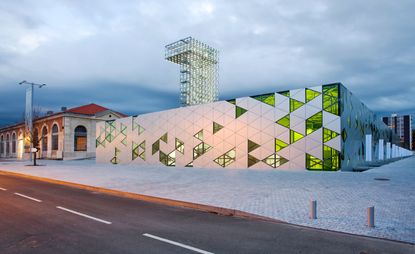 (Image credit: press)
Each year kicks off with a flurry of design fairs, from Maison et Objet to Ambiente, but none are quite like the Saint-Étienne Design Biennale. The French city offers a creative change of pace in the run-up to the Salone del Mobile (not that there isn't great commercial design to be found at the biennale). For its ninth edition, which tackles the theme of 'beauty', visitors from as far away as Seoul (the Korean city is this year's guest of honour) descended in droves to enjoy over 60 exhibitions and events.

Among the highlights at the fair's main site, La Cité du design, designers Sam Hecht and Kim Colin of Industrial Facility step into the curator's seat, with their poignant and convincing exploration of Beauty as Unfinished Business. Likening the tricky subjectivity of beauty to a hand drawn circle (you never arrive at the exact point you started), Hecht explained, 'By not completing a circle, you've left it open and unfinished, and when it's unfinished it allows you as a person to enter it and also leave it. It becomes more human.' The show offers up recent pieces by the likes of Philippe Starck, Kvadrat, Laufen, Artemide and Iitala, in a meticulously illuminated setting (the duo were also responsible for the exhibition design).

Also on show at La Cité du design, Serial Beauty is a pleasingly formed collection of recent, memorable products by big-name brands and designers including Studio Job, Front, Kartell and more. Form Follows Information, meanwhile, is a surefire crowd pleaser for its sheer Instagramability, while Sam Baron taps the next wave of Europe's design stars for his show, L'essence du beau, curating a selection of projects by fresh graduates. In the space adjacent, things take a turn for the weird, the kitsch and the grotesque at Vous avez dit bizarre? ('Did you say bizarre?').

Off-site, there's plenty to uncover among the sprawling red rooftops of Saint-Étienne – the first French city to be designated a UNESCO City of Design. The Musee d'Art et d'Industrie kicks things up a notch with a finely-tuned exhibition geared at rev heads, featuring pieces by Arik Levy, Xavier Veilhan and more. Elsewhere in the city, Ideal Lab challenged artists, designers and residents from two European, industrial port towns to explore the notion of 'replanted identity' – a jet-black coffee-making prototype by young Norwegian design outfit Vera & Kyte was a particular standout.

Over at the Musée de la Mine, the once-thriving heart of the city's coal industry, Dutch-Anglo alliance Studio Glithero is presenting a new, site-specific installation. Dutch designer Dennis Parren's trippy LED installation lights up the Salle des Pendus (or, 'hangman's room', named after the miners who hung their belongings on ropes from the ceiling), while a showcase of 100 glass prototypes by various designers in the adjoining Salle de l'Énergie harnesses the site's historic past.

Meanwhile, Korean artist Lee Bul is the subject of a retrospective at the Musee d'Art Moderne, with her first museum show since her 2007 outing at the Fondation Cartier in Paris. The museum is also showing the work of two young Korean designers, Hye-Yeon Park and Seung Yong Song. (Bonus architour points for the Jean Maneval-designed prefab prototype that sits on the front lawn of the museum).

In the nearby commune of Firminy - a short drive from Saint-Étienne - Le Corbusier's awe-inspiring Saint-Pierre church plays host to an installation by Japanese designer Yuri Suzuki. In direct response to the church's design and acoustic properties, Suzuki has created an interactive installation, entitled 'Acoustic Pavilion', exploring the relationship between space, shape and sound. Here, visitors can create their own listening device using a network of pipes and colourful conical end pieces that nod to the hues found inside the church.
ADDRESS
La Cité du design
3 Rue Javelin Pagnon
42000 Saint-Étienne
France