Xavier Veilhan immortalises pop producers for latest exhibition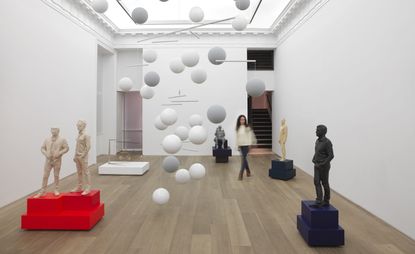 (Image credit: Guillaume Ziccarelli)
Most of the figures currently stationed throughout Emmanuel Perrotin's New York gallery and, as of next Saturday, his gallery in the Marais, may not be easily identifiable at first glance—a near-life size Pharrell Williams in sequoia wood notwithstanding. But collectively, they depict some of the most important contributors to pop music over the past half-century: the producers. And in the mind of Xavier Veilhan, they represent a 'transversal dimension' that we sense, yet rarely ever see.

'I'm very much interested in conceptual art; and for me, music is conceptual art. But at the same time, it can make you happy, or make you cry or make you want to dance,' Veilhan told Wallpaper* from his industrial studio at the east edge of Paris, one week prior to the first of two openings. Both of which, incidentally, are silent; although friend Marc Teissier du Cros from the label Record Makers is said to be compiling demos produced by the subjects but never heard.

Veilhan - whose vast influence across contemporary art ranges from an enormous faceted blue bust of Le Corbusier (conveying a state of permanent contemplation in Miami's Design District) to site-specific performance pieces and video collaborations - completed his latest series in just a few short months. He assumed that enlisting participants might prove as challenging as when he sculpted a who's who of practicing architects that appeared on the grounds of Versailles in 2009.

Once Giorgio Moroder and reggae legend Lee 'Scratch' Perry signed on, he had little difficulty convincing the others—including Rick Rubin, Brian Eno, Nigel Godrich, Daft Punk's Guy-Manuel de Homem-Christo and Thomas Bangalter, Quincy Jones and Williams' partner as The Neptunes, Chad Hugo. The only female presence is Éliane Radigue, who has collaborated with Veilhan on various past projects and is now 83 years old.

French electro-synth producer Philippe Zdar was his first subject and, like everyone else, was initially captured as a 3D scan. Veilhan likened the process to taking a picture in the early period of photography; which is to say, more labour and time-intensive than a regular camera—except that the resulting image appears in three dimensions. Each half-hour sitting, he added, provided an opportunity to glean information. 'An energy develops but then the pose changes.'

Where the artist's signature approach to sculpture often reduces figures to geometric planes, this group of characters—eight in New York, four in Paris—expresses heightened realism. If they are less Veilhan-esque, they are more idiosyncratic. An oak facsimile of Jones, the folds of his shirt in relief from his belly, seems contently settled into an armchair; Rubin, also in oak, chills out on a mattress; Zdar, standing in blackened polyurethane resin, looks as if he is waiting for a concert to begin. All of them take their position from a monochrome double-stacked plinth, in shades from aubergine to peacock green. These are formal sculptures, played up with mainstream appeal.

Veilhan noted how linguistically, a producer invites various readings, from executive to content creator. Beyond that, he felt compelled to explore the 'fabrication' of music by immortalising those involved in the early stages of its conception. And of course, like any longtime fan, the access to these living legends was a bonus. Which is why he is already thinking ahead to a future series—Timbaland, RZA, DJ Premier, Dr. Dre and George Martin are all on his wishlist—that would be situated en plein air, arranged like the monumental heads of Easter Island. Call it Veilhan's ambitious Volume Two.
ADDRESS
Galerie Perrotin, New York
909 Madison Avenue 10021

Galerie Perrotin, Paris
76 rue de Turenne 75003
VIEW GOOGLE MAPS (opens in new tab)