Pockets of Paris showcasing diverse design at the D'days festival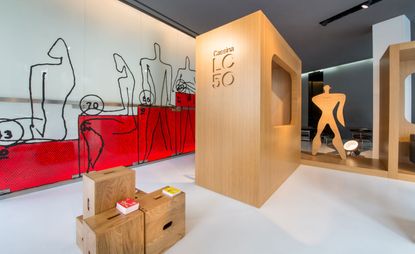 (Image credit: Press)
Cassina's presentation was a tribute to Le Corbusier. Ora Ito constructed a panelled scenography to frame and animate the Italian brands various re-editions of iconic furniture designs LC1 through LC4, which Le Corbusier conceived with Pierre Jeanneret and Charlotte Perriand
Now its 15th year, D'Days (opens in new tab) has grown from an upstart occasion to a diverse showcase of design spanning several pockets of Paris. Here, Wallpaper* rounds up its top picks...

If the first official exhibition devoted to Dieter Rams in France seems long overdue, it also pays homage to the German designer in a manner that is neither flashy nor fawning, which is to say, precisely on point. The combined effort of Yves Couchaux, who oversaw Braun imports to France during the brand's golden age, Grégory Mesrié and Yves Mietton, the show consists of nearly 70 items, displayed judiciously within a compact gallery. Underneath a mint condition 'TS 45' audio player, Rams' 10 Principles of Good Design appear along a wall (translated to French), providing the necessary context for fully respecting the purity and efficiency of the handheld radios, alarm clocks, speakers and fans.

And of course, those who worship at the altar of Apple will be able to observe up close all the Rams references, from the iPod click wheel to the calculator aesthetic. 'All the products were conceived in the same manner; you see this fidelity to design and an intellectual approach that makes them timeless,' says Mesrié. 'He considered the consumer, the functionality and the aesthetic-that's what makes him such an important point of departure for industrial today still today.'

Across the river, Hermès (opens in new tab) revealed its bespoke terrazzo installation in its rue de Sèvres flagship. Here, interior architects Nicolas Daul and Julien Demanche have created a custom terrazzo, comprising a medley of minerals and discarded pieces of Hermès hardware in three colourways. Visitors can view the before-and-after - how locks, fastenings and pearlescent buttons ended up bedded and polished into the striking works. But the creative exercise did not end there; Daul and Demanche went to the extra effort of designing a series of leather-framed tables in hues that correspond to the multicoloured material.

Elsewhere in the city, Cassina (opens in new tab) adds a special project to the long list of Le Corbusier tributes, all timed to mark the 50th anniversary of the architect's death. Here, Ora Ito constructed a panelled scenography to frame and animate Cassina's various re-editions of iconic furniture designs LC1 through LC4. Ito's most eye-catching contributions, however, are his sculpted model of Le Corbusier's Modulor human (that stands at the requisite 1.83 m in height), and an enlarged replica of the symbolic 'Main Ouverte' ('Open Hand') - both in a wood that echoes the architect's getaway in Roquebrune-Cap-Martin. Ito, of course, was a natural pick for the project, as his MAMO art space occupies the rooftop gymnasium of Le Corbusier's Cité Radieuse in Marseille.

Many more noteworthy stops feature across the city. Knoll (opens in new tab) has arranged nearly 50 'Bertoia Side Chairs' in a street-facing section of its Saint-Germain showroom against a backdrop of vintage advertising imagery, in a sort of modernist tableau vivant. Meanwhile, designer Ferruccio Laviani has dreamed up whimsical window installations featuring Kartell's greatest hits, including Patricia Urquiola's 'Jellies Family' dishware and Philippe Starck's Louis Ghost Chair.

Carpet manufacturer Cogolin enlisted India Mahdavi for a range of dynamic floor coverings. Variations of the graphic, geometric patterning cover nearly every surface of the store, which has been brought alive with greenery. For those who didn't make it to the Salone del Mobile, Molteni & C Dada (opens in new tab) has recreated a mini version of the Jasper Morrison-curated exhibition it presented in Milan, which includes original models of Aldo Rossi's 'Carteggio' cabinet and Giò Ponti's 'D.154.2' armchair.

And on the grassy lawn of the Louvre, tucked behind Les Arts Décoratifs, visitors will find 'Herbes Follies', a collection of reflective outdoor seating by SAG France and Franck Malgé. On each, four individual seats sprout up from a common base so that a small group can gather comfortably. A few metres away, a mirrored and faceted rubbish bin and ashtray combo are unquestionably beautiful waste receptacles.