Maiden voyage: L3 Design Dock opens for Helsinki Design Week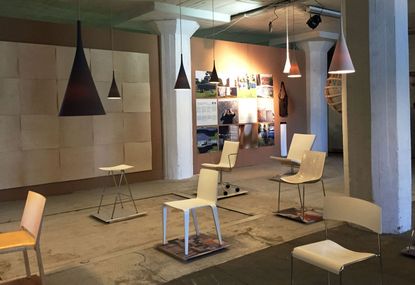 (Image credit: Samuli Naamanka)
Since being bestowed the title of World Design Capital 2012, Helsinki has been busy instilling the discipline into its cultural DNA. This is the Finnish hub's 11th – with over 200 events taking place around town and a Guggenheim museum incoming, it's conspicuously climbing the global design ranks. For this year's voyage, a new harbour-side exhibition space – has opened, housing a small yet special selection of Finnish craft and innovative creations that divert a little from the usual Habitare furniture fare.

Located in the developing waterside district of Jätkäsaari, the listed Lars Sonck-designed warehouse building has been transformed, by interior architect Joanna Laajisto, into a bustling design emporium for the week.

This year, Helsinki has further proved it can put on a cool show, with 40 exhibitors in residence, from artful student works to international talent, the latter exemplified in the installation 'Japanese Design Revisited' by Lexus. Curated by Stockholm-based Ikko Yokoyama, the crafted display included tech pieces by fashion designer Issey Miyake, aluminium 'Pipegram' toys by Ryu Kozeki and pigmented handmade tin tumblers called 'Four Seasons', launched this year by Jin Kuramoto for Nague.

From the student works on display, Aalto University's 'Sybaris' project stood out as particularly cutting-edge. Named after the Greek city where inhabitants sought opulent pleasure and passion within luxury, the young designers took it upon themselves to interpret sensuality and pleasure in form. A variety of technological and interactive pieces were developed using idiosyncratic materials – from 'The Brushstroke''s wafer thin, oxide dyed paper-clay ceramics, created by Anni-Marja Kuula; to more literal pleasure pieces such as Laura Maldonado's 'Mimame', crafted in anything from feathers and pink granite to silver chains, in unusual ornamental hanging shapes.

Other innovative projects included the recently launched architecture enterprise Atelier House, by brother-sister duo Ateljé Sotamaa. The designers have conjured up the ideal answer to creating dream holiday homes made purely out of wood. Starting from sketches and then moving to 3D digital models, they allow clients to engage in every step of the design process, with the aim of creating affordable bespoke homes. The project is currently focusing on houses located on islands near Helsinki, with prototype models made of locally and sustainably sourced spruce and birch. Also being furniture designers, Ateljé Sotamaa can even kit out the houses' interiors. It's the full package.

Amidst the installations there were also furniture shows by the usual Nordic big hitters, including Carl Hansen and Kinnarps, while food was provided by wild herb foraging chef Sami Tallberg, popping up just for the occasion in an organically designed space at the top of the concrete set.
INFORMATION
Helsinki Design Week runs until 13 September