Eero Aarnio at 85: 'I am the master of my own design'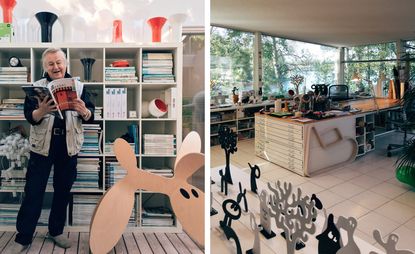 (Image credit: Jessica Klingelfuss)
At 85 years old, Finnish design legend Eero Aarnio shows no signs of slowing down. A pioneer of plastic and fibreglass furniture with a penchant for the playful, Aarnio is the creative vision behind some of the world's most recognisable designs for brands like Magis, Asko and Adelta.

As Finland marks the centenary of its independence this year, Finnish modernism is enjoying a revival. Like his counterparts Ilmari Tapiovaara, Alvar Aalto, and Eero Saarinen, Aarnio is seeing a renewed interest in his work. He was the subject of a major retrospective (opens in new tab) at the Design Museum Helsinki last summer, which has since travelled to the Vandalorum Museum in Värnamo, Sweden, where it is currently on view until 8 October.

Born in Helsinki in 1932, Aarnio hasn't strayed far from his roots. Today, he lives and works a short drive from the Finnish capital in Veikkola with his wife of 61 years, Pirkko Attila. The modernist lakeside home – designed by Aarnio himself in 1989 – is a mini-museum in itself, housing a trove of his seminal products, prototypes and personal artefacts. A litter of his 'Puppy' stools stand to attention in one leafy corner; a collection of Portugese Roosters of Barcelos is on display in his kitchen. His garden has been transformed into an outdoor gallery of sorts, and Aarnio often enjoys a pilgrimage to the Finnish smoke sauna at the bottom of it.

A sublime vision of organised chaos, his studio is a technological void – Aarnio still draws everything by hand and there's no computer to be seen. A couple of framed New York Times crosswords hang on the wall opposite – a beaming Aarnio explains he's been a clue a few times. Tacked next to them, a Post-It note is curiously scrawled with a Japanese version of the designer's name, Aaroniero Arruruerie (the ever-surprising designer reveals a popular manga character was named after him).
Elsewhere, a hidden sliding door in the living room reveals a collage of vintage magazine covers, starring his most celebrated design: the 'Ball Chair'. Imagined as a 'room within a room' (in fact, Aarnio's own 'Ball Chair' includes a fully functioning red telephone), it was daringly modern for its time. Film buffs might recognise the iconic chair from Dazed and Confused (1993) or Mars Attack! (1996). And its beginnings are just as quixotic as science fiction.

As the story goes, the idea for the 'Ball Chair' came to Aarnio when he was just a year old. 'We were living in an apartment building in Helsinki and my mother put me out on the balcony in a round wicker basket to take a nap,' he explains. 'I looked up and saw the round, blue sky framed by the basket. That's when I decided when I grew up I would design the Ball Chair.'

Fast forward to 1954, when a 22-year-old Aarnio was applying to the School of Applied Arts in Helsinki (where he would design his first product – the 'Rattan Stool' – still in production today). One of the tasks he was given for the admission test was to draw a person sitting and reading in a chair. 'I've never been good at drawing living creatures – people especially,' remarks the designer. Instead, a sly Aarnio sketched a person sitting behind a huge newspaper enclosed in a red circle. 'That might really be where I got the idea for the Ball Chair,' he quips impishly. (A testament to his proclivity for storytelling, alternative Aarnio lore has him professing the idea came to him from being inside a boat made out of fibreglass).

It would be another decade before Aarnio returned to the idea of a globe-shaped design, sketching the first version of the 'Ball Chair' in 1963. Aarnio was initially reluctant to show it to anyone. 'I didn't think furniture companies would understand it, so I decided to make the first prototype myself.'
At the time, Aarnio's brother-in-law was working in a school Salo, a town 100km northwest from Helsinki. Aarnio made the pilgrimage to the school's workshop over the course of several weekends, producing the first prototype of the 'Ball Chair'. A serendipitous visit from a pair of young Asko product managers resulted in the 'Ball Chair' being put into production.

The 'Ball Chair' was a radical departure in aesthetic and material, its use of fibreglass heralded a new chapter of furniture design. The chair made its debut in 1966 at the International Furniture Fair in Cologne. It was an instant hit, inevitably spawning a wave of knock-offs (thankfully, the newly authorised licensee Eero Aarnio Originals combats these counterfeits). Aarnio's 'Pastil' (1967) and 'Bubble' (1968) chairs both stem from the 'Ball Chair': in the former, Aarnio was inspired to create a transparent version to allow more light inside, while the latter was intended to resolve the wasted space within the 'Ball Chair'.

The designer says, 'I think that the chair plays a major role in furniture design and it is the most difficult and challenging piece of furniture to design.' To wit, his oeuvre includes the bulbous 'Tomato' and 'Pastil' chairs, as well as the 'Focus', 'Rocket', 'Cognac XO' and 'Rosinante' chairs.

But he does have a favourite. 'The most interesting piece for me is the Bubble Chair which is made like a soap bubble, air is blown to a heated acrylic sheet,' explains Aarnio. 'Therefore there is no need for a mould and the form always comes out the same, following the laws of nature (like a soap bubble).'
Lighting also forms a large part of his catalogue, from the memorable 'Ghost' lamp to the 'Pinja', 'Swan', and 'Flamingo' lights, as does children's furniture – the 'Puppy' stool/sculpture and 'Pingy' are among his most popular designs. His products appeal to a wide range of audiences. 'I think there can be good design in all price ranges; money is not a prerequisite for good taste,' he says.

In spite of his infectiously warm and open nature, Aarnio has always worked alone. 'I am the master of my design,' he says, furrowed brows momentarily betraying an uncharacteristic seriousness. Aarnio, at any rate, seems to be having just as much fun by himself, though he counts his wife and daughters among his co-conspirators. He's always been one to break traditional design moulds: 'A designer must always be an artist but and an artist does not have to be a designer.'

Today, his works are represented in museums across the globe, from MoMA in New York to the Bauhaus Museum in Sydney and Vitra Design Museum in Weil am Rhein. His cheerful designs have garnered him a plethora of awards (among them, a Wallpaper* Design Award in 2011, for his 'Kubo Brightlight' therapy lamp).

The design world has changed dramatically over the past six decades, ebbing and flowing between trends, shapes, styles, and materials. Still, Aarnio's fantastical furniture endures. 'If an object is functional, well made and beautiful, it will retain its value through many generations and can be considered sustainable. It doesn't matter if the product is traditional or modern,' muses Aarnio. The perpetually positive thinker finally offers: 'Keep dreaming, and carry out your dreams.'