Design Shanghai 2015: Fantasy flowers, deco and a dragon - the top picks of this year's fair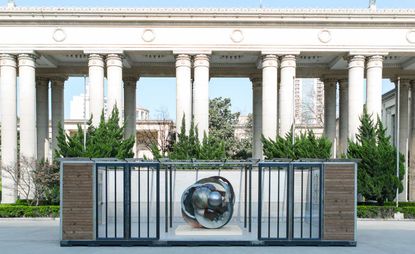 (Image credit: TBC)
In China even the design world moves at hyper-speed. Last year's inaugural Design Shanghai exhibition was largely dominated by a wide range of international brands, with just 9 local designers. This year, an increase in big-hitting names like Magis (opens in new tab) and Vitra (opens in new tab) was matched by 30 young Chinese designers keen to play their part in China's design (r)evolution.

Leading the local pack was Shanghai architectural studio neri&hu (opens in new tab) with their elegantly understated light for Parachilna (opens in new tab) which debuted in Shanghai before its upcoming Milan outing. Also on show was the award-winning design duo's contemporary take on the traditional sedan chair for Classicon (opens in new tab).

Back again with a much larger space than last year was The Beast (opens in new tab) founder Amber Xiang with a fantasy forest-in-the-city concept cafe. The Shanghai-based designer used 500 purple magnolia trees, 200 sakura and 300 willows to create the intriguing urban oasis.

First-time exhibitors included ipluso (opens in new tab). Its collection of lifestyle accessories include the ipluso '4 eyes' range of minimalist reading glasses, ergonomically designed to suit the local fashion-conscious market.

Chinese artist Wang Yuyang added his own take on a Modernist architectural icon. Using binary code and 3-D image generation he transformed the precise dimensions of Jean Prouvé's iconic 6x9 'Demountable House' (on show at the entrance to the fair), into a decidedly industrial-esque sculpture of copper, wood, steel and plastic.

A powerful cross-cultural creative combination was also at play at Design MVW (opens in new tab), which showcased a standout series of geometric furniture in bronze, including a striking desk and Art Deco-inspired lighting.

Strong showings also included David Gill Galleries (opens in new tab), with a collection of curvaceous tables. A highlight was the outstanding 'Calla' fireplace in Negro Marquina marble designed by Zaha Hadid for Citco (opens in new tab).

Meanwhile, Hong Kong-based rug designers and painters Brad Davis and Janis Provisor of Fort Street Studio (opens in new tab) brought their trademark painterly touch to a series of contemporary rugs including the standout hand-knotted wild silk 'Border' rug.

Craftsmanship was a strong theme at this year's event. Among the best were a walnut 'Malt Vault' whiskey travel case hand-made by Scotland's Method Studio (opens in new tab), British designer Alun Heslop (opens in new tab)'s limited edition 'Dragon Kre' sculptural chair in foundry cast bronze and Shanghai-based design studio Grado (opens in new tab)'s origami-inspired chair. Gallery ALL presented a strong collection of furniture that included Zhoujie Zhang's angular gold dining chair and covetable steel furniture pieces that 'fold' up for easy removal by Naihan Li.

One of the most popular spots for the ubiquitous exhibition 'selfie' was in front of Fredrikson Stallard's 4-meter-wide 'Prologue' installation created for Swarovski. Made from galvanized steel and 8,000 blue crystals, it nodded to the Austrian company's Yangtze River Basin Waterschool charity programme (opens in new tab).

The true mark of the fair's success, however, came towards the end of the first day when reports emerged of enterprising touts successfully selling entrance tickets on the street outside the fair.

'The energy for Design Shanghai went to another level compared to last year, but when a country is deprived of design for a long time, it is natural that people both young and old are interested in trying to learn more. They are curious to see and experience them in person,' observed neri&hu's Lyndon Neri.
'When a country is deprived of design for a long time, it is natural that people both young and old are interested in trying to learn more,' says neri & hu's Lyndon Neri.