World View: Letter from Singapore
Introducing our new series, which shines light on the creativity and resilience of designers around the world as they confront the challenges wrought by the Covid-19 pandemic. Working with contributing editors across eleven global territories, we reach out to creative talents to ponder the power of design in difficult times and share messages of hope. Here, on the eve of a monthlong lockdown in the city state, our Singapore editor Daven Wu checked in with architect Charles Wee, artist Dawn Ng, and designers Elyn Wong, Clara Yee and Olivia Lee, discovering tales of self reflection, crisis messaging and mutual assistance.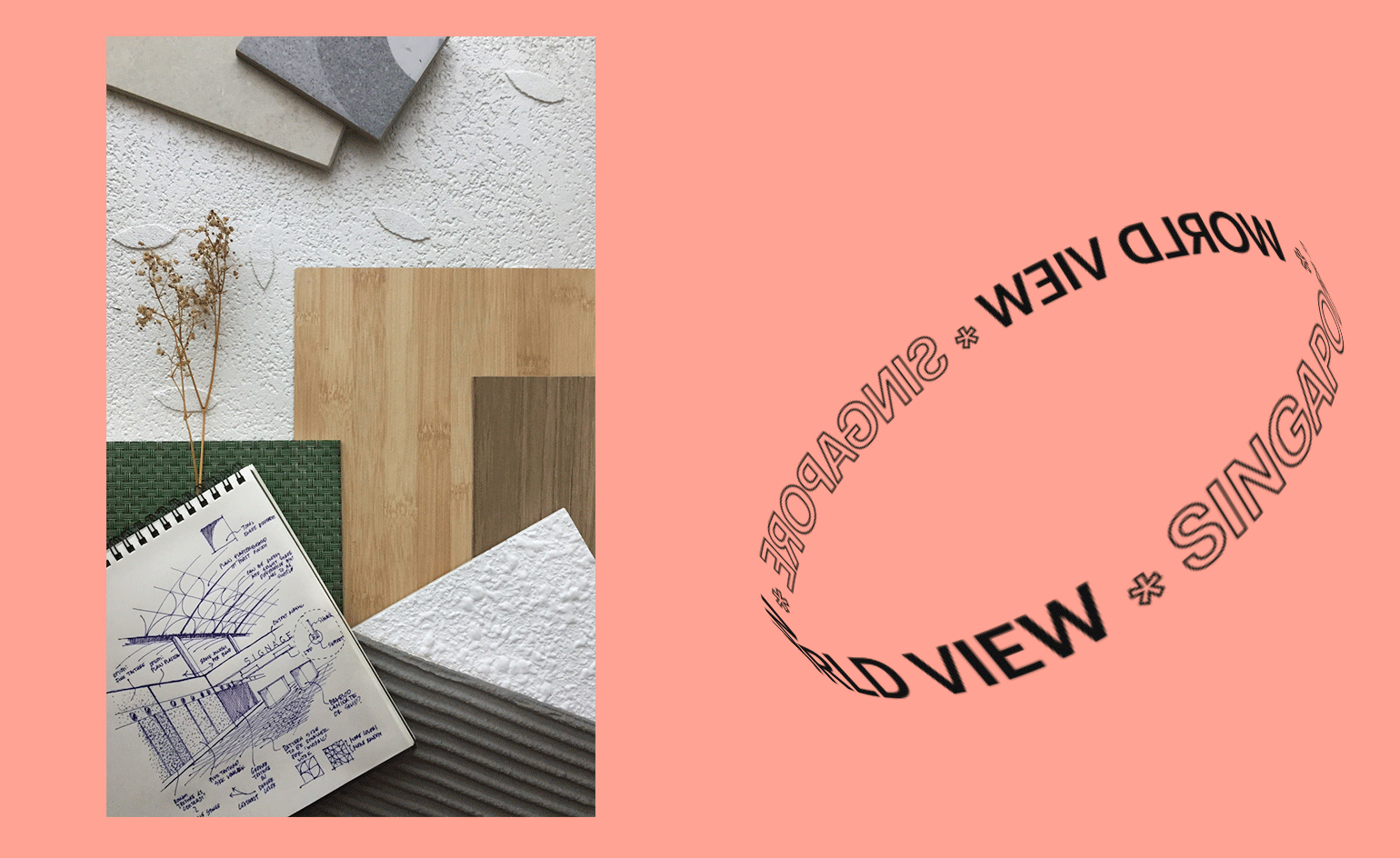 (Image credit: Charles Wee, Dawn Ng, Elyn Wong, Clara Yee and Olivia Lee)
The pandemic has been something of an intellectual and emotional watershed for the Singapore-based designers I spoke to, just as it's been for creatives around the world.

Certainly, old paradigms and business models have been fallen by the wayside, complicated by cancelled orders, embargoed suppliers and a consumer base too skittish to come too close to an atelier.

But, equally, there is a welcome sense of optimism mixed with an indomitable fearlessness, which manifests itself as a business-as-usual mindset and a determination to make do with what's available.
When the pandemic struck, architect Charles Wee was working on the interiors of a regional airport terminal building. The ensuing shutdown now offers 'some time for reflection, for review, and for rethinking some of the design decisions. Diversification is an adaptive response I am taking. I have been curating my photographs and posting them on social media platform such as Instagram, with the intent of sharing shots of the built environment from my perspective. I am hoping it can be a source of inspiration and perhaps lead to offering such services as well.'

While several of her projects are on hold, multimedia artist Dawn Ng spends her days 'testing, researching and experimenting with materials which, to be honest, is where I derive the biggest joy. I've been inspired to work with aerial objects of late — shapes and forms that possess a lightness of being. Everything happens in the studio, with materials I have.'
For Elyn Wong, whose Stolen label made her the go-to fashion designer for ultra-feminine backless silhouettes, 'the pandemic has definitely woken me up to what matters and what doesn't for my business.'

Transparency and empathy are the bedrock of her response to the crisis. She shows actual numbers and revenues to her staff so that they feel accountable and invested. 'I'm also making sure all our marketing efforts put people first, and not the business because we need to be very sensitive to the emotions of our clients and sound socially responsible and respectful. Especially since we are in fashion, which might be considered frivolous during such trying times.'
The paucity of materials has also hot-housed a great deal of digital content, even for creative consultants such as Clara Yee who, together with writers based in Thailand, Indonesia and the Philippines, and developers in the US, has just completed 'Kindness Contagion', a graphic series to be published on social media, and online media platform B-Side.

'We're a studio of introverts, so we're really comfortable with remote working and social distancing,' Yee quips. 'The biggest change is probably that we prioritise any call for support. It's unusual times and we have to support each other through it. When we get wind of a call for help, that goes on top of the stack first.'
This instinctive flight towards online interaction as a way to offer camaraderie, and deliver fresh business options, rings especially true for Olivia Lee. The industrial designer is working on visual merchandising and communication projects for clients pivoting towards messages of hope and optimism, and a new furniture collection. 'I think the present mass digital transformation is forcing us to rethink launch, exhibition and retail models. At this point, it could go both ways. Virtual launches could supplant physical shows entirely. Conversely, a post-viral world could have us craving tactility and human interaction to the point that we congregate with a vengeance.'

For now though, that congregation lies very much in the future. As this piece is being written, Singapore is about to enter into a one-month lockdown, a move that will force its creatives to turn ever more inwards. And for many of them, this is not necessarily a bad thing. 'I've come to appreciate the silence,' says Dawn Ng. 'The phone and inboxes have stopped pinging and I can hear the thoughts in my head with greater clarity.'
Read more from Wallpaper* World View
Letter from Milan
Letter from Melbourne
Letter from New York City
Letter from Paris
Letter from California
INFORMATION
@dawn___ng, dawn-ng.com (opens in new tab)
@stolenstolen, stolenstolen.com (opens in new tab)
@weareinthewild, weareinthewild.com (opens in new tab)
@visuallyolivialee, olivia-lee.com (opens in new tab)
Daven Wu is the Singapore Editor at Wallpaper*. A former corporate lawyer, he has been covering Singapore and the neighbouring South-East Asian region since 1999, writing extensively about architecture, design, and travel for both the magazine and website. He is also the City Editor for the Phaidon Wallpaper* City Guide to Singapore.