Six Singaporean designers look at the impact of design and new technologies on our lives
Supported by DesignSingapore Council, 'Future Impact' at Milan Design Week 2023 presents Singapore as a design-led hub of innovation and creativity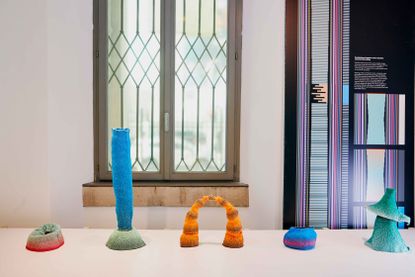 (Image credit: Courtesy Singapore Design Council)
What kind of influence can design and new technologies have on our daily lives? The exhibition 'Future Impact' (held during Milan Design Week 2023) offers an answer to this question by showcasing six new works by Singaporean designers, supported by the DesignSingapore Council.
'It is true that we are now talking about sustainability a lot, but I think we have to stop talking and really do something,' says Maria Cristina Didero, who curated the exhibition alongside Tony Chambers. 'We selected six designers working with new technologies, spanning from AI to 3D printing. Singapore is one of Asia's most advanced hubs for developing design innovation, and the six projects are very different from one another.'
Because Milan Design Week exhibitions are frequently visited by the general public, not just experts and enthusiasts in the field, Didero emphasises that 'Future Impact' was an opportunity to present Singapore as a design-led hub of innovation and creativity, where impactful design solutions and technology are capable of addressing the urgent need for sustainability in design and production today.
Future Impact: six Singaporean designers exploring new technologies
Presented in an exhibition design by Milanese practice DWA, all projects invited reflection. In the first room, Forest & Whale presented 'Wallflower', an interactive wall poster composed of multicoloured tesserae embedded with seeds that can be torn off, planted and grown into herbs. Each colour from the poster represents a particular herb, making it easy to trace the types of herbs one has planted over time.
'We all want to use fresh herbs for cooking,' says Gustavo Maggio, from the design duo. 'But they come with a lot of plastic and go bad after two days. We thought that a visual reminder would make it easier for all of us to plant regularly.' Also, he explains, traditional seed papers only have one variety of seeds: 'Our innovation is that we have nine different types of seeds arranged in a very specific manner to give this unique pattern and offering the users the possibility to choose which plant they want to grow.'
In a second room, Nathan Yong, a multidisciplinary designer, presented 'Bent Onyx', delicate and precisely polished interior objects, some of which were shaped as decorative shelves. Onyx is one of the most fragile and brittle natural stones, and Yong employs a patented technology that reduces the excess waste produced during the manufacturing process.
Next to this project, for her 'Building Futures Line by Line', textile designer Tiffany Loy teamed up with Singapore University of Technology and Design's Digital Manufacturing and Design Centre to explore advanced automated textile construction, in particular approaching the construction of multi-material, pliable 3D forms, filling a gap in the current world of 3D printing.
The final room brought together the work of Viewport Studio, Gabriel Tan, and Studio Juju. Gabriel Tan, who now lives in Porto (and also showed a debut collection for B&B Italia in Milan), drew inspiration for his 'Aiming for Peace: The Carnation Lamp' from Portugal's Carnation Revolution, when flowers were offered by civilians to the rebel soldiers in a peaceful civil resistance. Aside from a low-energy 2.5W LED source, the lamp is made of an ash wood base from furniture production offcuts, a recycled steel pipe stem, and a 3D-printed lampshade made of recycled plastic. And, according to Tan, it is not only sustainable, but also aspires to be a symbol of nonviolence and harmony despite the current global situation.
Constructed entirely from Dekton – a sophisticated, high-performance, ultracompact stone slab material that has achieved carbon neutrality for its entire life cycle, 'OO Collection', designed by Studio Juju, is a collection of five sculptural and imaginative objects characterised by circular holes.
Viewport Studio produced 'Rinnovare', two sculptural room divider screens made from waste metal parts from its ongoing collaboration with Italian manufacturer Equilibri. It all started with the Viewport Studio-designed 'Adapt' chair for the Italian brand Equilibri, whose tubular steel folds are defined by stacking requirements. 'Viewport-Studio began with a scrap of the leg to develop sculptural room divider screens that can also be used as a hanger or something else,' Equilibri's Daniele Grobberio explains.
The studio created two seemingly indistinguishable prototypes: one was created through direct conversations with the manufacturer, while the other was created through conversations with an AI (Chat GPT). The difference, the studio underlines, is that with AI, the outcome is defined from the start, whereas human work can be changed along the way.