Singapore Design Week 2023 prioritises sustainability and inclusivity
Singapore Design Week 2023 (until 1 October) explores the theme 'Better By Design' with exhibitions at the National Design Center and across the city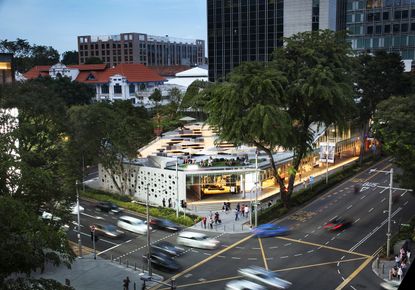 (Image credit: Singapore Design Week)
Singapore Design Week 2023 kicked off with a conversation about the future of the island nation in light of a changing climate and an ageing population. Headquartered in the National Design Center, the event also saw exhibitions pop up across the city: from the central Bras Basah Bugis arts district to the convention centre at Marina Bay Sands, which hosted FIND, Design Fair Asia's yearly convention.
This year's theme, 'Better By Design', posed the question to participants: how do we design for a better future? The answers were copious, ranging from large-scale initiatives aimed at combatting global issues to small domestic fixes envisioned to improve the day-to-day lives of vulnerable communities.
Here are our highlights from Singapore Design Week 2023.
Singapore Design Week 2023
---
School of Tomorrow
The conversation around climate change and global warming is usually presented against a backdrop of unrelenting doom. But the 'School of Tomorrow' exhibition, organised by creative agency Kinetic Singapore, took a more playful approach to environmental education. Designed to resemble a primary school, complete with docents decked out in matching uniforms, the showcase presented its argument for reducing global consumption in a thoroughly engaging way.
Set over three floors, each section was organised like a standalone classroom. The exhibition began with a biology class complete with neat rows of desks that displayed new research into bioplastics, including novel compositions made of algae and expired rice. Later on in 'math class', visitors were encouraged to tally up their carbon footprint with a responsive questionnaire that asked questions such as how often and how far they flew and whether or not they bought their groceries locally, allowing them to see first-hand the environmental impact of their daily choices.
FI&LD
Ong Ker Shing and Joshua Comaroff of Lekker Architects transformed the atrium of Singapore's Lasalle College into an interactive playing field showcasing a range of inclusive design solutions.
Lekker Architects is best known internationally for its Hack Care project, a restyling of the products in Ikea's iconic catalogue to accommodate those living with dementia. The projects displayed at FI&LD followed a similar ethos. Play-Play, for instance, is a novel take on schoolyard games, which, thanks to a dedicated app accessed by QR code, tailors games according to the players' abilities, ensuring that all participants engage on a level playing field no matter their needs.
Playground of Possibilities
Designer Jackson Tan's 'Playground of Possibilities' exhibition told the story of 12 different projects that propose creative solutions to Singapore's civic problems. Ideas dealt with everything from environmental issues to early childhood education, all set within brightly coloured pavilions, with many featuring child-friendly interactive displays.
A section titled 'Wardobe 01: Suiting Up Whee Boon' by inclusive fashion brand Will & Well prompted visitors to try out the magnetic snaps on a floral patterned men's shirt. The shirt had been designed specially for a Singaporean man called Whee Boon, who had lost his limbs to a bacterial infection. The new closures were designed to afford him the dignity of dressing himself independently while meeting his desire for a functional and stylish wardrobe – an apt illustration of the deceptively simple ways designers can accommodate such varying requirements.
Future Impact: Homecoming Showcase
First staged during Milan Design Week in April 2023, Future Impact made its homecoming debut during Singapore Design Week. Curated by Wallpaper* Milan editor Maria Cristina Didero and Tony Chambers, the show brought together six Singaporean practitioners whose work pushes the boundaries of fabrication, sustainable production and creative problem-solving.
Projects included Nathan Yong's 'Bent Onyx', which utilises new technology to precisely bend the infamously fragile coloured stone into functional, sculptural furniture, and Tiffany Loy's 'Building Futures Line by Line' project, a series of colourful fabric sculptures that are the product of research into textile production using 3D printing technology in collaboration with Singapore University of Technology.
Emerge
The Emerge showcase proved to be a highlight of FIND, the yearly furniture fair held at Marina Bay Sands during Singapore Design Week. The exhibition thrust young and up-and-coming Southeast Asian designers into the international spotlight, displaying the broad range of talent in the region. Following the theme 'Craft + Industry: Man + Machine', over 50 designers showed work that ranged from handmade, artisanal objects to furniture produced with experimental fabrication techniques.
Highlights from the showcase included textile panels by Jakarta-based Threadapeutic, which uses offcut and deadstock fabric to create wall-sized tapestries depicting tranquil landscapes. While Bangkok's Kitt.Ta.Khon made use of recycled plastic threads to create looping, woven patterns in the sail-like backrest of a throne-style seat. Working with recycled tarp, the very type used daily in local Singaporean markets, designer Wei Xiang Tan produced a simple, aluminium frame chair that highlighted the colourful patterns of the found material.
Another notable project came from Ho Chi Minh City's Phồng Thiện Thu Mỹ, who utilises leather made from kombucha (which she produces herself) to construct lantern-like hanging lamps, one of the many projects demonstrating the wealth of ingenuity coming from young designers in the region.
Receive our daily digest of inspiration, escapism and design stories from around the world direct to your inbox
Laura May Todd is a Canadian-born, Milan-based journalist covering design, architecture and style. In addition to the Italian dispatches she writes for Wallpaper*, she regularly contributes to a range of international publications, including T: The New York Times Style Magazine, Architectural Digest, Elle Decor, Azure and Sight Unseen. Prior to her work as a journalist, she was assistant editor at London-based publishing house Phaidon Press.