Gabriel Tan launches Experimental Editions, embracing the beauty of imperfection
Experimental Editions is a new initiative born from Gabriel Tan's Origin Made with the aim of elevating the artisanal process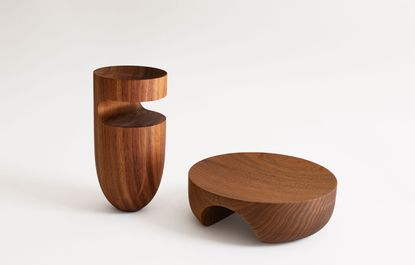 (Image credit: Courtesy Origin Made)
The catalyst for Porto-based brand Origin Made's new Experimental Editions initiative was when a group of Canadian visitors visited its showroom in Porto and one of them asked about a broken wooden cup on a shelf.
'We mentioned that the piece was broken on the lathe when the woodturner was trying to figure out how thin he could push the material to be,' explains Gabriel Tan, creative director of the brand (and designer of furniture for Herman Miller and bedroom furniture for B&B Italia), which has been committed to supporting skilled craftspeople and reducing waste since its founding in 2018 by Tan and his wife Cherie Er. 'We showed the visitor the finished product but she insisted on buying the broken one instead! She saw value in the failed experiment and commented that "it is human to be broken".'
Experimental Editions: finding beauty in imperfection
These words stuck with the team, who realised there must be other people out there who 'understood the beauty in imperfection' and might be interested in the one-off exploratory pieces created during the design and making process. The off-production prototypes, for example, or the pieces where imperfections are a natural result of the material used or the production tests carried out by the craftspeople to see how much glaze they need to achieve a certain colour or how high a temperature the clay needs to be fired at.
'At Origin Made the meaning of "imperfection" is "irregularity", rather than "inferiority",' says Tan. He cites the brand's "Charred Vases", pieces designed by him and in its current catalogue, as an example. These are placed in a 'soenga' (soil pit) for the firing process. 'Unlike firing in an electric kiln, it is not possible to achieve perfect colour consistency, and there can be significant colour variations depending on the location within the pit the vases are buried, like how close they are to the fire and to each other,' he says.
Some of the pieces come out with splashes of silver, light grey or even beige, instead of being uniformly dark grey or black. 'These inconsistencies in colour do not represent inferior quality, but are a beautiful representation of the true handmade identity of each of these vases. We set up Experimental Editions to try to communicate this truth to people, to have a channel to express this reality in a way we can be very proud of.'
The Experimental Editions collection will feature 15 to 20 products at a time, with periodic releases of genuine one-off collectible items, since they will never be produced in the same way again. A few notable examples in the just-launched collection are the Experimental Editions version of the 'Cast Hammer'. In the regular collection, this piece is made of sand-cast brass and comes in a satin or oxidised black finish, but prior to settling on brass, the piece had been cast in iron by the craftspeople Paulo Martins and Alberto Cunha. The 'experimental' version has a pebbled texture and is more rough and raw than the final refined brass piece.
For another piece in the regular collection, the 'Weaver's Stool', the team tested eight different patterns with weaver Maria Adelina, one of the few remaining artisans in Portugal who practises the traditional craft of cord weaving, before deciding on the final two. The Experimental Editions 'Weaver's Stool' features one of these 'rejected' weaves. On an interesting side note, Dona Lina, as she is known to the Origin Made team, used to work in a furniture factory with some 80 weavers that shut down during the 2008 economic crisis. To her knowledge, none of her former co-workers have continued their trade.
An antidote to mass production
Finding a new and curated format in which to sell these experimental, non-standard pieces is also a welcome antidote to the world of mass production, in more ways than one. It makes sense to celebrate - and monetise - the design and making journey given that working in such a small-scale artisanal way is a real labour of love for all involved.
'Solo artisans tend to resist signing a contract that commits them to a deadline or structured commercial terms so there needs to be a lot of relationship-building and efforts to maintain these relationships,' explains Tan. This means frequent visits with sometimes long drives, spending a lot of time together and building mutual respect so that when difficult situations arise there is trust and communication.
Perhaps surprisingly, Er says that larger orders are not always welcomed by the craftspeople they work with. 'These craftspeople are highly skilled and have honed their skills over decades, which means they tend to be in their senior years,' she says. 'At this point, they would rather reject orders than put themselves in situations where they would experience high stress and fatigue arising from rushing large orders. We try to adapt to their schedules and physical conditions by forward-planning our stock and placing small-batch orders, consistently over time, so they can take their time to produce at a comfortable pace.'
This unhurried approach is why the Experimental Editions project is interesting but also vital. Because it's an attempt to reward the human effort, time and ingenuity that goes into a final polished product, giving value to every step of the process.
Receive our daily digest of inspiration, escapism and design stories from around the world direct to your inbox