Mircea Anghel experiments with new materials, designs and possibilities from his vast studio in rural Portugal
We visit Mircea Anghel at his Alentejo, Portugal, studio and workshop to discover his gravity-defying, experimental works (on view until 31 August 2023)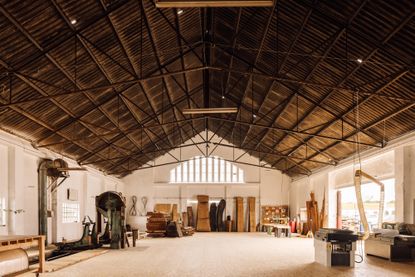 (Image credit: Francisco Nogueira)
Outside Mircea Anghel's studio on a rural estate in Portugal's Alentejo, a profusion of materials and ongoing projects glint in the sun: blinding marble stones sourced from nearby Estremoz to become the pillars of his gravity-defying tables; a construction in wood bricks awaiting the next phase in the experiment; a huge dead tree twisting and arching at the perfect angle to lead visitors through the studio door.
'I saw the tree down in the fields and decided to bring it here. It's standing exactly the way it fell from the lorry. Now the challenge for me is resisting the temptation to do something with it, and simply letting it rot on our doorstep,' Anghel says.
Mircea Anghel: accidental designer
The Romanian designer moved to Lisbon in 2000 with his parents, aged 14. A graduate in economics from the University of Lisbon, he was top of the class in mathematics and found a corporate job in finance. His passion for design and carpentry flourished around that time, when he was looking into adding a room to his parents-in-law's small holiday home in Comporta – a protected seaside area where new construction is forbidden.
The experience of sleeping on a boat while on holiday in Morocco sparked the idea of building a suite inside a boat brought ashore. After the municipality approved his plan, Anghel visited the sawmill at Herdade da Barrosinha, close to Comporta, that would later become his studio. There he met Hélder 'Calminhas' Mateus, one of the few remaining traditional master boat builders in Portugal, who helped him with the project and showed him the ropes of woodworking.
In between this first experiment and international recognition, Anghel has 'ticked all the boxes': he worked off-hours before quitting his job; sold pieces to friends; and used the bathroom of his Lisbon apartment as a workshop. When it proved too small, he started working in the street. Passing by, the designer Joana Astolfi saw him, and he ended up working with her on a Hermès window display. Anghel soon graduated to renting a corner of shared workshop, later moving into his own workspace and establishing Cabana Studio in 2015.
When a big client failed to pay most of what was owed – 'a turning point', says Anghel – he was spurred into designing the tables that won him international attention. He was soon attending shows in Paris and Brussels, and starting collaborations with designers Marcelo Joulia, from Naço, and Lionel Jadot, founder of Zaventem Ateliers.
Mircea Anghel's experimental furniture designs
Anghel's tables embody his passions: meticulous mathematics births a perfectly balanced design of opposing elements. The contrasting materials – the warm, smooth surface of the wood against the cold, rough, resplendent stone – render the feat of balance yet more striking, while, at one and the same time, the two elements are made to feel as if they were born for this embrace.
Launched in 2019, Anghel's first series of gravity-defying tables was named 'Pico', after the volcanic island in the Azores, and featured mountain-shaped stones. Since then, the designer has continued experimenting with ever more challenging formats, such as the 'Democracy?' table, a ring of wood on a marble ball. First presented in Paris in 2020, it plays on the idea of the shared responsibility of people sitting together: the person who ignores the will of others suffers the consequence of the tabletop shifting balance.
Creative process
Influenced by the principles of Japanese craftsmanship, Anghel resists a great degree of intervention in his practice, as his attitude towards the fallen tree outside his studio suggests. 'I choose my materials very carefully, they guide me. I spend a lot of time with materials. I want to create from, and not despite, their nature.'
'I like the idea of having little control over the process. I enjoy experimentation, perhaps because I have no formal training in either design or carpentry. I have learned with people and by doing.' That is true for everyone in his team of 13, hailing from countries such as Romania, Italy and Ghana. 'I favour the will to learn and take risks, as well as practical intelligence over formal training.'
The studio team has recently started to use a wider range of materials, a move best summarised in the project it is now finishing, its biggest so far, furnishing the new Jam hotel in Lisbon using only recycled materials. It has also created an intricate revolving door at La Puerta, a private dining space inside Mauro Colagreco's three-Michelin-starred restaurant Mirazur on the French Riviera.
The Herdade da Barrosinha estate, where the designer has been living with his wife and three children since 2019, and were he is hosting his next exhibition, is now a key influence. 'The scale of the place made my designs bigger. Also, the myriad doors have me thinking about the meaning of the door, an element that I haven't seen so questioned, design-wise.' And he has great plans for it, too: 'I want to open a boat building school, and I have plans afoot to found a community of designers and creators here, at Barrosinha.'  
An exhibition of Mircea Anghel's work will be on show from 1 July-31 August (by appointment only), at Herdade da Barrosinha
Herdade da Barrosinha
Serração Mecânica
7580-514 Alcácer do Sal
Portugal
herdadedabarrosinha.pt
cabana.studio