Eastern promises: highlights from Taipei's reign as World Design Capital 2016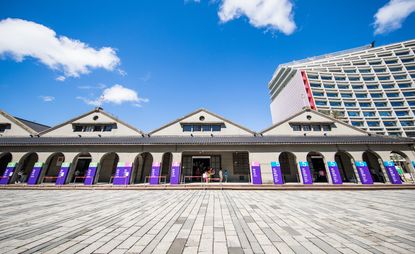 (Image credit: Press)
Taipei's designation as the World Design Capital 2016 may soon be coming to an end – but the real work has just begun. A number of projects were initiated around the theme 'Adaptive City – Design in Motion', propelling Taipei's creative talents to the international stage.
Now, harnessing the momentum gained during the Taiwan capital city's reign as Design Capital, the exposure will hopefully ignite a movement to reinvent the city and improve social, cultural and economic life through the emerging creative class. The programme reached its pinnacle with the 'International Design House' exhibition series – hosted at Songshan Cultural and Creative Park last month – which showcased the result of the year's endeavours.
In the exhibition, 'Taipei Issuuuue', curated by Agua Chou, gathered international thinkers and local creatives to help plan a blueprint for Taipei City's future development. Efforts were amplified on the improvement of public space: '(RE)Create Taipei' by City Yeast and Spanish collective Basurama Asociación provided inspiring ideas to redesign and repurpose forgotten public spaces in the city; while the 'Small Shop Signboard Manufacturer' project brought together designers and local shop owners to create signage to improve the aesthetics of the city's streets.
Sustainability is also a high priority in the city, owing to the dearth of resources on the island: forward-thinking studio REnato Lab worked with one of the biggest recycling companies in Taiwan specialising in electronic waste to create the 'Circuito' wall tiles from recycled circuit board and CRT monitor glass; and nbt.STUDIO designed a decorative wall light with recycled LCD displays.
Taiwan is probably best known for its technology manufacturing prowess, but in recent years, local crafts – in ceramic, wood, glass, textiles, metal, paper, leather and rock – have played an important role in design, with the new generation of designers reinterpreting the spirit of its older industries by finding new ways of utilising the island's manufacturing capacity with contemporary design language. In 'Power of Taiwan Design – Breakthrough', curated by Li Wei-Lang, another of the exhibitions under the 'International Design House' umbrella, different aspects of Taiwanese design and manufacturing were introduced through a group of carefully selected products.
Illustration by local artist Chia-Chi Yu
Traditions were reinvented in novel ways – homeware brand JIA's 'Four Seasons' glass set, designed by Pili Wu, portrayed the four seasons as Chinese ink paintings for the table; the famed 'Ming' chair was given new life by Taiwanese architect and designer Shi-Chieh Lu; while design agency Five Metal Shop worked with a traditional family-run zinc-alloy foundry in Changhua to set up an international design brand – no.30 – from scratch. Japanese enamelware manufacturer Shoei Kogyo and Taiwanese designer Balance Wu produced 'Cuppot' as part of 'Designed in Taiwan x Made in Japan', which combined Taiwanese creativity with Japanese expertise, with a view to building a solid basis for the industry's future in the Far East.
Yet another of the exhibitions, 'Visual Taipei' featured over 300 works by 60 renowned local and international visual artists, a direct conversation between cultures on the theme 'Taipei Life'. Fifteen of them were assigned to create illustrations on Herman Miller's 'Eames Molded Plastic Side Chair' to display the versatility of visual design. Curator Page Tsou hopes to uncover facets of Taipei previously unknown to the public – and ultimately put Taiwan on the world map of creativity.
INFORMATION
For more information, visit the Taipei World Design Capital website (opens in new tab)