Stepping up: Middle Eastern designers emerge as a united force in Dubai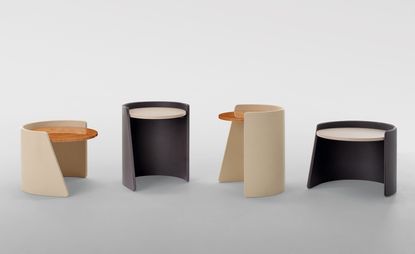 (Image credit: TBC)
The second edition of Dubai Design Week – DXBDW – the umbrella of which spans the longer-standing commercial trade fair Downtown Design, has now firmly taken root at the burgeoning Dubai Design District, d3. Developing since its inaugural outing last year, Dubai Design Week and its curators continue to support talent from the entire MENASA region as well as bringing in the international community via the largest grad show in the world – entitled Global Grad and featuring 150 students from 50 international colleges – and other design 'weeks' invited to partake in a capsule manner, this year embracing sub Saharan Addis Ababa and Beirut to name but two.
Patricia Urquiola's 'Roll' chairs for Kettal at Downtown Design reflect the current desired aesthetic in the region. Kettal is represented by Dubai firm Obegi, bringing sleek European elegance to the Middle East

City-wide organic development is more evident this second year, with activities springing up all over town. This includes gallery action in Alserkal Avenue – a vast warehouse district in Al Quoz housing world class art and design – and at Ras Al Khor, an industrial area brought to life for Design Week as DRAK (and this year with the theme of 'Celebrating Wood'). Khalid Shafar and Nadine Kansko – both on show at DRAK – are examples of the vanguard of Middle Eastern design, quantifying the thought processes and materiality the region has to offer.

It is, however, within the dedicated d3 arena where the design week hub reigns and there are big plans afoot: the core 11 buildings within d3 will be augmented by a further 1 million sq ft creative community and a Norman Foster-designed DIDI (Dubai Institute of Design and Innovation) due to open to students in late 2018. Dubai Design Week is clearly a banner bearer for the broader initiative – fashion is also a huge part of the agenda – and the fair curators, Rue Kothari (of Downtown Design), Cyril Zammit and Rawan Kashkoush (of Abwab, which means 'gateway' in Arabic), have had to deliver.
The Future Cafeteria's inception came from the word 'cafeteria' itself, the 19th century Spanish origin of which literally means 'coffee shop', tied into themes of economising time and cost

Clearly the numbers are adding up and the sophistication and substance of the second edition of this ambitious Design Week is truly international, but the greatest interest lies with more local talent and philosophies. Following last year's 'Brilliant Beirut' exhibition, this year 'Cairo Now! City Incomplete' explored the only contemporary work to have left the Egyptian capital since the revolution five years ago.

Abwab, curated by Kashkoush and positioned in six temporary national pavilions designed by architects A Hypothetical Office, this year explored the notion of human senses. Moving and remarkable, commissioned entries from Iraq, Bahrain, Palestine, Algeria, India and the UAE indicate a new world order for contemporary design – and one Wallpaper* was prescient to recognise in its championing of the MENASA region in recent years.
INFORMATION
Dubai Design Week ran from 24–29 October. For more information, visit the Dubai Design Week website (opens in new tab)