Breaking borders: the inaugural Amman Design Week celebrates design across the Middle East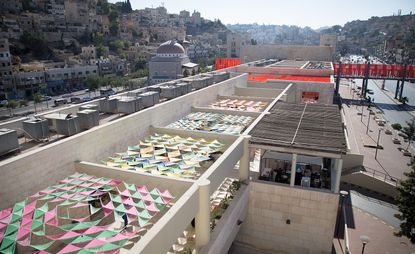 (Image credit: Dina Haddadin)
'Design crosses borders,' says architect Sahel Al Hiyari, curator of the inaugural Amman Design Week, which opened in the Jordanian capital last week. 'We wanted this design week to bring communities together and to spread a message of unity.' Given Jordan's position of relative stability and calm in the midst of a region fractured by conflict, the message is a welcome one.

Pulled together over the course of 18 months by directors Abeer Seikaly and Rana Beiruti alongside Al Hiyari and architect and curator Dina Haddadin, the show gathers designers from across the region who are pushing boundaries within their disciplines. Like swathes of the country's population, a third of which is estimated by the country's press to be made up of refugees, the event's exhibitors are not necessarily Jordanian but are what the organisers describe as 'local'. 'Everybody here has something to do with the culture of the Middle East,' explains Al Hiyari using Anne Holtrop, a Dutch designer who lives and works between Bahrain and Amsterdam, as a key example.

Holtrop's work – an architectural model of a house inspired by the Barbar Temple in Bahrain – is exhibited alongside that of 45 other designers in one of the Week's three central locations; an old 1930s Hangar building in downtown Amman. Here, the exhibitors run the gamut; from Wallpaper* favourites david/nicolas, who showcased furniture inspired by their grandmothers' houses in Lebanon, to undiscovered talents such as Ahmad Jallouk, a Jordanian shopkeeper who presented a display of sculptural glass vessels that he fashions from old broken bottles in the back of his lingerie store in downtown Amman. Similarly, watermelon traders and skilled fruit stackers Fayez Abu Awwad and Khdeir Abu Huwash collaborated with Lebanese architect Hashim Sarkis to create a show-stopping stacked arrangement of 5,000 watermelons inspired by the topography of Amman's hills.

'In the context of a social crisis, people improvise, and through improvisation there is some kind of liberty that detaches you from what is happening in terms of global trends,' says Al Hiyari of the show's unique appeal. 'I think this is very important, this lack of saturation in the region. On the contrary there is a need for more events like this to happen here.'

Next door to the Hangar, at the Jordan Museum, 'The MakerSpace' showcased work made using 3D printers and digital fabrication tools while also hosting a programme of talks; and the 'Crafts District' – a strip of pop-up food vendors and design shops selling products made by craftspeople from across the region – took over the disused Raghadan Bus terminal.

Attracting over 35,000 visitors in three locations over the course of nine days – a number far greater than anticipated – the organisers are optimistic that this is the first of many Amman Design Weeks. 'We wanted there to be an engagement within the city,' says director Abeer Seikaly of her hopes for the project. 'We want to create a platform that allows for new and different types of dialogues to happen, between designer and craftsman, designer and government, designer and businesses.' The future, she says, is looking a lot brighter.
INFORMATION
For more information, visit the Amman Design Week website (opens in new tab)