Follow these craftspeople of Walthamstow on the E17 Art Trail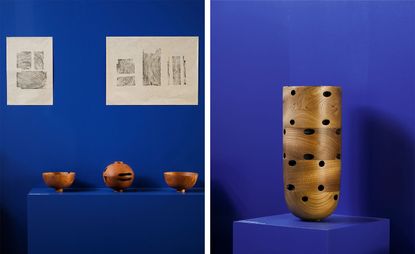 (Image credit: Press)
The E17 postcode of London's district of Walthamstow may have been made famous by a certain faux fur-clad boy band in the 1990s, but nowadays it is home to a rich creative scene, populated by artists, designers and makers. Now, on the occasion of the E17 Art Trail, an exhibition is showcasing some of the area's brightest creatives, with a brief that saw each of them work with a local material to create bespoke craft pieces.

'The exhibition came about through a chance meeting with the local church, St Mary's,' says Gavin Coyle, a local craftsman who has organised the 'St Mary's Headstocks' show. 'They had just replaced the headstocks that hold the bells, which had been there since 1778,' he continues. 'Walthamstow has always been known for its makers, so working with a local material – we wanted to give it to local craft practitioners.'
Keen to show the talent of E17 to the world (or at least those following the trail of open studios, exhibitions and performances), he set about gathering a crew of artists in the area who could come together and turn this discarded wood, destined for the skip, into exquisite craft pieces.

The full lineup includes Coyle himself, Dale Stephens, Will Elsworthy, Nathalie De Leval, and Forest and Found (made up of artists Max Bainbridge and Abigail Booth). While they may have all received the same material, the results show off just how diverse each of these makers are.
'As a woodworker, it's not everyday you get the opportunity to use a material that's hundreds of years old, so it was fantastic to work with the elm itself and to see how it could be fashioned into something new,' Coyle says. 'As such, each artist has interpreted the beams in a different way creating new forms whilst preserving something of its original presence'.

Find the pieces along the trail until 16 June and unlock the area's creative energy. 'The exhibition really shows off the diverse talent and strong community we have here in the borough,' Coyle muses.
INFORMATION
'St Mary's Headstocks' is on view until 16 June. For more information, see E17 Art Trail website (opens in new tab)
ADDRESS
56-58 Boundary Road
Walthamstow
E17 8JU
VIEW GOOGLE MAPS (opens in new tab)