Hot desks: a new exhibition takes a peek at the personal workspaces of London's creative minds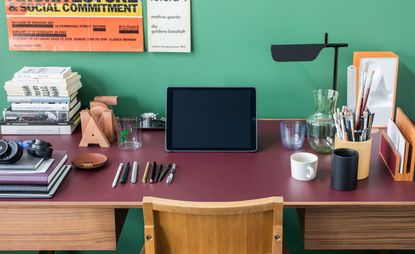 (Image credit: Anton Rodriguez)
What does your desk say about you? According to a new photographic exhibition at the showroom of German furniture manufacturer Walter Knoll, examining the way in which we work today could help us explore how we might work better tomorrow.

Called 'DeskTop', the exhibition offers a glimpse of the workspaces of some of London's most inspirational minds including Serpentine Galleries director Yana Peel, architect Sir Nicholas Grimshaw, curator Johanna Agerman-Ross, designer Luke Pearson of Pearson Lloyd, architect Matthew Blain of Hassell, architect and designer Sevil Peach, designer Mike Holland of Foster + Partners and our very own Tony Chambers, Wallpaper* brand and content director.

Curated by writer and editor Jonathan Openshaw, the eight workspaces are presented through photographs taken by Anton Rodriguez – the photographer behind the 2016 book Residents: Inside the Iconic Barbican Estate.
'We were interested in what kind of spaces London's creative community work in and what they require from a physical environment,' says Openshaw, who writes a monthly column for Mr Porter on the future of the workplace. 'We had a list of around 20 names for this, spread across design, architecture, curation, journalism etc, and were really please with the eight who said yes the quickest!'

Openshaw and Walter Knoll CEO Markus Benz hope that the show will generate questions about how the office space needs to innovate in order to remain relevant, and the role that office furniture can play in these changes.

'I think a lot of people are grappling with the future of the workplace at the moment, and as business and leisure merge into each other more and more, design brands are looking at how they can apply their expertise from the home to the office,' says Openshaw, who leapt at the chance to work with Walter Knoll on the brief. 'DeskTop asks questions about the way we work today and how we might work better tomorrow.'

As well as revealing their desks, each participant was asked to choose one object that captures an element of their way of working, which is displayed beside their corresponding photograph. For example, Johanna Agerman Ross chose a thesaurus and dictionary because she loves browsing the 'many possibilities of vocabulary' rather than just searching for words online. Tony Chambers makes reference to his training in graphic design and work as an editor with a magnifying lens and loupe; while Sevil Peach chose a tape measure that she got in a Christmas cracker and always carries with her because it helps her to orient herself in a new space.
'What I found most interesting is trying to decipher the clues to the personality or modus operandi of each person, through their desks as well as through the objects they chose to display,' reflects Openshaw. 'Sir Nicholas Grimshaw's desk was in a conference room for example, where he meets with his team and oversees multiple projects. Yana Peel's was also a communal table where she meets artists and curators – it was all about conversation rather than screen time.'

'The exhibition feels a bit like playing detective as each image is anchored with the back of an empty chair in the centre,' he continues. 'So hopefully the viewer is encouraged to imagine the person who's just stepped out of the frame and think about what this space says about them.'

With statistics from the Bank of England estimating that AI will replace anything up to 48 per cent of existing jobs by 2025, 'DeskTop' serves as reassurance that our attachment to the physical is in no danger of disappearing.

'At the end of the day, humans are physical animals,' concludes Openshaw. 'We're tactile, we need to relate to each other. We cannot exist in VR enhanced digital bubbles. Digital tools are wonderful things and technology advances our potential and output massively, but I think there will always be a place for wood, paper and ink in how we work through ideas and make imaginative leaps.'
INFORMATION
'DeskTop' is on view until 30 November. For more information, visit the Walter Knoll website (opens in new tab)
ADDRESS
Walter Knoll
42 Charterhouse Square
London
EC1M 6EA
VIEW GOOGLE MAPS (opens in new tab)